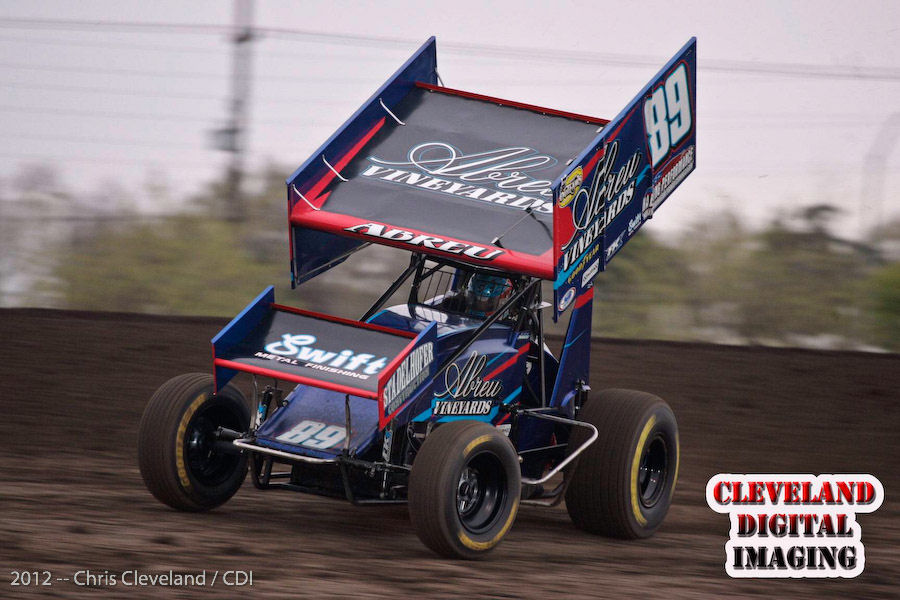 By Gary Thomas
Tulare, CA – May 12, 2012…Milestone victories come around from time to time and on Saturday night at the Tulare Thunderbowl Raceway, that very thing occurred, as 20-year-old Rico Abreu took advantage of an opportunity given forth and scooped up his first career 410 Sprint Car win.
Abreu had captured an open 360 Sprint Car show at Silver Dollar Speedway two weeks prior, but Saturdays triumph marked his first ever victory with the traveling Cancen Oil KWS unlimited 410 Series presented by Goodyear.
The St. Helena, California driver stopped on the front stretch and was greeted by a number of joyous people, including good friend Kyle Larson, who was the first person to the car. Abreu then climbed atop the car in celebration and performed his signature wing dive into the arms of car owner Brent Kaeding.
"It feels great to get my first 410 win tonight and having it come at my favorite track makes it even better," commented the driver of the Abreu Vineyards, Stadelhofer Construction No. 89 Maxim. "We won that 360 race a couple weeks ago, but this is pretty big to get our first KWS win. I want to thank my whole team and family for all their support."
The "Chris & Brian Faria Memorial" 30-lap finale started out with Sacramento's Willie Croft shooting into the lead. It turned out to be short lived however, after contact with the turn two wall left him with damage that resulted in his night coming to a premature end. It was a tough break for "Double Down," who looked solid all night.
Friday night winner Kyle Larson was the new leader of the race, as he looked to perform the amazing feat of a four-for-four sweep of the weekends sprint car races at Thunderbowl Raceway. The night before saw him sweep both the KWS and West Coast Wingless Series features. Prior to Saturday's KWS A-main Larson had also charged from 20th to score victory in the wingless main event for the second straight evening.
Larson possessed an expertly set up car underneath him once again from owner/crew chief Paul Silva and rocketed away from the field with ease early on. Various cautions slowed the pace of the race however, as turn one seemed to be a problem spot with everyone navigating their way around the slick and treacherous surface, which had the cushion right up on the wall in typical Thunderbowl Raceway fashion.
As drivers jockeyed for position Larson sat out front with no worries for much of the main event. Just past the halfway point the surface began to take rubber and caused the speeds to go up, but also made passing tough to come by. On lap 20 Larson very nearly lost it in turn four and actually had the engine stall, but luckily for him it fired back up and he continued on as the leader.
Just when it looked liked Larson was on his way to making it a complete weekend sweep, smoke began to billow out of the Silva 57 as he headed into turn one on lap 26. Things then went up in a blaze down the back stretch and his bid at four-for-four came to a dramatic end, with an oil filter issue causing a big flame up under the hood.
After running second for the majority of the race Rico Abreu now found himself in the lead of the race. Even despite Jonathan Allard and Tim Kaeding on his rear bumper, the talented youngster drove a smooth final four laps and crossed the checkered flag with the crowd coming to their feet.
Allard brought home a runner up finish for the second night in a row and will go into Calistoga Speedway on Memorial Day weekend as the KWS point leader. Kaeding rebounded from a hard crash on Friday night to round out the podium in Dennis & Teresa Roth's No. 83 mount.
Easton's Tommy Tarlton capped off a solid weekend by earning a fourth place finish and Loomis' Kyle Hirst did the same by scoring fifth for the second straight night driving for Dan Simpson Racing. Completing the top-10 in the main event were Medford, Oregon's Roger Crockett; Puyallup, Washington's Trey Starks; Campbell's Brent Kaeding; Placerville's Andy Gregg and Clovis' Peter Murphy.
The 12-lap Last Chance Qualifier was picked off by Andy Gregg and the KSE Racing Products Dash was captured by Rico Abreu. Kaeding Performance Heat Races were won by Kyle Hirst, Tommy Tarlton, Willie Croft and Kyle Larson. Roger Crockett topped the 28-car field in BR Motorsports qualifying to earn fast time with a lap of 13.800 around the one-third mile oval.
The Cancen Oil King of the West Sprint Car Series presented by Goodyear will have an off weekend upcoming, before returning to action with another big double-header at the Calistoga Speedway on Saturday May 26 & Sunday May 27. The traditional Memorial Day weekend event will mark the annual "Salute to Walter T Ross" along with the return of the "Tribute to Gary Patterson" to the half-mile.
All kids 12 and under will be free both nights at Calistoga Speedway in honor of the tracks 75th anniversary. The special offer should be a great way to get more kids into the stands, so we encourage everyone to bring a child or two and introduce them to sprint car racing if you haven't already. Tickets can be acquired by logging onto http://www.calistogaspeedway.org/Ticket-Information/index.html