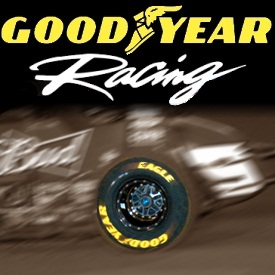 By Lee Elder
TULARE, Calif. (May 14, 2012) – Kyle Larson's chances for a weekend sweep flamed out and Rico Abreu grabbed his first career 410 sprint car victory during the Cancen Oil King of the West sprint car series Chris and Brian Faria Memorial weekend at Thunderbowl Raceway.
Larson won the first night's King of the West feature and a non-winged sprint car race as well. On night two Larson won the non-winged feature again and was leading the King of the West event before his engine caught fire and he had to pull off the racing surface. Abreu took the lead and went the distance for the victory.
The Cancen Oil King of the West series races on Goodyear tires exclusively. The tiremaker provides a variety of sizes and tread compounds that allow the teams to adjust their cars to changing track conditions and race distances during the season.
The tires the King of the West series uses are manufactured in Goodyear's Innovation Center in Akron, Ohio. The western series uses the same line of tires designed for and used by the World of Outlaws Sprint Car Series and many of the top weekly winged sprint car series around the country.
Larson's winged win on Friday came after Cody Lamar set the fast time with a lap lasting just 13.361 seconds around the 1/3-mile oval. Jonathan Allard finished second in the race, followed by Tommy Tarlton, Roger Crockett and Kyle Hirst.
Abreu had never won a in a 410 sprint car before Saturday's event, but the dramatic change of fortune for Larson did not hand Abreu the win. Allard and Tim Kaeding, both former series champions, were hard on the youngster's heels in the final laps. Allard took second, followed by Kaeding, Tarlton and Hirst.
Allard finished the weekend with the points lead. There were 28 cars entered in the event.
More information about Goodyear Racing is available at www.racegoodyear.com. More information about the King of the West series is available at www.kingofthewestsprintcarseries.com.
Goodyear employs about 73,000 people at manufacturing plants and facilities in 22 nations. Based in Akron, Ohio, Goodyear is among the largest tiremakers in the world and is the world-wide leader in race tire innovation.