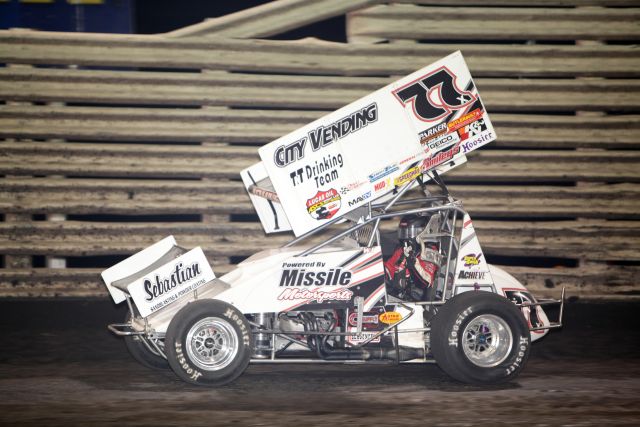 By Bill W
May 23, 2012 – Although he fought the handling of his car on Saturday night at Knoxville Raceway, Wayne Johnson still registered a fourth place finish in the 410 class. That kept his streak alive of a top five finish in every event he has entered this season. The streak will be tested this week with four Lucas Oil ASCS National Series events starting tonight at the Valley Speedway near Grain Valley, Missouri.
Things started Saturday with group qualifying at Knoxville. Wayne timed in third out of the stout 25-car field. "As long as they don't put too many cars out there, it's alright," he says. "We haven't qualified well in a while, so third was good. I was pretty happy with that. We weren't far off, and the car didn't feel good, so I was happy."
Starting sixth in his heat, Wayne would finish an uneventful fourth. "It was really an experimental night for us, and we were no good!" he says. "Everything we did, there's no sense in keeping the notes. We're not doing that again."
Wayne also started sixth in the feature. The track was tricky to get a hold of. "There was no top at all," he says. "It was dust. The bottom was decent for awhile, but even at the end, the guys were running in the infield throwing up dust. There were a few times going into turn three that I couldn't even see the racetrack."
The Knoxville, Iowa driver drove the entirety of the race in the top five. "The good thing about it was, the fans got to see a good race," says Wayne. "With the wind blowing as hard as it was, the track was o.k. I think the Dunkins have done a good job with the track this year. I think they realize that heavy, wide open tracks can be tough to race on."
Wayne had an absence of real action, and maintained a fourth place finish. "Once I got up to fifth or fourth, Heskin fell out, and that gave us another spot," he says. "I really didn't have anything for the guys in front of me, and I think Bronson Maeschen was behind me. I heard him a few times."
The setup was the issue in the feature, as Wayne was seeking his second 410 feature win of the year at Knoxville. "We put a lot of gear in the car and committed to run the bottom. We just made a big mistake, and I couldn't go anywhere else. I ran more gear than I have in my life."
Wayne leads the Lucas Oil ASCS National Series point standings heading into Grain Valley tonight. Tomorrow night, the series moves to the I-80 Speedway near Greenwood, Nebraska. On Saturday and Sunday, it is on to the Steve King Memorial at The Great American Dirt Track @ Jetmore Motorplex in Jetmore, Kansas.
Follow Updates on Facebook!
Wayne will update as his race night goes on at his Facebook page. Find it by searching for Wayne Johnson Racing or clicking the following link…
http://www.facebook.com/#!/WayneJohnsonRacing
Outlaw Wings – "The Wing with an Attitude"!
Check out the new "recessed rivet" design put out by Outlaw Wings. Talk to Wayne about purchasing Outlaw Wings for your car! Outlaw Wings – "The Wing with an Attitude"!
Wayne's World
Got a question for Wayne? Each week, Wayne will answer your questions about "Tech Tips", or anything that's on your mind. If you ever wondered what a part on a sprint car is all about, send an e-mail to us at sprntcar@iowatelecom.net, and we may answer it in this section! Put "? for Wayne" in your subject line. He'll try to keep it clean if you do!
Wayne's Fast Facts
In 17 features thus far in 2012, Wayne is perfect in top five finishes. He has seven wins (41%), two seconds, two thirds, three fourths and three fifths.
Partner of the Week – The Oil Medics
Wayne says, "We had some problems with our hauler this week around Fort Worth, and Bill Jewell helped get us back on the road. He fixed it, and put some "air tabs" on our truck. It saves us about a mile per gallon with our fuel mileage."
The Oil Medics provides truck service without the expense or wait of a dealer! Visit them online at www.TheOilMedics.com!
"Wednesday's with Wayne"
"Wednesday's With Wayne" is an up close look at the past, present and future of colorful and talented sprint car driver Wayne Johnson. You'll never know what to expect next with Wayne, so don't miss us on Wednesdays!
To receive "Wednesday's with Wayne", send an e-mail to sprntcar@iowatelecom.net with "Wayne" in the subject line.
Wayne Johnson Racing would like to thank Vern Rengen and Missile Motorsports, Sebastian Sandblasting & Powdercoating, City Vending, Outlaw Wings, Team Achieve, The Oil Medics, Century Signs, Smiley's Racing Products, Hoosier Tire Southwest, Simpson, Butlerbuilt, Super Shox, Maxim, Speedway Motors, Rod End Supply, Schoenfeld Headers and RCM Design.
Med_MG_0066