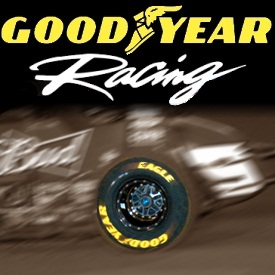 CONCORD, N.C. (May 28, 2012) – Joey Saldana had the lead, lost the lead and got the lead back before winning the World of Outlaws feature race at The Dirt Track at Charlotte.
Saldana led 23 of the 30 laps of the race, taking his 79th career WoO feature win.
Every car in the field competed on four Goodyear Eagle tires. Goodyear offers a variety of tread compounds and sizes for the rear wheel positions at every WoO event, giving each team the opportunity to plan race strategy based on ambient and track surface conditions. The tires Goodyear supplies the Outlaws are manufactured at the tiremakers' Innovation Center in Akron, Ohio.
Saldana took the lead from Sammy Swindell in time to lead the seventh lap. Steve Kinser led lap 22 before Saldana went back in front one lap later and stayed ahead to the end.
Donny Schatz finished second, followed by Craig Dollansky, Kraig Kinser and Cody Darrah.
The race drew 29 entries.
More information about Goodyear Racing is available at www.racegoodyear.com. More information about the WoO is available at www.worldofoutlaws.com.
Goodyear employs about 73,000 people at manufacturing plants and facilities in 22 nations. Based in Akron, Ohio, Goodyear is among the largest tiremakers in the world and is the world-wide leader in race tire innovation.