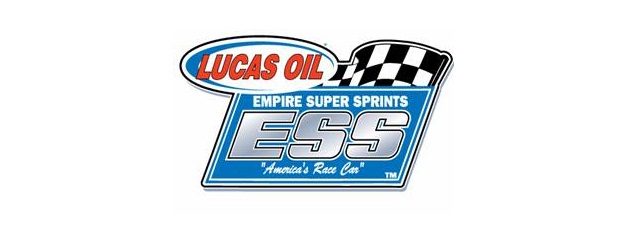 By Dean Reynolds
VERNON, N.Y. – Shawn Donath wasted little time giving his new car owner, Ron Mucci, his first win as a car owner with the Lucas Oil Empire Super Sprints (ESS). In thrilling fashion, Donath made a high risk pass of Charlie Donk to score the win in the 25-lap SUNY Canton Racing Series, Universal American Stars and Stripes Tour main-event at the Utica-Rome Speedway.
"It's awesome to get Ron (Mucci) his first sprint car win with ESS," stated Donath afterwards in Victory Lane. "I have a lot of friends and family tonight and it means a lot to win one here."
Donath, of South Onondaga, N.Y., drove on the edge of the top groove the entire evening and at the final checkered flag it paid off as he scored his first win of the season and third career win with the club.
"This is awesome," said Donath afterwards. "What a great facility Gene Cole has here. This is just a bad fast race track. It was a lot of fun tonight."
Michael Parent and Justin Barger paced the 24-car starting field to the green flag. Barger grabbed the lead on the top-side of the speedway to lead lap one but on the next circuit Parent drove by Barger on the bottom for the lead.
Before another full lap could be completed, Chuck Hebing spun in turn one collecting Jason Barney and Lance Yonge. Yonge was the only driver that was able to continue.
Parent remained the leader once the green flag came back out. He stayed glued to the bottom with his No. Le Groupe Ultra #25 while Barger and Donk now raced for second spot. They swapped the position several times before Donk ultimately grabbed the runner-up position.
As Donk and Parent raced for the lead Donath moved into the top third position by lap ten after starting in position 11. Two laps later Donk secured the lead on the outside of turns three and four with his Pizza Logs backed #99.
Donk led with Donath taking the second spot on lap 14 which allowed him to turn his attention to the race leader. The pair battled back and forth when the caution came out on lap 15 when Paul Habeck stopped in turn four.
On the restart Donk and Donath resumed their torrid battle for the lead with Donk holding on for a couple more circuits before Donath finally drove by on lap 17 on the extreme high side of the turns three and four. His right rear tire was over the top of the bank as he made the pass.
"I saw Mike (Parent) under me there a few times and I battled with Charlie (Donk) the whole time," commented Donath. "He was doing what he had to do. It was a lot of fun. thought we were going to bang together a few times coming off of four. I'm glad I waited until that last restart."
Now the leader, Donath extended the lead on Donk and ultimately went on to secure the feature win. Donk, of Palmyra, N.Y., earned his best finish ever with the Empire Super Sprints as he came home second.
"I've been racing for 25 years and this is probably one of the more special ones," said Donk about the run. "I switched divisions and this is like our eighth or ninth race so to come out and run in the top three is awesome."
Donk did all he could to keep Donath behind him but he slipped up one time giving Donath the opening he needed to take the lead.
"He was just a lot better down here (turn four) than I was and I almost went over the edge a bunch of times." commented Donk. "I was a little cautious and thought we were good but he (Donath) is really good here."
Paul Kinney, of Canastota, N.Y., used his home track knowledge to finish in third. He was stalked over the final five laps by Barger but ultimately he was able to hang on.
"It's been a long time since I've been down here in a Modified," said Kinney about being interviewed on the front straightaway after the event. "I felt like we were holding people up because we had to shut it down so much to run the bottom. I don't know but we are real happy to be here and run like this."
Barger, of Montrose, N.Y., finished fourth after starting on outside of the front row and Cory Sparks came from the B-Main to finish in fifth. Rounding out the top ten were Fonda winner Jessica Zemken, Dan Kaszubinski, Matt Tanner, Parent and Larry Wight.
ESS/UTICA-ROME NOTES – A good field of 30 sprints filled the pits on the first of four visits to the ½ mile. Patrick Vigneault hurt his second engine in as many nights and was forced to scratch from the A-Main. Dylan Swiernik also had engine woes and he too loaded up early. After the weekend Justin Barger currently leads the overall points, the Universal American Stars and Stripes Tour and the SUNY Canton Series. Next weekend the winged warriors travel to Autodrome Granby and Drummond on Quebec.
Lucas Oil Empire Super Sprints – Utica-Rome – 30 Entries.
Lucas Oil A-Main – Shawn Donath ($1650), Charlie Donk, Paul Kinney, Justin Barger, Cory Sparks, Jessica Zemken, Dan Kaszubinski, Matt Tanner, Michael Parent, Larry Wight, Doug Emery, Mike Stelter, Lance Yonge, Sam Reakes IV, Kevin Ward Jr., Jeff Cook, Alain Bergeron, James Hanson, Etienne Girard, Josh Pieniazek, Paul Habeck, Warren Alexson, Chuck Hebing, Jason Barney.
Scratch – Patrick Vigneault
Did Not Qualify – Kory Gurney, Joe Trenca, Dylan Swiernik, Kyle Dutcher, Jami Russell
Lap Leaders – Parent 1-12, Donk 13-16, Donath 17-25.
Car Mate Custom Built Trailers Heat 1 – Hebing, Yonge, Kinney, Wight, Zemken, Emery.
Car Mate Custom Built Trailers Heat 2 – Donath, Donk, Barger, Kaszubinski, Vigneault, Habeck.
Car Mate Custom Built Trailers Heat 3 – Bergeron, Pieniazek, Parent, Barney, Tanner, Stelter.
Walt's Hobby Dash/Cobra Coaches Dash – Hebing.
B-Main – Sparks, Reakes IV, Alexson, Ward Jr., Cook.
Provisionals – Girard, Hanson.
Bonus:
Westward Painting Company Halfway – Donk $100
Ohsweken Speedway Winners Bonus – Donath $50.
Lee's Repair Auto and Truck Hard Charger – Sparks (13 pos.) $50
North Eastern Pool and Spa Power Pick – Ward Jr., Barney $50
Fondations 55 Pick 5 – Sparks $50.
Car Mate Custom Built Trailers Heats – Hebing, Donath, Bergeron $25
The Lucas Oil Empire Super Sprints are brought to you by: Lucas Oil, Le Groupe Ultra, SUNY Canton, Universal American, Hoosier Racing Tires, Fondations 4 Saisons, Cobra Coaches, Westward Painting Company, Mach 1 Chassis, Lee's Repair Auto and Truck, Fondations 55, Eric Varin Roofing, North Eastern Pool and Spa, Car Mate Trailers, Brodix Cylinder Heads, Ohsweken Speedway, Northwood 2 Construction/Lasalle Motorsports, AKS Firearms, Jasmin Peloquin Sport, 730 Truck Stop, Riverside Bar and Grill, FX Chevy and many, many associate sponsors!!