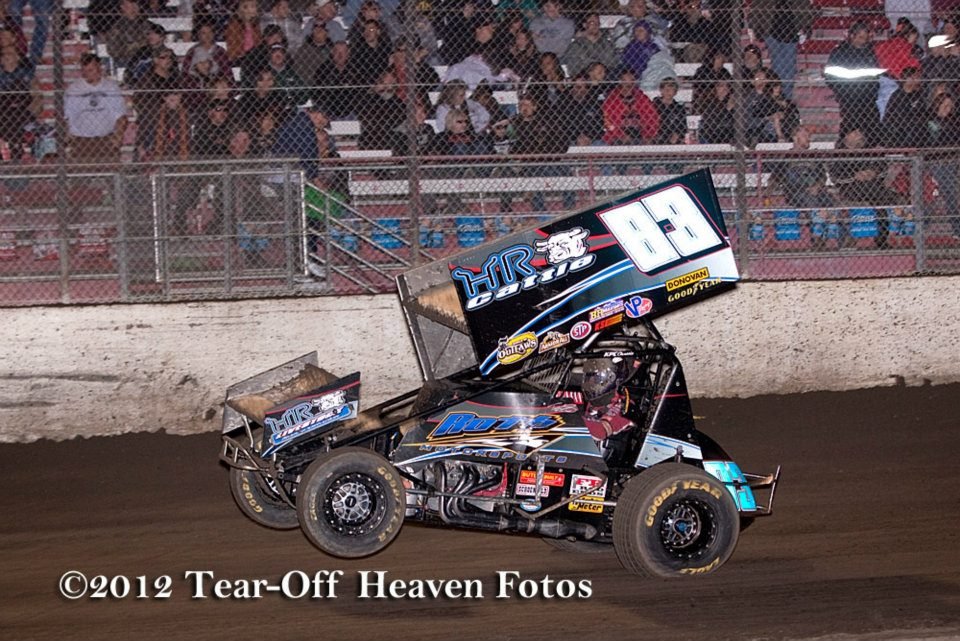 By Gary Thomas
Hanford, CA – May 30, 2012…Each season one of the most prestigious and history filled events in the Central Valley happens to be the "Pombo/Sargent Classic" and on Saturday night the Cancen Oil KWS Series presented by Goodyear will headline the event, as it returns home to Kings Speedway.
The "Pombo/Sargent Classic" honors California racing legends Al Pombo & Marshall Sargent and has been going on for over 20-years, with it originally starting at Kings Speedway in the 1980's, before moving to the Thunderbowl Raceway in 2006. This season however, the "Pombo/Sargent Classic" is back home where it all began at the "King of the Dirt Tracks" in Hanford.
Al Pombo began his career in the 1940's and is credited with more than 500 main event victories, including multiple wins in the Gold Cup at Capital Speedway, the same event that is now held at Silver Dollar Speedway in Chico. He also won five San Jose Speedway titles, seven NASCAR super-modified championships, nine titles at Kearney Bowl and six at Clovis Speedway. Pombo had been a staple around the Central Valley scene at Thunderbowl Raceway in recent years, but passed away at the end of 2010.
Early in his career Marshall Sargent won a pair of San Jose titles, which included two wins in the Johnny Key Memorial and also captured the Australian championship in 1964. A pair of crashes unfortunately cut his career short and he enjoyed retirement until his passing in 1990. His legend and memory is kept alive each year as part the "Pombo/Sargent Classic" and on Saturday night we'll once again pay homage to a pair of legends who helped set the foundation for the sport in our state.
The Kaeding family has dominated the "Pombo/Sargent Classic" over the years, capturing 15 of the 26 events that have been held since it started.
National Sprint Car Hall of Famer Brent Kaeding leads all drivers with 11 overall victories at the "Pombo/Sargent Classic" and even won four in a row from 2006-'09 aboard his famous Al's Roofing Supply No. 69 sprinter. "BK" goes into Saturday sitting third in the Cancen Oil KWS Series presented by Goodyear standings.
The 13-time Northern Auto Racing Club & 13-time Golden State 410 champion has said of the event, "We've won a lot of these Pombo/Sargent Classic's and it's definitely nice to continue the tradition each year. Al Pombo and Marshall Sargent were two hard nose guys that would beat and bang on each other and always put on a show."
Kaeding brothers Tim and Bud have each captured two victories apiece at the "Pombo/Sargent Classic" and will look to add to that total on Saturday at the Kings Speedway. "TK" comes into the weekend ranking runner up in the Cancen Oil KWS points and leads the tour with three wins overall. The defending series champ claimed the "Pombo/Sargent Classic" in 2004 & again in 2010.
In 1997 younger brother Bud won the "Pombo/Sargent Classic" and it also marked his first career Northern Auto Racing Club victory. The Campbell wheel-man then backed that up with another win at the event during the following year in '98. The three-time Silver Crown champ is coming off a solid weekend in Calistoga and will hope to continue that at Kings Speedway on Saturday.
Last season Easton's Tommy Tarlton became just the second driver to reach three wins in "Pombo/Sargent Classic" history and the "Terminator" will be searching to make it number four on Saturday. Tarlton has made two starts so far this year with the Cancen Oil KWS Series presented by Goodyear and brought home top-five finishes in both.
Current Cancen Oil King of the West Sprint Car Series presented by Goodyear point leader Jonathan Allard will be gunning for his first career "Pombo/Sargent Classic" victory on Saturday in the Williams Motorsports No. 0 machine. The Chico native sits atop the standings by 38-markers and has claimed two wins so far this season with the series. Allard always runs strong at the Kings Speedway and captured last year's "Cotton Classic" to end the KWS campaign.
Other top-10 drivers in the standings set for the "Pombo/Sargent Classic" will include Scotts Valley's Evan Suggs, 1996 NARC Speedweek champion Bobby McMahan of Elk Grove, Placerville's Andy Gregg, Central Valley favorite Peter Murphy from Clovis, '04 state champion Jason Statler of Grass Valley, former Mini Gold Cup winner Willie Croft from Sacramento and '01 Trophy Cup champion Craig Stidham of nearby Fresno.
More drivers set for the "Pombo/Sargent Classic" will include Visalia's Cory Eliason, Fair Oak's Chad Compton, Tipton's Mike Faria, New Zealander Dean Brindle, Oakhurst's Doug Gandy, Elk Grove's Sean McMahan, Rio Vista's Danielle Simpson, Grass Valley's Pat Harvey, Laton's Geoffrey Strole and others.
The front gate will open at 5:00pm this Saturday night June 2 at the Kings Speedway, with qualifying around 6:30pm and racing around 7:00pm. Grandstand tickets on Saturday cost $20, with bleacher tickets being $18. Tickets are on sale now and to reserve your seats simply contact (559) 584-7223.
The Kings Speedway is located on the Kings County Fairgrounds in Hanford, California. The physical address is 801 S. 10th Ave. Hanford, Ca 93230. More information can be found at http://www.kingsspeedway.net or by contacting (559) 584-7223.
Don't forget to "like" the Cancen Oil King of the West Series on Facebook at http://www.facebook.com/kingofthewestsprints and follow us on Twitter @kwssprintracing for the most timely and up to date information on the series.
Also check out our official website, which is under construction at http://www.kwssprints.com for the latest news, results, history and more on the Cancen Oil King of the West 410 Sprint Cars presented by Goodyear.