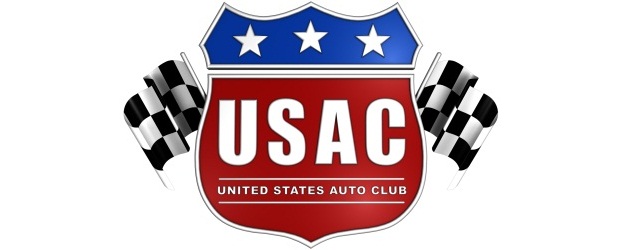 Hut 100 up Next for Mopar National Midgets
Tracy Hines capped off a huge racing weekend in USAC with one of the greatest drives of his career, coming from behind to pass both Darren Hagen and Kyle Larson in the last two laps for the win in the 67th "Night Before the 500" Mopar National Midget event at Raceway Park on Saturday night.
Now, Hines takes his hot streak to another legendary Midget event, the 60th "Hut Hundred" on Saturday night at Tri-State Speedway in Haubstadt, Indiana.
This year's event comes with some extra excitement, as the POWRi Midgets will join as a co-sanction to provide a truly star-studded field for the night's 100-lap finale. Last year's winner, Zach Daum, has not yet found victory lane in USAC competition this season but did pick up a POWRi win at Macon Speedway in Illinois.
Hines has now moved up to fifth in series points after his win on Saturday, even though he was unable to attend the May 4th race in Dodge City, Kansas. Hagen lengthened his lead in the National standings with his third-place run on Saturday. After finishing second, Larson climbed to second in points, as well, but will be unable to attend this weekend's race.
Larson's team, however, will continue to field the #71 after Larson elevated it to third in the Owner standings. His substitute for Saturday is scheduled to be West Coast star Ryan Bernal, who has two Western States Midget wins this season. Bernal will join teammates Rico Abreu and Bryan Clauson, who returns to action after sitting out on Saturday to prepare for his run in the Indianapolis 500 on Sunday.
Micro-sprints will serve as the undercard for Saturday. Grandstands are scheduled to open at 4:30 with hot laps beginning at 6:00. Adult tickets are $20.
May 26, 2012 – USAC
May 26, 2012 – USAC Mopar Midgets
"Night Before the 500 Midget Classic"
Clermont, Indiana…….With just a few laps to go in Saturday's 67th "Night Before the 500" Mopar National Midget race, it appeared as though Kyle Larson would hold on for his second straight series win at Lucas Oil Raceway. Tracy Hines had other ideas, however. With a last-ditch surge, the veteran from New Castle, Indiana claimed the top spot exiting turn four on the 50th and final lap to capture his 30th career National Midget victory in breath-taking fashion. A huge crowd saluted the 40-year old as he climbed from the Parker Machinery – Turbines, Inc. #24 Spike/Stanton Toyota.
"I didn't mean to take that long, but I was trying to save my stuff as much as possible throughout the race and adjust on it when I could. I knew a long race, I had to save tires and it showed there towards the end. I found my little sweet spot in the track, stuff I've learned over the years here," an excited Hines said from the victory stage.
Larson, who set quick time after pacing the day's practice sessions, tracked down early leader Darren Hagen to claim the point on lap 16, but the pace slowed shortly after when a hard-charging Kyle Hamilton laid down oil that led to a stack-up in turns three and four.
Continue Reading Here…….
COONS GOES BACK-TO-BACK WITH "HOOSIER HUNDRED" VICTORY
Coons wins Hoosier 100
Indianapolis, Indiana…….Jerry Coons, Jr. of Tucson, Arizona counted last year's win in the "Hoosier Hundred" at the Indiana State Fairgrounds as one of the biggest of his career. He came back on Friday night to back it up with his second-straight victory in the 100-mile event aboard the RW Motorsports – Joe Gibbs Driven Racing Oil #27 Beast/Wallace Toyota.
"Winning this race just once and joining that list of names, that was a huge deal in itself. To come back and join the group of guys who have won it more than once, and won it back-to-back, it's just amazing," Coons said of his romp that accounted for 87 laps led.
Tracy Hines jumped from the front row to lead at the start, but a cluster of cautions slowed the pace and set up multiple double-file restarts. Those proved pivotal, as Coons used a restart on lap 14 to leap past Hines and take a lead he would never relinquish.
Continue Reading Here…….
Spencer Makes it a 3-Peat at Paris
PERRIS, CA – MAY 27, 2012… Starting eighth, Mike Spencer of Temecula took the lead from Richard Vander Weerd on lap six, fought off a challenge by Nic Faas, and won the first "Salute to Indy" of his career. The $2,500 triumph at Don Kazarian's Perris Auto Speedway was Spencer's third Amsoil USAC/CRA Sprint Car victory of the year as he was followed by Faas, Vander Weerd, Cory Kruseman, and Austin Williams.
Driving Ron Chaffin's famed red #50 Madera Produce / Grubstake Mini Storage Maxim, Mike Spencer earned his fourth Sander Engineering / Rod End Supply Fast Time Award of the campaign. The 4-time series champion placed third in his heat race and gave Chaffin and Crew Chief Bruce Bromme Jr. the third Perris "Salute to Indy" feature win of their career. "The Gasman" Richard Griffin won the Memorial Day Classic in 2000 and "The Demon" Damion Gardner took the checkered flags in 2004. Mike maintains the point lead heading to this Saturday's race at Yuma, Arizona's Cocopah Speedway.
Huntington Beach's Nic Faas threatened Spencer for several laps midway during the feature, but settled for second after starting seventh. Piloting Mark Alexander's #4 Scott Sales Company / Competition Suspension Inc. Spike, Faas was second fast in time trials and won the Saldana Racing Products / Circle Track Performance Heat Race #2. The 2008 USAC Western Midget Series Champion will be looking to make up some valuable ground with a main event win in Yuma.
Richard Vander Weerd of Visalia led the first five laps from his pole position starting spot before falling to Spencer. Driving the family owned #10 Vander Weerd Construction / Battery Worx Maxim, Vander Weerd dropped back to fifth and then charged forward to earn the LRB Inc. Race Products Award for his third place finish. Earlier in the night, last year's USAC West Coast 360 Champion was tenth fast in qualifications and claimed fourth in his heat race.
For Complete Results Click here……..
Brad Lovell wins first-ever TORC race
Ricky Johnson completes PRO 4 sweep
BUCHANAN, Mich. (May 27, 2012) – Day two of the Traxxas TORC Series, presented by AMSOIL at America's motocross track – Michigan's RedBud MX – again produced some incredible races, highlighted by three classics in the TORC PRO divisions – PRO 4×4, PRO 2WD & PRO Lights.
Headlining the PRO 4 division, with his second win of the weekend and fourth-consecutive win of the season (in four races) was Red Bull/Ram/Mopar/KMC Wheels' Ricky Johnson, himself a former MX National winner at RedBud. The Red Bull/Ram/Mopar/KMC Wheels team continued to dominate the podium in the PRO 2 class as defending champ Bryce Menzies made up for a rare mechanical malfunction on Saturday at RedBud with a decisive win against the 900-horsepower two-wheel drive trucks. And in the PRO Lights division it was Brad Lovell (AMSOIL/Torchmate/Nissan/BFG) – winning his first-ever TORC main event!
Continue Reading Here……
KAEDING COLLECTS TERRE HAUTE "HULMAN CLASSIC"
BK WIns at Terre Haute
Terre Haute, Indiana…….The complexion of Thursday night's 42nd "Tony Hulman Classic" at the Terre Haute Action Track changed many times in just a few short laps. In the end, it was Bud Kaeding cutting celebratory donuts and collecting the famed Winchester rifle for the 30-lap Main Event win.
Race-long leader Jon Stanbrough saw Darren Hagen use a turn-three slide-job on lap 22 for the top spot before a caution slowed the pace. Instead of Hagen giving up the lead for the restart, he found himself collected in the turn-four incident with Thomas Meseraull, relegated to the tail for the restart after changing a right-rear tire.
The restart was just the break Kaeding needed. The Campbell, California driver, who has experienced victories and a near career-ending flip at the half-mile, wasted no time in assaulting Stanbrough for the lead aboard his Kaeding Performance – Alviso Rock #29K Maxim/Speedway Chevy. He finally sealed the deal on lap 23 with a turn-one slide-job of his own, distancing himself from the pack over the final seven rounds.
Continue Reading Here…..
Mopar Midwest Championship Up Next
for Mopar .25 Midget Drivers
Mopar .25 Logo
The USAC Mopar .25 drivers head to Xenia, Ohio for Round #8 of the 2012 "Generation Next" National Tour this Friday, Saturday and Sunday, June 1-3. This event will also be Rd #2 of the Midwest Thunder series.
"Last year the track was re-paved and new concrete was laid in the corners," said Chuck Taylor, Club President. "We are excited to be hosting Round 8 together with our John Saunders Memorial and look forward to meeting all of the drivers and their families who are racing with the USAC "Gen Next" Series."
The Miami Valley Club is full of history. The club sits on the Kil-Kare Raceway property and is hosting its 61st anniversary in 2012. It is located at 1166 Dayton-Xenia Road, Xenia, OH 45385, for those of you who use GPS. Please note their is construction in the area and you may want to give your self extra time in getting to the track.
The Miami Valley Quarter Midget Club dates back to 1957, when it was a dirt track located at Linda Avenue and Smithville. They moved to Kil-Kare Speedway in 1991. John Saunders and 6 other members were the original founders. John never missed a meeting and was still active in the club at 82 years of age. In fact, he fielded many cars for drivers after his children finished racing. He had been at the track all day, went home for dinner and was sitting in his easy chair when he suddenly passed away. The Miami Valley Club is pleased and honored every year to host the John Saunders Memorial.