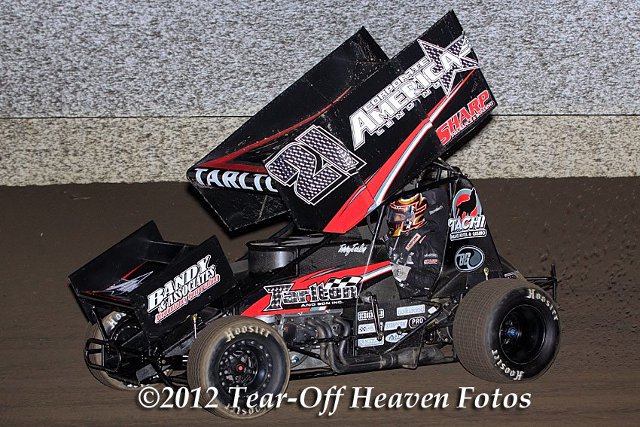 PETERSEN MEDIA
– Easton, CA driver, Tommy Tarlton, made his third start of 2012 at the Ocean Speedway Watsonville, and picked up his second win of the season at the facility and the third overall in 2012.
With 25 cars checked into the facility at the Santa Cruz County Fairgrounds, Tarlton stopped the clocks with the fourth fastest lap in time trials, putting him in the first heat, where he charged to a third place finish.
Starting third in the feature, Tarlton quickly took over the second spot as he chased down Brad Furr early in the event aboard his Corporate Lending America/Tachi Palace and Casino entry.
As the leaders reached lapped traffic on the seventh lap, Tarlton was able to blow by Furr and take over the lead, and began pulling away from Furr until the caution waved on the eleventh lap putting the field on the rear bumper of his Bandy and Associates/Sharp Insurance/BG Lubricants entry.
On the restart, Shane Golobic showed his nose to Tarlton on the low side of the speedway, but Tommy simply motored away from him and the rest of the field, even as he worked through traffic with failing brakes.
Tarlton would endure a couple of late cautions, but he simply would not be denied on this night, as he rocketed to the popular victory.
"Normally I would thank my crew chief after a win, but not tonight- having no breaks out there was no fun at all," Tarlton joked. "The car was awesome, and Paul and my guys really did have this thing dialed in and it was a great car, but unfortunately we lost brakes during that first yellow, and we had to work for it the rest of the night."
Tommy would like to thank Corporate Lending America, Tachi Palace and Casino, Sharp Insurance, Bandy and Associates, Pro Signs, BG Lubricants, and Astro Titanium for their continued support.
VIDEO: Check out some behind the scenes action as well as some of the racing from Friday night, June 1, 2012 in Watsonville, CA by visiting http://www.youtube.com/watch?v=9JThboT-o-I&feature=youtu.be
STAY CONNECTED: Stay connected with Tommy by visiting www.tommytarlton.com or follow @Tarlton_Racing on Twitter.