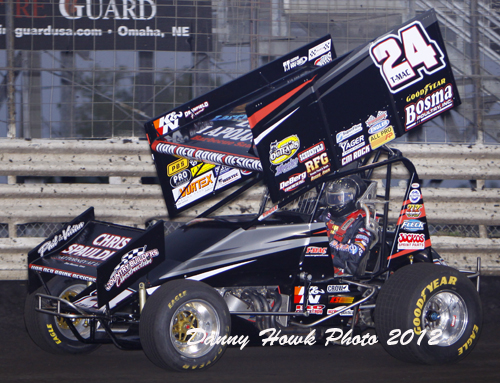 By Bill W
June 12, 2012 – In the last Knoxville Raceway preparation for the World of Outlaws until the Nationals in August, Terry McCarl recorded another top ten, finishing eighth. He overcame some odds to do it, after difficulties Friday night at the Clay County Fair Speedway in Spencer, Iowa left the TMAC Motorsports #24 team scrambling. This weekend, he will concentrate on weekly action at Knoxville, and stick to crew chief duties for son Austin on Sunday night at Huset's Speedway.
The WoO visit to Spencer saw TMAC get a late pill and time in 20th. "We drew a late number," he says. "That really hurt us, and we qualified badly. We still out-qualified some of the guys that came out behind us like Steve Kinser and (Donny) Schatz. It was kind of one of those deals. I thought it was a decent lap."
Missing the heat inversion, TMAC finished seventh and had to run the B, where he finished second after starting fourth. "I wasn't happy I had to run the B, but the car felt really good," he says. "We made some changes that worked for us."
Starting 20th in the main event, the Altoona, Iowa driver moved forward until getting caught up in a racing deal. "The feature started out really well. We passed three or four cars," says TMAC. "I got a good run in three and four. We came up fast on (Danny) Lasoski. I thought he locked a rear-end or something because he stopped. I hit him in the tank and spun him sideways. As soon as I was clear of him, Joey (Saldana) was sitting there, and I had nowhere to go. I clipped him pretty good."
Damage was to the steering and front end of the car. On Saturday, more issues were found. "I thought the oil on the track at Spencer was from the overflow," says TMAC. "My crew chief, Austin McCarl, went over the car and it had oil in it. I was worried about the steering. Austin got the car ready and ran the valves and stuff. About 2:00 we started the car up, and oil started pouring out of the oil pan. I have to thank Donny Sonner. I hated to bother him on a raced ay, but he is a great welder and fabricator. We were able to borrow the steering from Lynton Jeffrey. It was a little more scrambling than you want to do right before an Outlaw show."
TMAC came out 23rd out of the 43 cars entered at Knoxville on Saturday, and timed in 18th. "We didn't qualify as well as we wanted to," he says. "The car felt good to me, but the motor is pretty tired right now. The car felt great every time out really."
In a crazy heat, TMAC was able to put himself in the Dash by running second. He started in row three. "Outlaw heats are always tough, but I thought it was especially brutal Saturday," he says. "The guys in front (Kerry Madsen, Brian Brown, Kraig Kinser), beside (Steve Kinser), and behind me (Mark Dobmeier and Lucas Wolfe) were all tough. There was a time when I thought I might win the thing. There were a number of cautions and I was starting either on the bottom or up top…every time we were going forward. I was happy with our finish. We went forward in the Dash too (8th to 7th). Schatz did sneak by us at the end of it, but the car felt good again."
The feature saw a one-lane track with TMAC finishing eighth. "I felt we would have been better starting on the top, and we were kind of stuck on the bottom at the start," he says. "The track laid rubber pretty quick, and that was it. If we had started up top, I think we would have picked off a couple of guys on the start. It was a solid run. Whenever you run top ten when the Outlaws are here, it's good. We were able to do it in April, so we know we're capable of finishing up front with them."
The weekend ended with a Sunday run at Huset's near Brandon, South Dakota. TMAC timed in third, ran second in his heat and fifth in the feature after starting seventh. "The motor has a ton of nights on it right now," he says. "It's worn out. The first night we ran it, it got a little hot. We were o.k. at Huset's. The first part of the feature, we got up to fourth. It wasn't my normal good showing there. Our stagger shrunk two inches, and I jus t got loose coming off the corners."
To check out opportunities to partner with TMAC Motorsports on a nightly basis, visit www.TerryMcCarl.com or call 515 957-0020!
Websites for the McCarl Gang!
Driverwebsites.com develops the websites for the McCarl boys. Check out www.TerryMcCarl.com, as well as www.AustinMcCarl.com and www.CarsonMcCarl.com!
In"Terry"gation
Bobby Jansen asks: What do you attribute your success at Knoxville with the Outlaws to?
TMAC Answers: Whenever they come to town, it raises the bar. It makes you stand up in the seat a little more. They are all so good, and the local guys have stepped up too. You want to do well when they come to town. Once we get our motor program where we need it, we can get in there and qualify well. It seems when they come to town or when TV is around, we do our best. I love racing with them. They are the best. It's amazing how you can't make one mistake. It will hurt you so much more with them.
Got a question for TMAC? Send it to us at sprntcar@iowatelecom.net , and we may answer it in this section! Put "? for TMAC" in your subject line.
This Month in TMAC History!
TMAC has two victories at Knoxville on June 3. In 1995, he piloted the family #24 to a win over Skip Jackson, Johnny Herrera in the Forbrook #5, Craig Dollansky and Steve Beitler. In 2000, he drove the Serace #55 to victory under the NCRA sanction ahead of Travis Cram, Dennis Moore Jr., Steve Gennetten and Travis Rilat. TMAC has four career NCRA wins. In addition to his Knoxville triumph, he also has wins at River Cities Speedway (ND), Park Jefferson Speedway (SD) and Salina Highbanks Speedway (KS).
"Tuesdays with TMAC"!
"Tuesdays with TMAC" is an up close and personal look at colorful sprint car veteran Terry McCarl. To receive "Tuesdays with TMAC", send an e-mail to sprntcar@iowatelecom.net with "TMAC" in the subject line.
TMAC Motorsports would like to thank sponsors "Lord I Apologize BBQ Sauce", Deanfield Farms, Bosma Poultry, Eagle Chassis, DeBerg Concrete, AmeriCashAdvance.com, RFG, Phil and Vivian, Ryan Yager Trucking, 212 The Boiling Point Bar & Grill, Vortex Racing, Hoosier Tire, Chris Spaulding – Attorney at Law, Schoenfeld Headers, K&N Filters, Don Ott Engines, HRP, All Pro Cylinder Heads, Bob and Beulah Elder, Country Builders Construction, Engler Injection, Superflow Technologies, T&P Brothers, Larry Fleck Trucking, Winters, DriverWebsites.com, CM Rock, Jocko's Sprint Parts, Sander, Brown and Miller, Chase Graphics, Pro Shocks, Ben Cook, Bell Helmets, Burnett's Rock and Landscaping, Fatheadz Eyewear, Van Der Brink Designs, Morgan Strawberry Farms, Bulldog Pest Control, Aurora Rod Ends, Crow Safety, Justice Brothers, KSE Steering, Strange Performance, Saldana Racing Products, Scribner Plastics, Waterman Fuel Pumps, Weiland Racing, Butlerbuilt, PBS Bushings.
Terry McCarl Altoona, IA _MG_0966