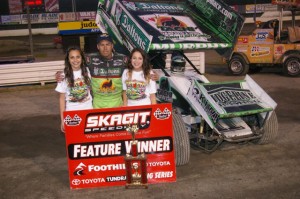 From Kelly Hart
Alger, WA — (June 14, 2012) — The 41st Jim Raper Memorial Dirt Cup presented by Goodyear got underway Thursday night at Skagit Speedway. 37 Sprint cars graced the pit area and began the first of three nights in search of the $25,000.00 first place prize.
Fast time in qualifying was Tim Kaeding in the Dennis Roth owned Beefpackers #83 at 11.165 seconds around the high banked 3/10th mile clay oval.
Qualifying heat races took the top three in each heat directly to the main event. Those top three in each heat were Shane Stewart, Chad Hillier and Kaeding in the first heat. Jonathan Allard, Roger Crockett and Peter Murphy in the second heat race. The top three in the third heat were Eric Fisher, Sam Hafertepe, Jr. and Jesse Whitney. The fourth heat transfers were Mitch Olson, Jac Haudenschild and Craig Stidham. And the final three transfers coming from heat 5 were Jason Solwold, Toni Lutar and Barry Martinez. Martinez got together with another car on the initial start of the heat and battle all the way back from 7th to finish 3 as he passed an ailing Trey Starks at the line to earn his way into the feature.
The C Main transferred five cars and their finish was Bud Ashe, Jeff Westergard, Mike Melwicks, Daniel Anderson and Clayton Sibley.
From the B main seven cars earned A Main starting positions. Winning was Willie Croft followed by Jayme Barnes, Marc Dupperon, Travis Rilat, Henry Van Dam, Dean Brindle and Trey Starks.
In the feature Jesse Whitney led the first lap and Jason Solwold held the point from lap 2 through 10. Shane Stewart passed Solwold for the lead at the tail end of the ninth lap and led until lap 20 when he blew a left rear tire bringing out the caution. To the lead comes Peter Murphy who hung on through a few more late race cautions for the opening night win.
Night two of the Jim Raper Memorial Dirt Cup presented by Goodyear features time trials, heat races and main events plus the first night of the Hornet Nationals at ASA Member Track Skagit Speedway. Spectator gates open at 5pm and racing starts at 7pm after opening ceremonies.
RESULTS
Fast time: Tim Kaeding 11.165
Heat 1 Shane Stewart, Chad Hiller, Tim Kaeding, Marc Dupperon, Travis Rilat
Heat 2 Jonathan Allard, Roger Crockett, Peter Murphy, Willie Croft, Scott Parker
Heat 3 Eric Fisher, Sam Hafertepe, Jesse Whitney, Trevor Turnbull, Kelleigh Johnson
Heat 4 Mitch Olson, Jac Haudenschild, Craig Stidham, Henry Van Dam, Kevin Smith
Heat 5 Jason Solwold, Toni Lutar, Barry Martinez, Trey Starks, Daniel Anderson
C Main Bud Ashe, Jeff Westergard, Mike Melwicks, Daniel Anderson, Clayton Sibley, Kelleigh Johnson
B Main Willie Croft, Jayme Barnes, Marc Dupperon, Travis Rilat, Henry Van Dam, Dean Brindle, Trey Starks, Jonathan Jorgenson, Scott Parker, Josh Edson, Shane Valliant, Bud Ashe, Jeff Westergard, Clayton Sibley, Daniel Anderson, Mike Melwicks, Trevor Turnbull, Kevin Smith
A Main Peter Murphy, Jonathan Allard, Jason Solwold, Sam Hafertepe Jr., Eric Fisher, Tim Kaeding, Roger Crockett, Jesse Whitney, Mitch Olson, Craig Stidham, Chad Hillier, Toni Lutar, Willie Croft, Travis Rilat, Marc Dupperon, Jayme Barnes, Henry Van Dam, Trey Starks, Dean Brindle, Barry Martinez, Shane Stewart, Jac Haudenschild
LAP LEADERS Jesse Whitney 1, Jason Solwold 2-9, Shane Stewart 10-20, Peter Murphy 21-30