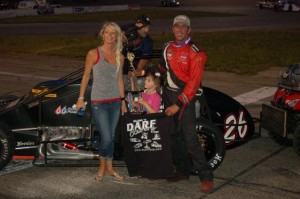 From Anderson Speedway
Anderson, IN — (June 16, 2012) — Aaron Pierce took the lead on the eighth lap and led the rest of the way with JoJo Helberg glued to his rear bumper to win the United States Speed Association's 50-lap feature at Anderson Speedway on Saturday.
The early lead was taken by Kyle Feeney chased by Travis Welpott, Pierce and Helberg. On the fourth lap Pierce got inside of Welpott entering turn one and a lap later Helberg followed suit around Welpott on the back straight.
On the eighth circuit Pierce used an inside move to get around Feeney entering turn one to grab the top spot. Helberg got inside of Feeney coming off the second corner.
For the next 40 laps Helberg was able to close on Pierce but was unable to find a way around to take the lead. Feeney finished third followed by Welpott and Kevin Feeney.
Pierce lapped the entire field except for Helberg.
"I knew JoJo (Helberg) was pretty good and it was important to get in front of him," Pierce said. "I had to keep him behind me. You can't made a mistake here."
Pierce won the Glen Nielbel Classic at Anderson Speedway in April in the first pavement sprint car race sanctioned by USSA.