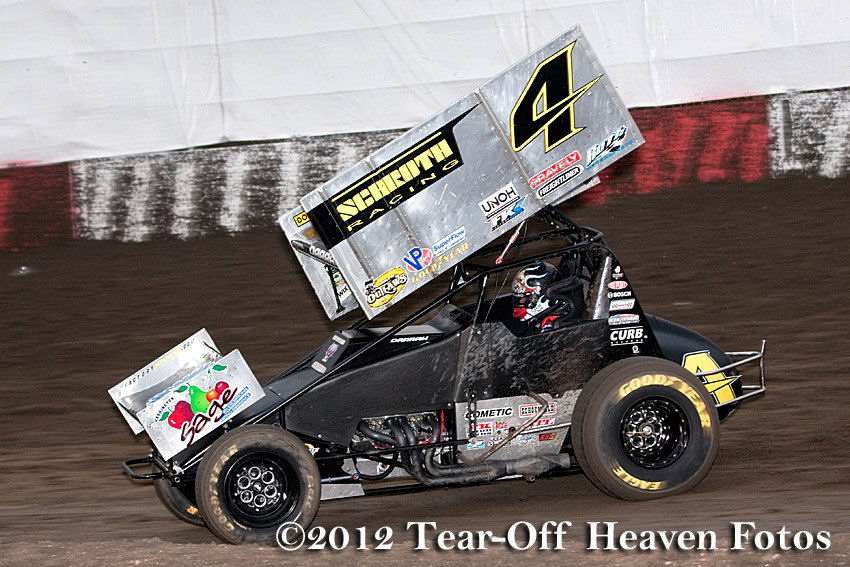 PETERSEN MEDIA
– Over the weekend, Cody Darrah and his Kasey Kahne Racing team were in the state of North Dakota for a pair of races with the World of Outlaws, and Darrah didn't have the kind of success he was hoping for.
"We had a decent car both nights, but we just went the wrong way in both feature," he explained.
Qualifying well both nights, Darrah started Friday's program in Grand Forks, ND at River Cities Speedway by timing in with the ninth quickest lap during time trials.
A third place finish in his heat left him out of the dash, but did in fact transfer him into the feature event, where he lined his Sage Fruit/Team ASE/Scroth Racing entry up in the 14th spot.
During the race, Darrah held solid in the 13th spot, as he wasn't able to get going forward.
At the stripe Darrah settled for the 13th spot.
"The track was decent tonight and allowed for some passing, but we just couldn't go anywhere," he said.
Saturday night the scene shifted to Fargo, ND and the Red River Valley Speedway.
Darrah again was very good early as he timed in with the fourth quickest lap during time trials.
Running third in his heat, Darrah made it into the dash on his time, and that were his night started to go out.
"We were fast in qualifying, and our heat, but we started going the wrong direction in the dash, and just never rebounded."
Starting in the third spot for the dash, Darrah dropped back to the fifth spot on the opening lap, and would finish fifth, lining him up in the third row for the feature.
In the feature, Darrah continued to fight his car, and struggle to maintain his position, as he slowly dropped back through the field.
At the stripe Darrah had fallen back to the 10th spot.
"A top-10 is decent, but this team is much better than that," he said. "We just struggled a bit with some setup stuff, but we learned a few things that hopefully can help us out."
ON TAP- Cody and his KKR team will now head to Dodge City, KS this Friday and Saturday for the Boot Hill Showdown at the Dodge City Raceway Park.
STAY CONNECTED- Check in to www.codydarrah.com or visit his facebook page, http://www.facebook.com/pages/Cody-Darrah/164513250262145?ref=ts for the latest news on Cody.