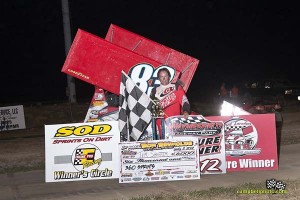 From Mike Strevel

Waynesfield, OH — (July 3, 2012) — In the inaugural Bob Reynolds Memorial race at Waynesfield Raceway Park in Waynesfield Ohio it was veteran racer Tim Shaffer  taking the $6,000 first place prize in front of one of the largest crowds in the history of the Ohio oval. The Alliquipa PA driver took the lead on lap 13 and captured the victory.
An incredible field of 46 cars checked into the pits at Waynesfield Tuesday afternoon and the open wheel race fans in attendance were awarded with a night to remember during the Ron Hammons promoted event.
Pole sitter and early leader Dustin Daggett  was extremely fast during the first 10 laps of the 30 lap main event. On lap 13 fourth starting Shaffer made his move on Daggett and took the lead. A mishandling racecar for Daggett was later discovered to be caused by a right rear tire slowly losing air and the Michigan driver was fortunate to finish the feature. Shaffer took the lead on lap 13 and had to fight off challenges from Jared Horstman and Tim Allison.
The very happy racer thanked promoter Ron Hammons, his hard working crew and all the incredible fans who came out to support this new 360 sprintcar special. The top five finishers were Shaffer,Allison,Butch Schroeder,J.R. Stewart and Randy Hannagan.
Taking heat victories were Kyle Sauder,Shaffer,Stewart,Gregg Dalman,Daggett and D.J.Foose.The B mains were taken by Danny Smith,Caleb Griffith and Hud Horton.
RACE RESULTS Waynesfield Raceway Park July 3, 2012
Car count- (46)
Engler Tool and Machine Heat Race #1:       1. 7k Kyle Sauder 2. 27 Beau Stewart 3. 22H Randy Hannagan 4. 31 Andy Teunessen 5. 34 Luke Hall 6. 11w Chris Ackland 7. 2m Dallas Hewitt 8. 98j John Kettelwell-DNS
Allstar Performance/Comp Cams Heat Race #2: 1. 83 Tim Shaffer 2. 11 Tim Allison 3. 4 Danny Smith  4. 35 Ron Blair 5. 1 Nate Dussel 6. 16 Ryan Ruhl 7. 4t Josh Turner 8. 16c Greg Wheeler
Butlerbuilt Seats Heat Race #3: 1. 6 JR Stewart 2. 5m Max Stambaugh 3. 23 Devon Dobie  4. 22D Dennis Yoakam 5. 10 Mitchell Brown  6. 40 Caleb Helms 7. 24j Jeremy Keegan 8. 12 Kent Wolters
Hoosier Tire Heat Race #4: 1. 49t Gregg Dalman 2. B20 Butch Schroeder 3. 40G Caleb Griffith 4. 7 Darren Long 5. 11N Ed Neumeister 6. 2G Joe Geibe 7. 23m Jack Miller 8. 9j Jesse McCreary
Heat Race #5: 1. 2m Dustin Daggett 2. 17 Jared Horstman 3.3T Tony Beaber 4. 3w Brett Mann 5. 10 Jared Delong 6. 34 Jimmy Steen 7. 57 Gary Edwards
Heat Race #6: 1. 24 D.J. Foose 2. 49 Shawn Dancer 3. 28h Hud Horton 4. 18 Todd Heurmann 5. 00 Ryan Grubaugh 6. 48 Brad Haudenschild 7. 33k Kyle Patrick
Engine Pro B Main #1  (top three transfer): 1. 4 Danny Smith  2. 22H Randy Hannagan 3. 35 Ron Blair 4. 1 Nate Dussel 5. 34H Luke Hall 6. 16 Ryan Ruhl 7. 31 Andy Teunessen 8. 4t Josh Turner 9. 11w Chris Ackland 10. 16c Greg Wheeler DNS-2m Dallas Hewitt ,98j John Kettelwell
Engine Pro B Main #2 (top three transfer):1. 40G Caleb Griffith 2. 22d Dennis Yoakam 3.40 Caleb Helms 4. 23m Jack Miller 5. 11n Ed Neumeister 6. 12 Kent Wolters 7. 9 Jesse McCreary 8. 24 Jeremy Keegan 9. 2G Joe Geibe 10. 7 Darren Long 11. 10 Mitchell Brown 12. 23 Devon Dobie
Engine Pro B Main #3 (top three transfer): 1. 28h Hud Horton 2.3w Brett Mann 3. 00 Ryan Grubaugh 4. 48 Brad Haudenschild 5. 18 Todd Heurmann 6. 3T Tony Beaber 7. 33k Kyle Patrick 8. 34 Jimmy Steen 9. 10j Jared Delong DNS-57 Gary Edwards
Engine Pro ASCS Sprints on Dirt Presented by ARP Feature: 1. 83 Tim Shaffer 2. 11 Tim Allison 3. B20 Butch Schroeder 4. 6s JR Stewart 5. 22H Randy Hannagan 6.2m Dustin Daggett 7. 24 D.J. Foose 8. 5m Max Stanbaugh 9. 4 Danny Smith 10. 49 Shawn dancer 11. 35 Ron Blair 12. 40 Caleb Helms 13. 27 Beau Stewart 14. 00 Ryan Grubaugh 15. 17 Jared Horstman 16. 22D Dennis Yoakam 17. 28H Hud Horton 18. 40G Caleb Griffith 19. 49t Gregg Dalman 20. 3w Brett Mann 21. 7k Kyle Sauder
Photo Gallery