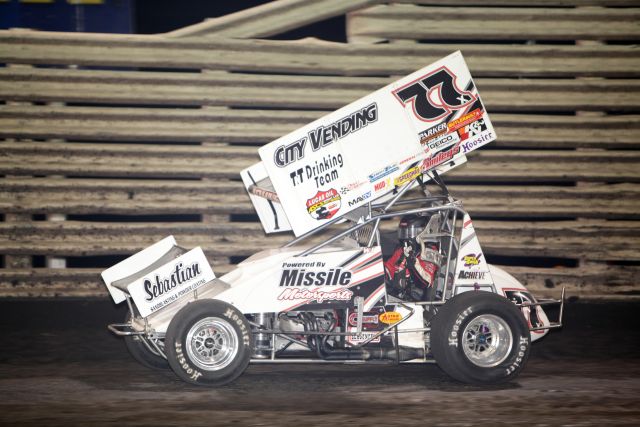 By Bill W
July 11, 2012 – After a solid top five finish in Iowa and a flip in South Dakota, the Wayne Johnson Racing #77x team is headed west. Tonight, they will compete at the Electric City Speedway in Great Falls, Montana, before heading to the Willamette Speedway in Lebanon, Oregon Friday and Saturday.
Wayne started eighth and finished in a heat Friday night at the Rapid Speedway in Rock Rapids, Iowa. "We come up through there decent," he says. "We passed Gary Wright at one time. There at the end, he got back by me on a restart. That took us out of the redraw and had us starting sixteenth."
The track had been watered liberally for the Lucas Oil ASCS National Series visit. Wayne had a long ways to go from row eight. "It was rough, with a big curb on the cushion," he says of the track. "Nobody was happy with it. Finally, it cleaned off and you could race a little. Everybody was running the top off the curb in one and two. We were good around the bottom. Down in three and four, they were having trouble running the curb, but we could."
Wayne's charge checkered with a fifth place finish. "We were coming up through there pretty well," he says. "We were able to come up to fifth. It started laying rubber there late in the race. We may have been able to get a little further up."
The series moved to the I-90 Speedway in Hartford, South Dakota on Saturday. Wayne struggled in his heat and failed to transfer out of the B due to motor issues. "Fifth wasn't enough to get us in the show, so I had to run in the front of the B," he says. "The thing just wasn't running right. It wasn't taking off. It started acting funny, and blew up with about a lap to go."
The team went to work changing the power plant. "We changed motors and took a provisional," says Wayne, who had to take his first of the year. "On the start, we got a good run on the high side. We were able to get around four cars and we were feeling good."
That's when disaster struck again. "We came off four, and I barely got into the fence," says Wayne. "I knew I would be alright. I was kind of skating down the wall trying to get off of it. There was an opening under the flag stand, and the right front wheel dug in. I busted my ass!"
There wasn't much left. "We took it apart and saved what we could," says Wayne. "The trailer became kind of empty. We took a new car down for tonight at Great Falls, and we have another one sitting in Washington waiting for us. We weren't planning on losing one though."
Wayne still sits second in Lucas Oil ASCS National Series points heading into tonight.
Follow Updates on Facebook!
Wayne will update as his race night goes on at his Facebook page. Find it by searching for Wayne Johnson Racing or clicking the following link…
http://www.facebook.com/#!/WayneJohnsonRacing
Outlaw Wings – "The Wing with an Attitude"!
Check out the new "recessed rivet" design put out by Outlaw Wings. Talk to Wayne about purchasing Outlaw Wings for your car! Outlaw Wings – "The Wing with an Attitude"!
Wayne's World
Aaron Jansen asks: Do you do much sight-seeing when you head west on these race trips?
Wayne says: We had a few days off on this trip, so we stopped at Mt. Rushmore. We had a guy from Australia, one from Washington and myself, who had never been there. That was pretty cool. We actually camped in Sturgis for a day and a half too and did a little sight-seeing. We're busy now, so there isn't much time for it.
Got a question for Wayne? Each week, Wayne will answer your questions about "Tech Tips", or anything that's on your mind. If you ever wondered what a part on a sprint car is all about, send an e-mail to us at sprntcar@iowatelecom.net, and we may answer it in this section! Put "? for Wayne" in your subject line. He'll try to keep it clean if you do!
Wayne's Fast Facts
Wayne was a winner last year on July 13 at the Cottage Grove Speedway in Cottage Grove, Oregon with the ASCS-Northwest series. After starting third, he would take the lead quickly and never look back. Kyle Larson was second, ahead of Tim Crawley, Roger Crockett and Seth Bergman.
Partner of the Week – Simpson Performance Products
Simpson Performance Products is headquartered in New Braunfels, TX with more than 80,000 sq. feet of manufacturing and warehouse space. Many of our restraints, helmets and flagship parachutes are manufactured and tested right here. Simpson fire suits and crew uniforms are manufactured outside of Los Angeles, CA in our 52,000 sq. foot facility. Simpson also employs the largest customer service and sales team devoted solely to servicing NASCAR customers of any racing safety supplier, based in the heart of NASCAR country, Mooresville, NC. Visit us online at www.TeamSimpson.com!
"Wednesday's with Wayne"
"Wednesday's With Wayne" is an up close look at the past, present and future of colorful andtalented sprint car driver Wayne Johnson. You'll never know what to expect next with Wayne, so don't miss us on Wednesdays!
To receive "Wednesday's with Wayne", send an e-mail to sprntcar@iowatelecom.net with"Wayne" in the subject line.
Wayne Johnson Racing would like to thank Vern Rengen and Missile Motorsports, SebastianSandblasting & Powdercoating, City Vending, Outlaw Wings, Team Achieve, The Oil Medics, Century Signs, Smiley's Racing Products, Hoosier Tire Southwest, Simpson, Butlerbuilt, Super Shox, Maxim, Speedway Motors, Rod End Supply, Schoenfeld Headers and RCM Design.
484301_435143009838674_198260423526935_94151953_1549367561_n