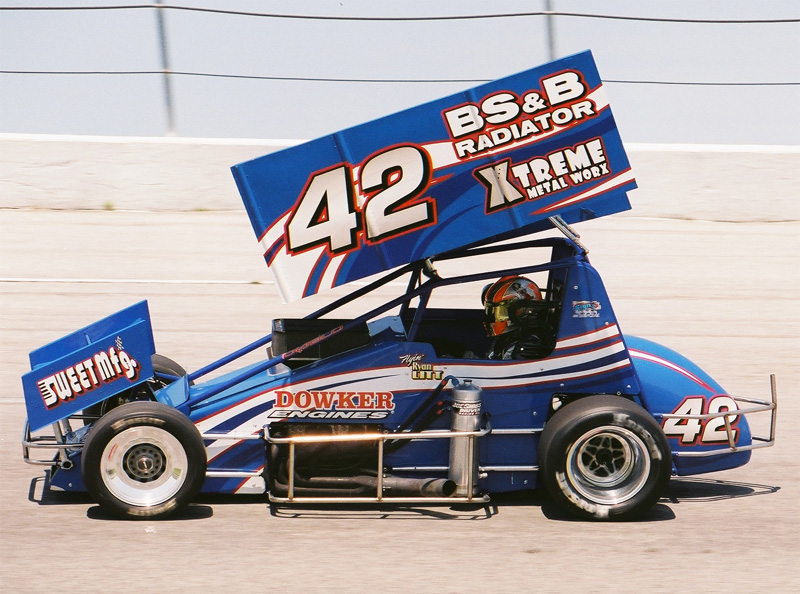 By Tommy Goudge, Duane Turner photo
(July 14, 2012) – Ryan Litt and the T&T Promotions #42 have been busy over the past few weeks, so it's time to catch up with them before they head back to the track to race at New Paris Speedway this Saturday night.
Ryan and the #42 team have competed 5 times since the last update, and began the busy stretch at Toledo Speedway's "Fastest Short Track Show in the World" for the Auto Value/Bumper to Bumper Super Sprints series on June 15. Ryan had a good run going that night, and was challenging for the lead in the feature when the engine in his car went south, and relegated him to a 13th place finish.
The next stop for the team was Dixie Motor Speedway in Birch Run, Michigan on June 29, and the night went much better as Ryan brought home a 3rd place finish. Mount Brydges, Ontario driver Mike Ling got the feature win, and combined with Ryan to put two Canadians on the podium.
"(We) had an overall good night at Dixie," says Ryan. "We were having a tough time finding the setup during the day. We would take a swing at it, and go a bit too far one way or the other. Finally got it close in the feature. I tracked down Linger, but didn't have enough to make it stick, and than started to get loose."
June 30 found the team heading south to race at Angola Motor Speedway in Indiana – a track which Ryan didn't know much about. His inexperience didn't slow him down though, as Ryan came away with an exciting feature win after a duel with Joe Swanson in the Hoosier Outlaw Sprint Series feature.
"I didn't know what to expect at Angola," says Ryan. "The car started off super tight, but we made adjustments and loosened it up for qualifying, where we had a pretty good run. The feature was a lot of fun, and had some really tight racing – a little too tight a couple of times. We seemed to be going through lapped traffic a lot, and it made the racing great for the fans, but a little dicey for us guys in the seat. I got a good run on the restart on the top side of Joe, he tried to make his car a little too wide, and we ended up touching tires, and we both got out of shape. Luckily I had good bite, and was able to stick it underneath and drive to the win."
The team's third stop in five days was at Auto City Speedway near Flint, Michigan for a Must See Racing Xtreme Sprint Series event. A promising start gave way to frustration at the beginning of Ryan's qualifying race.
"The car was pretty close all day at Auto City," says Ryan. "It was tough getting a hold of the track because of the high temperatures and humidity. We were looking good for the night, until the first turn of the 20 lap qualifier when a rookie driver made a mistake on the bottom and pushed up into my left rear. He hit me hard enough to break some bolt-on parts, and that made us start dead last in the final 20 lap feature. I had an extremely good car – best I've had all year – and we ended up getting into 5th spot on the last lap, but I over-drove the car and lost 2 spots and we crossed the line 7th. It was a lot of fun passing that many cars in such a short amount of laps. I have to thank Tony, Butch, my Dad, Barlow, and Dave for all of their work this week. We are really starting to find the sweet spot on this Diablo Chassis and I have to thank Dave Steele for his help also."
Just a few days after the Auto City event, the team was back in the same general area for a Saturday night race with the Auto Value/Bumper to Bumper Super Sprints series at Owosso Speedway in Ovid, Michigan. Ryan began the night by taking the runner-up spot in time trials, but the feature was frustrating, as something was wrong with the car. The team struggled to a 12th place finish, but were happy to see teammate Bill Tyler take his first feature win in 7 years.
Next up for Ryan and the T&T Promotions #42 team is a trip back to Indiana to race with the Hoosier Outlaw Sprint Series at New Paris Speedway. The event will pay show-up points for the Auto Value/Bumper to Bumper Super Sprints championship, which is currently a two-driver race between Ryan and Bill Tyler. Litt currently trails Tyler by just three points, while the two team cars are also near the top of the owners championship as well.
WHAT'S NEXT
Hoosier Outlaw Sprint Series/Auto Value/Bumper to Bumper Super Sprints series at New Paris Speedway
www.SuperSprints.com
www.HOSSRacing.com
WHERE:
New Paris Speedway
16806 County Road 46
New Paris, IN 46553
www.NewParisSpeedway.com
WHEN:
Saturday, July 14, 2012
Gates open at 12pm, Qualifying at 4pm, Racing at 7pm.
RIDE WITH RYAN
Make sure to check out Ryan's new HD in-car camera footage. The latest videos feature Ryan and the #42 running some fast laps around Owosso Speedway. Just go to Ryan's official YouTube profile at www.youtube.com/user/RyanLittRacing to watch the videos…and crank up the volume!
BE AN INSIDER
Do you want to be an insider and have Ryan Litt Racing news delivered straight to your e-mail? Got a question for Ryan? Just send an e-mail to ryanlittmedia@hotmail.com and we'll do the rest. Questions may be featured in future Ryan Litt Racing news updates so be sure to include your name and hometown!
LITT'S LINKS
If you're a Facebook, Twitter, or YouTube user, make sure to join the official Ryan Litt Racing pages at www.facebook.com/RyanLittRacing, www.twitter.com/ryanlittracing, and www.youtube.com/user/RyanLittRacing
SPONSOR SUPPORT
Ryan and the teams would like to thank all their sponsors for their support during the 2012 season, including BS&B Radiator, Linton Media, Linde Gases, Xtreme Metal Worx, Leaf Racewear, Shell Shock Designs, Dowker Engines, Sweet Manufacturing, Hoosier Racing Tire, and Joe Gibbs Driven Racing Oils.
For more information on Ryan and the racing teams, including schedules, news releases, photos, videos, merchandise, and contact information, please visit Ryan's official website powered by Linton Media at www.RyanLitt.com.