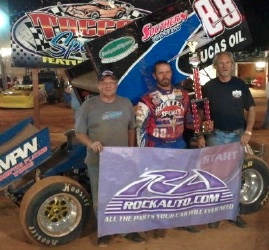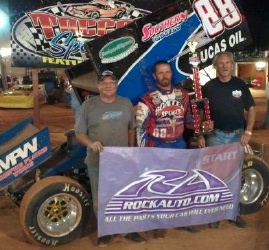 From Bryan Hulbert
LaMonte, Missouri (July 21, 2012) The Speedway Motors ASCS  Warrior Region stopped into LA Raceway this past Saturday night with Arkansas's Tim Crawley taking the win.
Taking the lead from Brian Bell on lap nine, Crawley would lead the rest of the way to victory. Bell would hold onto the runner up spot with Tyler Blank, Bryan Grimes, and Evan Martin rounding out the top five. Randy Martin, Josh Fisher, Jay Rusell, Terry Gray, and Tim Montgomery completed the top ten.
Racing with the Speedway Motors ASCS Warrior Region continues Sunday night at Double X Speedway in California, Missouri.
Speedway Motors ASCS Warrior Region
LA Raceway – LaMonte, Missouri
July 21, 2012
Car Count: 31
Heat 1 (8 Laps): 1. 28-Jonathan Cornell; 2. 75-Tyler Blank; 3. 86X-Josh Fisher; 4. 4J-Jon Corbin; 5. 38-Cody Baker; 6. 29-Brandon Hahn; 7. 5-Matt Close; 8. 48-David Brown
Heat 2 (8 Laps): 1. 04-Brad Graham; 2. 23b-Brian Bell; 3. 76-Jay Russell; 4. 3b-J.D. Black; 5. 33-Austin Alumbaugh; 6. 49-Tyler Elliott; 7. 5M-Miranda Arnold; 8. 65-Trevor (T.J.) Muths
Heat 3 (8 Laps): 1. 14-Randy Martin; 2. 77-Bryan Grimes; 3. 88-Tim Crawley; 4. 10-Terry Gray; 5. 2a-Randy Hibbs; 6. 3P-Rusty Potter; 7. 9m-Lanny Carpenter; 8. 9-Casey Baker
Heat 4 (8 Laps): 1. 4-Evan Martin; 2. 01m-Tim Montgomery; 3. 86-Kyle Bellm; 4. 09-Joshua Stephens; 5. 93-Taylor Walton; 6. 99-Jimmy Davies; 7. 3z-Zach Davis
B Feature (12 Laps): 1. 33-Austin Alumbaugh; 2. 2a-Randy Hibbs; 3. 3P-Rusty Potter; 4. 93-Taylor Walton; 5. 5M-Miranda Arnold; 6. 29-Brandon Hahn; 7. 99-Jimmy Davies; 8. 9m-Lanny Carpenter; 9. 3z-Zach Davis; 10. 5-Matt Close; 11. 49-Tyler Elliott; 12. 65-Trevor (T.J.) Muths; 13. 38-Cody Baker; 14. 48-David Brown; 15. 4J-Jon Corbin
A Feature (25 Laps): 1. 88-Tim Crawley; 2. 23b-Brian Bell; 3. 75-Tyler Blank; 4. 77-Bryan Grimes; 5. 4-Evan Martin; 6. 14-Randy Martin; 7. 86X-Josh Fisher; 8. 76-Jay Russell; 9. 10-Terry Gray; 10. 01m-Tim Montgomery; 11. 38-Cody Baker; 12. 3b-J.D. Black; 13. 33-Austin Alumbaugh; 14. 93-Taylor Walton; 15. 2a-Randy Hibbs; 16. 04-Brad Graham; 17. 3P-Rusty Potter; DNF 86-Kyle Bellm; DNF 28-Jonathan Cornell; DNF 09-Joshua Stephens