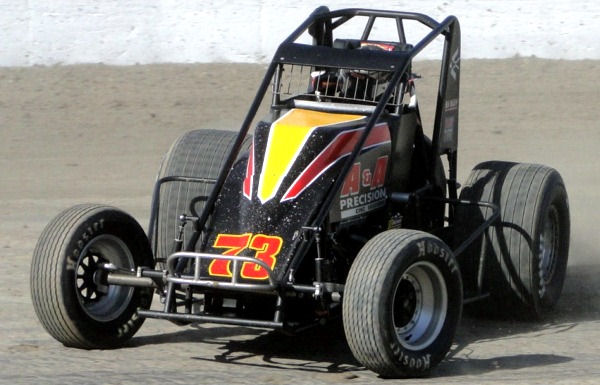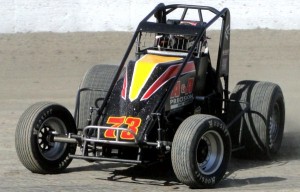 From Lance Jennings
Tulare, CA — (March 16, 2013) — Taking the lead from Markus Niemela on lap eleven, Hollister's Ryan Bernal claimed the Friday night feature at Tulare's Thunderbowl Raceway. Due to time constraints, the shortened main event marked Bernal's tenth career USAC West Coast Sprint Car victory and ties Bud Kaeding for the series lead. Niemela, Kaeding, "Hollywood" Danny Faria Jr., and Jace Vander Weerd rounded out the top-five drivers.
From the outside of the front row, Markus Niemela powered by Kaeding to grab the early lead. Looking for his first series triumph, the Finland native began to run away as Kaeding, Bernal, and Richard Vander Weerd fought hard for second. With every corner, Niemela increased his advantage until young Austin Liggett caught a rut and flipped on the fourth lap. Last year's Rookie of the Year walked away uninjured, but his family owned machine was done for the night.
Niemela had a brilliant restart and went to work on rebuilding his lead. Bernal and Vander Weerd were falling behind until a red flag halted the action five laps later. Terry Nichols, the 2009 Rookie of the Year, flipped hard in the third turn and lost his tail tank. With the safety crew on the scene, Nichols took a moment to gather himself and climbed out of his battered race car. A lengthy delay was needed to clear the speedway and clean up the spilled methanol.
On the following restart, Niemela could not shake free from the field. Bernal stayed close and began to challenge for the top spot. Searching for an opening, Ryan slipped into the lead on lap eleven. Now, Markus was under attack from both Vander Weerd and Kaeding. The trio swapped positions, but more caution flags would plague the main event. The last yellow was for Vander Weerd who spun to a stop and track officials called the event after fifteen laps to start the World of Outlaw feature.
Driving Keith Ford's #73 King Racing Products / A&A Precision Machine Spike, Ryan Bernal won the first point race of the season. The two-time Santa Maria Champion placed third in his heat race and third in the new 6-lap dash. To date, Bernal has one heat race victory, three top-5 finishes, and 14 feature laps led on the season.
After a great run early in the main event, Rauma, Finland's Markus Niemela had to settle for second at Tulare. The pilot of Steve Watt's #81 Lost Reality / SWE Maxim made his first start of the season and won the 8-lap DJ Safety Heat Race #2. Earning the night's high point honors, Niemela raced to second in the Dash after starting sixth.
Bud Kaeding of Campbell scored third at the checkered flags. Driving Junior Bowman's #29 Buster & Ziggy Enterprise / Kaeding Performance Bullet, Kaeding won the Extreme Muffler's Heat Race #1 and the Woodland Auto Display Dash. The defending champion had a good night and has three top-10 finishes on the year.
Debuting his new #17V Johnston Calf Pens / DeBoer & Sons Trucking Spike, Tipton's "Hollywood" Danny Faria Jr. ran fourth in the Friday night feature. "Hollywood" placed second in his heat race and ran sixth in the dash.
Visalia's Jace Vander Weerd came home fifth in the main event. Piloting the family owned #88 Vander Weerd Construction / Battery Worx Maxim, the former USAC/CRA Rookie of the Year was second in his heat race and fifth in the dash.
Rookie of the Year candidate Landon Hurst of Riverdale earned the night's BR Motorsports / Racing Optics "Hard Charger / Best Passing Job" honors with a sixth place run after starting nineteenth. Making his first career sprint car start in the family owned #179 Kings River Commodities / Duinkerken Farms Maxim, Hurst was seventh in his heat race before his impressive drive.
Richard Vander Weerd of Visalia won the night's Saldana Racing Products / Keizer Wheels Heat Race #3. Driving the family owned #10 Vander Weerd Construction / Battery Worx Maxim, the former champion ran fourth in the dash and scored fifteenth after a late spin. To date, Vander Weerd has five top-10 finishes on the year.
The USAC West Coast Sprint Car Series would like to thank Southwest Contractors, Hoosier Tire, Amsoil, BR Motorsports, Chris Kearns Presents, Competition Suspension Inc., DJ Safety, Diversified Machine Inc., Extreme Mufflers, Five Star Grafix, Keizer Wheels, King Racing Products, Racing Optics, Rod End Supply, SBI Fuel Systems, Saldana Racing Products, Weld Racing, and Woodland Auto Display for their support. If you or your company would like to become part of the series for the upcoming season, please email PR Director Lance Jennings at
lwjennings@earthlink.net
.
USAC WEST COAST SPRINT RACE RESULTS: March 15, 2013 – Tulare, California  – Thunderbowl Raceway
FIRST HEAT: (8 laps) 1. Bud Kaeding (#29 Bowman), 2. Danny Faria Jr. (#17V Faria), 3. Austin Liggett (#83 Liggett), 4. Jeff Sibley (#18 Watt), 5. Marty Hawkins (#3M Hawkins), 6. Kolby Araki (#30K Araki), 7. Landon Hurst (#179 Hurst). NT
SECOND HEAT: (8 laps) 1. Markus Niemela (#81 Watt), 2. Ricky Kirkbride (#87 Van Meter), 3. Rusty Carlile (#51 Carlile), 4. Chris Ennis (#86 Ennis), 5. Jim Richardson (#8 Richardson), 6. Joe Stornetta (#3F Finkenbinder). NT
THIRD HEAT: (8 laps) 1. Richard Vander Weerd (#10 Vander Weerd), 2. Jace Vander Weerd (#88 Vander Weerd), 3. Ryan Bernal (#73 Ford), 4. Andy Ferris (#4J Ferris), 5. Jonathan Logan (#32 Evett/Logan), 6. Terry Nichols (#33 Nichols). NT
DASH: (6 laps) 1. Kaeding, 2. Niemela, 3. Bernal, 4. R. Vander Weerd, 5. J. Vander Weerd, 6. Faria, 7. Kirkbride, 8. Carlile. NT
FEATURE: (15 laps) 1. Ryan Bernal, 2. Markus Niemela, 3. Bud Kaeding, 4. Danny Faria Jr., 5. Jace Vander Weerd, 6. Landon Hurst, 7. Ricky Kirkbride, 8. Marty Hawkins, 9. Rusty Carlile, 10. Andy Ferris, 11. Jeff Sibley, 12. Chris Ennis, 13. Jim Richardson, 14. Kolby Araki, 15. Richard Vander Weerd, 16. Jonathan Logan, 17. Terry Nichols, 18. Austin Liggett, 19. Joe Stornetta. NT
—————————-
**Liggett and Nichols flipped during the feature.
FEATURE LAP LEADERS: Laps 1-10 Niemela, Laps 11-15 Bernal.
NEW WEST COAST SPRINT POINTS:
NEXT WEST COAST SPRINT RACE: March 16 – Tulare, CA – Thunderbowl Raceway