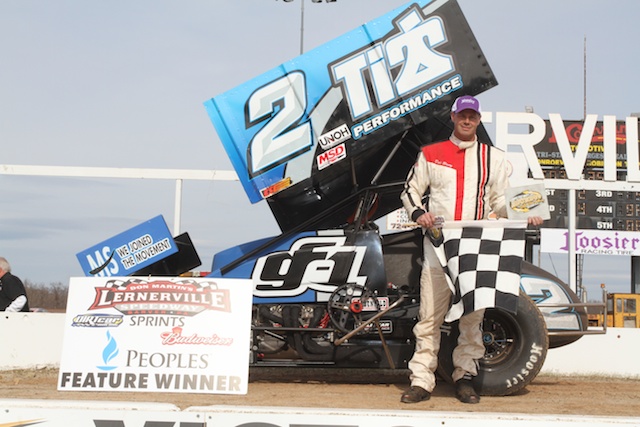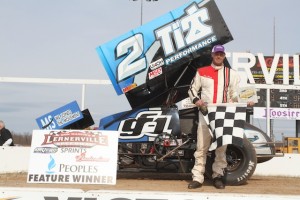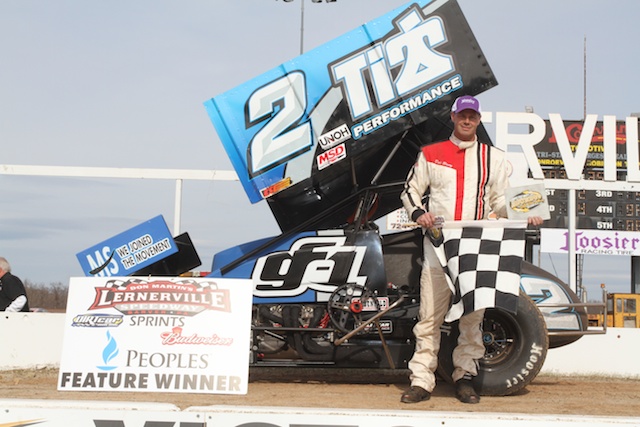 From Lernerville Speedway
Sarver, PA — (April 14, 2013) — Well over 211 cars (plus another 83 Enduros) overflowed the pits once again for the finale of the DIRTcar Round Up Steel City Stampede.  For the third straight year, 1991 Track Champion turned multiple-time All Star Champion Dale Blaney was the class of the field and scored his third straight Steel City Stampede feature win in the Ti22/Peoples TWP Sprints, but had to pass hotshoe Danny Holtgraver and hold off All Time division wins leader Ed Lynch Jr. to score the win.  Dave Hess Jr. won the Precise Racing Products DIRTcar Late Models feature over a spirited Russell King and Chad Brachmann won the 20th Annual Kodiak Graham Memorial from the tail of the A and B main; his second straight Steel City Stampede A-Main feature win.
Former Track Champions and current All Star Circuit of Champions stars Dale Blaney and Danny Holtgraver paced the front row of the $3,000-to-win, 30-lap Ti22 Performance/Peoples TWP DIRTcar 410 Sprints with Holtgraver jumping out to the early lead running around the top of turns one & two.  Blaney took the lead on lap six with a slide job in turns three & four and never looked back.  All Time Division wins leader Ed Lynch Jr. got past Holtgraver mid-race and was seemingly reeling in Blaney, but ended up spinning himself out trying to miss a spinning lapped car at the flagstand.  Holtgraver chased Blaney home, but could never mount  serious charge as Blaney scored his third straight Steel City Stampede feature and the 16th feature win of his Lernerville career; tying him with fellow Ohio legend Rick Ferkel.  Holtgraver finished second ahead of Danny Smith, Jack Sodeman Jr. and a hard-charging Dan Kuriger who started at the tail of the field due to not competing in heat race action in October.
Dave Hess Jr. won a thrilling Precise Racing Products Late Model feature over Russell King, Doug Eck and Jared Miley.  King took the early lead from the outside pole, but Hess back took the lead with a slide job through turns one & two on the lap 13 restart.  Hess and King traded wicked slide jobs again late in the race, with Hess scoring the final slider in turn two on lap 22 and held on to win his first Steel City Stampede feature win in the Precise Late Models; he also has a UEMS/UMP Modifieds Stampede win in 2011.  King raced home second, while Doug Eck passed Jared Miley late in the race for third and Garrett Krummert rounded out the top five.
Chad Brachmann was not present for the Steel City Stampede heat races in October and thus had to tail the BRP/Diehl Mods B-Main #2 just to make the Kodiak Graham Memorial starting lineup.  He started 23rd in a stacked A-Main and raced his way to the front; taking the lead from Ricky Richner who took the lead early in the race from Russell King.  Brachmann made the winning pass on lap 28 and scored the $3,000 win in the prestigious 20th Annual Kodiak Graham Memorial; his second straight Steel City Stampede BRP/Diehl Mods feature win.  Richner settled for second ahead of Rex King Sr., Russell King and Randy Chrysler.
SS Chassis guru Chris Schneider jumped out to a quick lead in the Millerstown Pic-A-Part DIRTcar Sportsman/Stock A-Main, but gave way to Rusty Moore after a few laps.  Moore, however, spun out while leading on a mid-race restart and Alan Dellinger seized the lead in the #100 stock car that Joe Kelley runs weekly at Mercer Raceway Park.  Dellinger had to hold off a late race surge by PPMS star Pat Weldon, but rolled into Sheetz Victory Lane for a $1,000 payday and a shiny Steel City Stampede belt buckle.  Weldon chased Dellinger to the checkers ahead of Randy Wyant, Rusty Martz and Bob Sloss.  All Time division wins leader and seven-time Lernerville Track Champion "Super Joe" Kelley finished just outside the top five in sixth.
Max Blair had to endure a bevy of cautions, but made his way to the front of a stout FASTRAK Northeast Late Model field and passed Kyle Zimmerman late in the race to score another FASTRAK Northeast victory worth $2,000!  Mike Pegher Jr. raced the #1 Cochran Late Model to a third place finish, ahead of Butch Lambert and Chad Ruhlman.
Jonathan Taylor held off Brett Rhebergen to win the UEMS/UMP Modified feature.  Adam Kekich was shoot out of a cannon at the drop of the green flag and led wire-to-wire to win the 305 Sprint feature.  Alan Knepper won a wild STARS Mod Lites A-Main and Larry Mitchell won in the 4-Cylinders.  Paul Crynock III won his second straight Enduro and his Stamepe belt buckle to bring the show to a close!
Ti22/Peoples TWP DIRTcar 410 Sprint Feature: (30 Laps)
1.       2 Dale Blaney
2.       D4 Danny Holtgraver
3.       4 Danny Smith
4.       94 Jack Sodeman Jr.
5.       08 Dan Kuriger
6.       8 David Smith
7.       7 Eric Williams
8.       13 Brandon Matus
9.       38 Dennis Wagner
10.   46 Stuart Williams
11.   2L Ed Lynch Jr.
12.   40X Cory Good
13.   49 Bob Howard
14.   33 Brent Matus
15.   22S Brandon Spithaler
16.   44 Pete Landram
17.   1R Gale Ruth Sr.
18.   2E Ed Lynch III
19.   27 Skip Dougherty
20.   2s Francis Sesco
21.   C11 Brandon Cornelius
22.   5 Bob McMillin
23.   C9 Charlie Cornelius
Precise Racing Products DIRTcar Super Late Model Feature: (30 Laps)
1.       44H Dave Hess Jr.
2.       56 Russell King
3.       03 Doug Eck
4.       H1 Jared Miley
5.       29K Garrett Krummert
6.       88 Chuck Sarver
7.       29 Kenny Schaltenbrand
8.       CR9 Chris Rhodes
9.       111 Brian Swartzlander
10.   72 Michael Norris
11.   55S Chris Schneider
12.   3 Dan Swartzlander
13.   J4 John Garvin Jr.
14.   3D Bill Davis
15.   27X Sam Eichelberger
16.   66 Todd Bachman
17.   11 Greg Kent
18.   B8 Tom Bateman
19.   82 Bobby Watt
20.   5 Mike Blose
21.   10 Alex Ferree
BRP/Diehl Kodiak Graham Memorial Big Block Modified Feature: (30 Laps)
1.       3B Chad Brachmann
2.       26 Ricky Richner
3.       65 Rex King Sr.
4.       166 Russell King
5.       21K Randy Chrysler
6.       11R Brad Rapp
7.       61 Dave Murdick
8.       19 Joe Kubiniec
9.       17M Skip Moore
10.   45 Steve Feder
11.   3E Eric Gabany
12.   35H Chris Haines
13.   83 Brian Schwartzlander
14.   37MD Jeremiah Shingledecker
15.   4S Jerry Schaffer
16.   03 Mark Frankhouser
17.   777 Ed Lynch Jr.
18.   516 Gary Smoker
19.   27R Dave Reges
20.   1G Frank Guidace
21.   6 Carl Murdick
22.   165 Rex King Jr.
23.   69 Tom Mattocks
24.   17H Kevin Hoffman
25.   66 JR McGinley Jr.
26.   19W Justin Wright
Log on to www.Lernerville.com for a complete rundown of Steel City Stampede Finale feature results.
Car Count Total: 294
Ti22 Performance DIRTcar 410 Sprints: 23
Precise Racing Products DIRTcar Late Models: 21
BRP/Diehl Auto Group DIRTcar Modifieds: 35
Millerstown Pic-A-Part DIRTcar Sportsman: 30
FASTRAK Northeast Late Models: 26
UEMS/UMP Modifieds: 29
305 Sprints: 14
4 Cylinder: 14
Mod Lites: 19
Enduro: 83