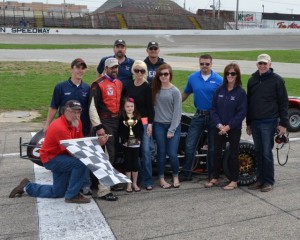 From Anderson Speedway
Anderson, IN — (April 14, 2013)– Muncie's Aaron Pierce recorded his third Glen Niebel Classic victory for non-winged sprint cars at Anderson Speedway on Sunday.
Pierce inherited the lead on lap 70 when leader Bobby East tangled with the slower car of Travis Welpott on the front street with the two cars coming to rest in turn one.
Pole sitter Joe Swanson took the early chased by Jo Jo Helberg, Pierce, East and Brian Gingras. Helberg went to the point on lap 17 when he slipped inside of Swanson coming off the fourth corner and East got inside of Pierce to claim the third spot.
Helberg's run ended on lap 22 when he bounced off the lapped car of Kyle Feeney, coming to a stop against the turn four retaining wall. Helberg's bad luck put East on the point chased by Pierce, Swanson, Gingras and Tony Hunt.
For the next 47 laps East was able to hold off a determined Pierce, who looked high and low for a way to the front. On lap 69 with East and Pierce running amongst slower traffic, the race deciding incident took place.
Pierce went on to win by three-seconds over Swanson with Hunt getting inside of Gingras on the final lap to finish third.
"The car was great," Pierce said following his third Niebel victory. He's the first driver to win back-to-back races to go along with a win in 2003.
"I saw it coming," he said of the contact that took East out of the race.
Swanson said his car lost its brakes for the second half of the race, but the car was good until then.
"It was tight racing," he said of the USSA sanctioned race.
Hunt said his car wasn't as good for the feature as it had been for qualifying and the heat race.
"It might have been something with the tires," he said. "I didn't want to wreck. We wanted to get a solid finish, which we did."
Spencer Bayston set fast time; win a heat race and the feature for the Mel Kenyon Midgets as he started his rookie season campaign in impressive fashion.
It was only Bayston's, fifth time in competition with the series.
Bayston slipped inside of Jessica Bean entering turn three to take the lead with 11 laps remaining and went on to record the victory.
Alexandria's Clayton Gaines, who recorded his first ever win in a heat race, led the first 14 laps until Bean and Bayston got underneath coming off the second corner.
Bayston won by 4.5 seconds followed by Bean, Travis Young (2012 champion), Cordy Horn and Gaines.
"I just ran a good line," Bayston said. "I'm very happy."
Racing returns to Anderson Speedway on Saturday, April 20 with McGunegill Engine Performance Late Models, Top Speed Fabrication Modifieds and Front Wheel Drives Oval.
For additional information on Anderson Speedway, visit www.andersonspeedway.com or contact Anderson Speedway at (765) 642-0206.