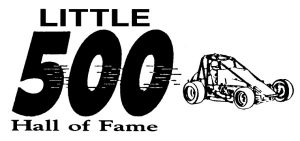 From David Sink
Anderson, IN – (May 11, 2013) –  The 24th annual Little 500 Hall of Fame Induction Ceremony honoring the "Class of 2013" is less than two weeks away and tickets are still available. The induction ceremony is scheduled for Saturday, May 25, 2013.
The 2013 induction ceremony will honor this year's inductees and includes: Tom Schemmer, Lloyd Shores, Mac Steele, and Al Sweeney. The induction ceremony will take place during a luncheon at Anderson Speedway the day of the 65th Pay Less Little 500.
Little 500 Hall of Fame representative, David Sink, explains the importance of the luncheon for the Little 500 Hall of Fame."The luncheon is really the Little 500 Hall of Fame's only fundraiser" explains Sink."I would encourage any race fan, driver, or crew member, who may be at the track the day of the race, to attend. Its really a great event and there are always a ton of former drivers who annually attend. The luncheon is open to everybody. Casual attire is perfectly ok. Every ticket we can sell helps ensure the future of the Little 500 Hall of Fame".
The Little 500 Hall of Fame is dedicated to promoting the history and heritage of the Little 500. Anderson Speedway, Bell Racing Company, the Little 500 Festival, and Big Joe's Event Services are a handful businesses and organizations supporting the 2013 Induction Ceremony.
There are a limited number of tickets still available by calling (765) 288-4587. Tickets are $12 each and reservations must be made by May 20, 2013. There will be no tickets available the day of the luncheon. A meet and greet is scheduled for 11am with lunch at 11:30am followed by the induction ceremonies.