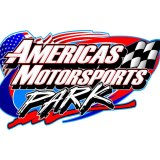 Clearfield, PA — (June 1, 2013) — CLEARFIELD, PA – Jimmy Seger of Morrisdale copped his career first Racesaver 305 Sprint main at America's Motorsports Park in Clearfield Saturday night, on Autism Awareness night. Other new winners included: Hunter McCracken of Curwensville copped his first Quigley's Pub Pure Stock feature while Andrew Pluta, Jr. of Stoystown picked up his first Clearfield County Metals Four Cylinder main event.
Repeat winners include: "Hot Rod" Rodney Phillips of Punxsutawney in the Randy Sterling Late Models, Denny Fenton of Clearfield in the Denny's Beer Barrel Pub Semi Late Models and Curtis Teats of Morrisdale picked up his second Harter and Son's Garage Street Stock.
Rodney Phillips and Dan Gill brought the Late Models to the green flag with Phillips taking the lead and Gill falling to second. One short lap later Chris Farrell moved into second and started to pressure Phillips, then on lap three Bill Davis was third and he brought Luke Hoffner along as the top four were jockeying for position.
The lead was still Phillips, but Farrell was on his bumper much of the race, then caution on lap 14 slowed the field and on the restart Hoffner was able to get under Farrell on the backstretch, but Farrell battled Hoffner back and tried to regain the second spot. All the while as they battled door-to-door, Phillips was loving it, as it gave him some breathing room, but when Allan Luzier waved the double checkered flags, it was Phillips taking the win over Hoffner, Farrell, Davis and Gill. Heat wins went to Hoffner, Farrell and Davis.
The Racesaver 305 Sprints were on the light side, but it doesn't take a full field to make for great racing, as Jimmy Seger beat Jeff Bacha off the front row and set the pace, with Bacha in second and Craig Folmer in third. As Seger led, Folmer was was working on Bacha, he then moved into second on lap seven and set his sights on the leader, he was able to catch Seger and they put on great race for the lead, with Folmer taking the lead on the backstretch but Seger getting the lead back at the start finish line. Seger was finally able to seal up the victory as he held Folmer at bay on the final lap. The win came in the Denochick Racing car, which was driving originally by Brandon Denochick, who lost his battle with cancer last year. The official top five were: Seger, Folmer, Bacha, Roger Irvine and Robbie Bartchey. Heat wins went to Seger and Bacha.
The Semi Lates hit the track with Chad Desmett and Jackie Phillips on the front row, with Phillips taking the lead on the first lap, then Denny Fenton made a low move in turn two and took the lead. He then went on to get his fourth win of the season. Jake Shady was second, Desmett was third, Dylan Fenton was fourth and Phillips was fifth. Denny Fenton also won the heat.
Matt Hugill and Curtis Teats brought the Street Stocks to the green with Teats taking the lead. Tony Brown was second for the first two laps before Jamie Price took second away from him. The rest of the race, Teats held the lead, but Price was all over him like a bad dream, as Dan Smeal moved into the mix and made it a three car fight for the top spot, but Teats wasn't about to be denied his second with, as he held both Price and Smeal at bay. Brent Lee and Joe Jordan rounded out the top five. Smeal and Jordan split the heats.
The Pure Stocks, like the Sprints, were a little on the light side, but once again, it was a great race, with Ben Krause and Hunter McCracken on the front row, by luck of the invert. It was third place Cody Hummel who took the lead initially, with Krause in second and McCracken falling to third. On lap two, McCracken moved into second with Justin Queen in third and Jim Challingsworth in fourht. As the race wore on, it was still Hummel leading the way, but a caution on lap nine tightened the field, with McCracken taking the lead on the restart and Hummel falling to second, then Queen was along side Hummel and they made light contact with Queen getting a flat and spinning, ending his night. The restart saw McCracken still leading, but heading for the checkered flag, Hummel made on last effort, but he nearly spun, allowing Krause to get by for second. At the finish the top five were: McCracken, Krause, Hummel, Challingsworth and Queen. The lone heat was won by Queen.
The Four Cylinders were led to the green with Bryan Warren and Jesse Short with Short taking the lead. He saw setting the pace with first Aaron Luzier in second then Andrew Pluta Jr. took second and eventually the lead from Short on lap seven. Once he was in the lead, he didn't look back, but Short got out of shape and raced through the infield, collecting Josh Henry, who collected Luzier. Both Short and Henry were disqualified for their actions.
On the restart, Pluta held off Jody Frantz to get the win, Frantz was second with Warren, Jim Frantz and Stephanie Lucas completing the top five. The heats were won by Pluta and Short.
AMP Notes: There were a total of 67 cars in the pits, including 18 Late Models, 8 305 Sprints, 5 Semi Lates, 13 Street Stocks, 7 Pure Stocks, and 16 4 Cylinders…Coming up this week is another five-division AMPED up show, including Late Models, Semi Lates, Street Stocks, Pure Stocks and Four Cylinders…Gates open at 3 with race time set for 6:30 p.m…Coming up on July 3 is a special appearance by the 410 Sprints…For more information check the website at www.americasmotorsportspark.com.
SUMMARY
Randy Sterling Trucking Late Models: 1. Rodney Phillips, Punxsutawney; 2. Luke Hoffner; 3. Chris Farrell; 4. Bill Davis; 5. Dan Gill; 6. Joe Moyer; 7. Tom Shaffer; 8. Justin Kanouff; 9. Dave Buchanon; 10. Scott Alvetro; 11. Gale Huey; 12. Denny Fenton; 13. Dan Boyd; 14. Travis Brady; 15. Steve Scaife; 16. Roswell Babcock; 17. Tim Steis; 18. Tom Merryman.
Racesaver 305 Sprints: 1. Jimmy Seger, Morrisdale; 2. Craig Folmer; 3. Jeff Bacha; 4. Roger Irvine; 5. Robbie Bartchey; 6. Brian Riddle; 7. Steve Kenawell; 8. Rodney Shelley.
Denny's Beer Barrel Pub Semi Lates: 1. Denny Fenton, Clearfield; 2. Jake Shady; 3. Chad Desmett; 4. Dylan Fenton; 5. Jackie Phillips.
Harter and Son's Garage Street Stocks: 1. Curtis Teats, Morrisdale; 2. Jamie Price; 3. Dan Smeal; 4. Brent Lee; 5. Joe Jordan; 6. Bill Phillips, Jr.; 7. Tony Brown; 8. Dustin Challingsworth; 9. Ron Mertz; 10. Rick Hemphill; 11. Tim Fannin; 12. Matt Hugill; 13. Doug Tibbens (DNS).
Quigley's Pub Pure Stocks: 1. Hunter McCracken, Curwensville; 2. Ben Krause; 3. Cody Hummel; 4. Jim Challingsworth; 5. Justin Queen; 6. Andrew Frey; 7. George Bailey.
Clearfield County Metals Front Wheel Drive 4 Cylinders: 1. Andrew Pluta, Jr., Stoystown; 2. Jody Frantz 3. Bryan Warren; 4. Jim Frantz; 5. Stephanie Lucas; 6. Mike Lucas; 7. Dustin McGovern; 8. Milton Owens; 9. David Helsel; 10. Eric Luzier; 11. Aaron Luzier; 12. Stephanie Ivory; 13. Jesse Short; 14. Joshua Henry; 15. Dustin Kemp (DNS); 16. Jim "The Animal" Bloom (DNS).