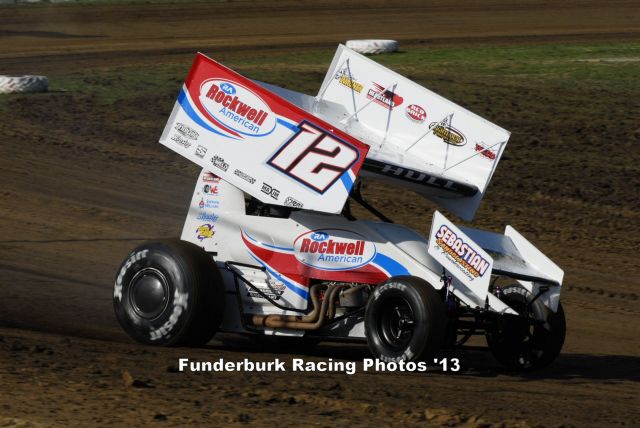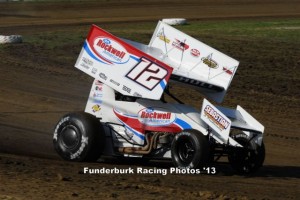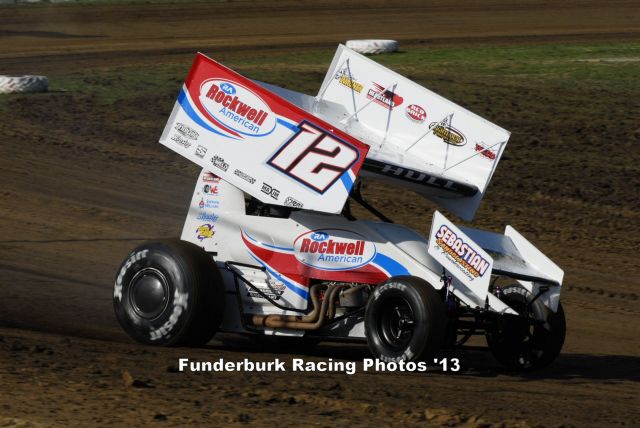 From Bill W
June 4, 2013 – Jerrod Hull and the Rockwell American #12 team will be taking a week to get things organized before the schedule with the Midwest Open Wheel Association kicks back into gear in a couple weeks.  With Spoon River Speedway rained out last Saturday night, the only race they were able to get in was the Mary Lee Standridge Memorial at Jacksonville Speedway in Illinois on Sunday night.  A sixth place finish was the result.
Things felt good for the Sikeston, Missouri native in warm-ups on the banked ¼-mile oval Sunday.  "We were trying some things," says Jerrod.  "We felt alright in hot laps about it.  We thought we'd be o.k."
Unfortunately, Jerrod finished fifth in his heat.  "We just weren't very good starting and finishing in the same spot in the heat race," he says.  "At one time, we were up to fourth and made a pass for third, but the caution came out.  We were trying to lap someone and I had to get on the brakes.  I got up the track and Joey Moughan got by us on the last lap.  That made a big difference in passing points."
The heat result scraped Jerrod into the feature, starting 14th.  "We made a lot of changes for the feature," he says.  "We were able to pass a few cars and it wasn't too bad.  But then the rubber came and it was lock-down around the bottom.  It didn't lock down real hard, but (the racing line) was just around the bottom.  We passed some cars early and worked our way up to sixth.  Then it was pretty much over."
The heat race dictated the finish more than anything.  "We just need to start up towards the front a little closer," says Jerrod.  "I expected the track to be worse than it was to be truthful…starting early and everything.  With all the rain they had, I think they just packed and packed it and got it hard."
Jacksonville has seen close to record amounts of rainfall.  "Hat's off to them for getting it ready," says Jerrod.  "The pits were bad.  They had to pull several guys out of there.  At least, the track was race-able.  We didn't have the bad luck we've been having; we just started too far back."
This weekend will provide some time to regroup.  "We're taking this weekend off I think," says Jerrod.  "We're talking about putting our other car together.  We need to do something to get going.  We're just a little off.  We had high hopes for the first of the year, and we're hoping to bounce back at Jacksonville and Haubstadt the following weekend (with MOWA)."
Jerrod and the #12 team would like to thank: Rockwell American, Midland Performance, Super Shox, Sebastian Sand Blasting & Powder Coating, Inc., Sherwin Williams, Chuck's Small Engines, Don Hamilton, HRP, Lighthouse Christian Center, Logo Daddy, Hoosier Tire, Simpson, Weld, Automotive Machine, Maxim and Heartland Trailer Manufacturing.