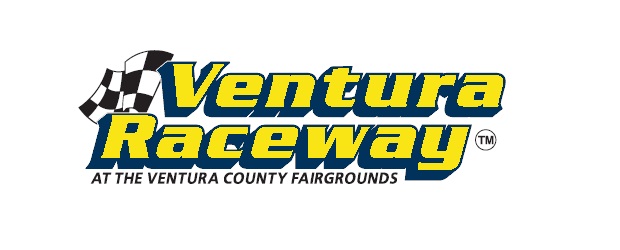 From Cliff Morgan
Ventura, CA — (June 15, 2013) — Saturday night June 15 saw another night of exciting short track racing took place at Ventura Raceway. Racing across the board was some of the best seen in the 2013 season. Once again fans and teams were treated to fast and furious racing on Ventura's new red clay track.
Troy Rutherford made it two in a row in VRA main event action. He started fourth in the field and took the lead on lap 6 from Greg Taylor and went on to take the 30 lap feature over a hard charging Taylor who did everything he could to try to catch him. Following Rutherford and Taylor across the line were Austin DeBlauw, Tom Hendricks and Guy Woodwaed. Three heat race were run with wins being taken by Austin DeBlauw in Extreme Mufflers heat one, Troy Rutherford in Saldana Racing Products heat two and Guy Woodward in BR Motorsports heat three. The night's racing ended with Tom Hendrick remaining in the point lead by 20 points over Guy Woodward.
Eight VRA Senior Sprints were on hand to run their portion of the night's racing. The heat race went to past series champion, Rob Kershaw. Their 20 lap main event went to season point leader Clif Warren. In the main event Warren took the lead on lap one and never looked back to take his seventh win in a row. Warren led Kershaw, Chris Meredith, Wally Pankratz, and Steve Brown to the finish line. After seven races in 2013, Warren leads Meredith by 210 points.
VRA Dwarf Car raced in two classes. In the Pros, Johnny Conley took heat one, Eric Moore took heat two and Curt Cook. Their 20 lap main was a hard fought 20 lap event that saw Hannah Mayhew lead lap 1 to 6 before Cook passed her to go on to take the win over Johnny Conley, Cody Majors, Mayhew, and Jason Horton. In Senior action, Mike Lewis took their heat race. Mike Neal took the main event for his second main in a row over Bill VanPraag, George Calvo, Lee Majors and Brent Stevens. In the season point races, Johnny Conley takes over the Pro point lead. In Seniors Mike Neal continues to lead.
VRA Focus Midgets ran one heat race won by Wally Pankratz. Alexander Bissett jumped into the lead from his 4th starting position to lead the first 8 laps of the Feature. Pankratz got by on lap 9 and led the remaining distance for the win. Pankratz was followed to the line by Austin Blair and Brennan Rogers.
NMRA TQ Midgets raced Saturday night in the Ron Otto Memorial Event. The 25 lap main event win went to West Evans followed by Anthony Lopicollo, Don Kiefer, Bill Grisson and Chris Thomas. Their two heat races went to Kenny Wiley in heat one and Anthony Lopicollo in heat two.
The adult final group racing Saturday night was the VRA Sport Compacts. Point leader and 2012 series champ Zack Peterson took another win over James Adler, Mike Stanford, Mira Cook and Andrew Greiman. Peterson also took Saturday's eight lap heat race.
VRA Kids classes raced in two divisions, Mini Dwarf Pistons and Superchargers. In Piston action the win 12 lap feature went to Garret Egan over Zack Chavez and Dylan Neal. Zack Chavez took their heat race. In Supercharger action, J D Brown took another win over Bailey Hendricks, Will Mimms and Isaac Marshall. Their heat race also went to point leader J D Brown.
Ventura Raceway will return to action on Saturday June 22 with VRA Sprints, Dwarf Cars, Mod Lites, IMCA Modifieds, VRA Quads Go Karts.
Ventura Raceway Race Results for 06/15/2013
MYLAPS for 06/15/13: http://www.mylaps.com/en/events/913712
VRA Sprint Cars
Race #6 06/15/2013
Main Event Results: 1. Troy Rutherford, Ojai, 30 Laps; 2. Greg Taylor, Ventura, 30 Laps; 3. Austin DeBlauw, lVentura, 30 Laps; 4. Tom Hendricks, Simi Valley, 30 Laps; 5. Guy Woodward, Santa Clarita, 30 Laps; 6. Kevin Kierce, Reseda, 30 Laps; 7. David Taylor Jr., Moorpark, 29 Laps; 8. Rob Kershaw, Oak Park, 29 Laps; 9. Bruce Douglass, Ventura, 29 Laps; 10. Rick Hendrix, Palmdale, 29 Laps; 11. Ed Schwarz, Santa Fe Springs, 29 Laps; 12. Charlie Butcher, Santa Barbara, 28 Laps; 13. Adam Frith-Smith, Llano. Ca, 3 Laps; 14. Steve Brown, Ontario, Ca, 3 Laps; 15. Kyle Smith, Moorpark, 1 Lap; 16. Tobey Sampson, Torrance, 1 Lap; 17. Richard Ortega Jr, Camarillo, Did not show; 18. Russel Deblauw, Ventura, Did not show
Lap Leaders: Greg Taylor (1-5), Troy Rutherford (6-30)
Heat Race Winners: Extreme Mufflers Heat 1: Austin DeBlauw; Saldana Racing Products Heat 2: Troy Rutherford; BR Motorsports Heat 3: Guy Woodward
Keizer Aluminum Wheels High Point Award: Guy Woodward
K&N Engineering Hard Charger Award: Tom Hendricks
DJ Safety Hard Luck Award: Richard Ortega Jr,
Top 10 in points: 1. Tom Hendricks, 1260; 2. Guy Woodward, 1240; 3. Greg Taylor, 1120; 4. Kyle Smith, 985; 5. Luke Boles, 890; 6. John Nock, 860; 7. David Taylor Jr., 820; 8. Austin DeBlauw, 775; 9. Bruce Douglass, 715; 10. Richard Ortega Jr, 685
———————————————–
VRA Senior Sprints
Race #7 06/15/2013
Main Event Results: 1. Cliff Warren, Camarillo, 20 Laps; 2. Rob Kershaw, Oak Park, 20 Laps; 3. Chris Meredith, Thousand Oaks, 20 Laps; 4. Wally Pankratz, Orange, 20 Laps; 5. Steve Brown, Ontario, Ca, 20 Laps; 6. Ed Schwarz, Santa Fe Springs, 20 Laps; 7. Mike Cook, Long Beach, 20 Laps; 8. Kevin Kierce, Reseda, 7 Laps
Lap Leaders: Cliff Warren (1-20)
Heat Race Winners: SpinTech Mufflers Heat 1: Rob Kershaw
Top 10 in points: 1. Cliff Warren, 1745; 2. Chris Meredith, 1535; 3. Mike Cook, 1320; 4. Steve Brown, 1175; 5. Ed Schwarz, 840; 6. Wally Pankratz, 780; 7. Greg Andrews, 755; 8. Rob Kershaw, 240; 9. Victor Davis, 200; 10. Bruce Douglass, 180
———————————————–
VRA Pro Dwarf Cars
Race #6 06/15/2013
Main Event Results: 1. Curt Cook, Santa Paula, 20 Laps; 2. Johnny Conley, Oxnard, 20 Laps; 3. Cody Majors, Simi Valley, 20 Laps; 4. Hannah Mayhew, Acton, Ca, 20 Laps; 5. Jason Horton, Oxnard, 20 Laps; 6. Brian Saxton, Mentone, 20 Laps; 7. Eric Moore, Ventura, 20 Laps; 8. Thomas Velasquez, Camarillo, 20 Laps; 9. Kevin Calvo, Agua Dulce, 20 Laps; 10. Jacob Ganzer, Murrietta, 20 Laps; 11. George Calvo, Agua Dulce, 20 Laps; 12. Chase Lippert, Thousand Oaks, 20 Laps; 13. Brent Stevens, Simi Valley, 20 Laps; 14. Shawn Egan, Saugus, 20 Laps; 15. April Banvelos, Sylmar, 20 Laps; 16. Tommy Velasquez III, Camarillo, 19 Laps; 17. Jeremy Marsh, Ridgecrest, 18 Laps; 18. Todd Atkins, Ventura, 13 Laps; 19. Corbin Hames, Oak View, 13 Laps; 20. Tim Conley, Oxnard, 4 Laps; 21. Ira Henry, Bakersfield, 2 Laps
Lap Leaders: Hannah Mayhew (1-6), Curt Cook (7-20)
Heat Race Winners: Heat 1: Johnny Conley; Heat 2: Eric Moore; Heat 3: Curt Cook
Top 10 in points: 1. Johnny Conley, 1095; 2. Thomas Velasquez, 1020; 2. Brent Stevens, 1020; 4. Hannah Mayhew, 985; 5. Kevin Calvo, 970; 6. Jason Horton, 930; 7. Tim Conley, 915; 8. April Banvelos, 900; 9. Jacob Ganzer, 875; 10. Curt Cook, 860
———————————————–
VRA Senior Dwarf Cars
Race #6 06/15/2013
Main Event Results: 1. Mike Neal, Northridge, 20 Laps; 2. Bill Van Praag, Ventura, 20 Laps; 3. George Calvo, Agua Dulce, 20 Laps; 4. Lee Majors, Simi Valley, 20 Laps; 5. Brent Stevens, Simi Valley, 20 Laps; 6. Keith Vondersaar, Acton, 20 Laps; 7. Bob Kaufman, Santa Clarita, CA, 20 Laps; 8. Mike Lewis, Sunland, 20 Laps; 9. Tom Stephens Sr, Ventura, 15 Laps; 10. George Sack Jr, Agua Dulce, 10 Laps
Lap Leaders: Keith Vondersaar (1-4), Bill Van Praag (5-17), Mike Neal (18-20)
Heat Race Winners: Heat 1: Mike Lewis
Top 10 in points: 1. Mike Neal, 1330; 2. Mike Lewis, 1250; 3. Keith Vondersaar, 1215; 4. Bill Van Praag, 1180; 5. Bob Kaufman, 1150; 6. George Calvo, 1135; 7. Tom Stephens Sr, 1040; 8. Brent Stevens, 410; 9. Lee Majors, 345; 10. Randy Gordon, 205
———————————————–
VRA Sport Compacts
Race #6 06/15/2013
Main Event Results: 1. Zachary Peterson, Oxnard, 20 Laps; 2. James Adler, Camarillo, 20 Laps; 3. Mike Stanford, 20 Laps; 4. Mira Cook, Camarillo, 20 Laps; 5. Andrew Greiman, Camarillo, 19 Laps
Lap Leaders: Mike Stanford (1-2), Zachary Peterson (3-20)
Heat Race Winners: Heat 1: Zachary Peterson
Top 10 in points: 1. Zachary Peterson, 1515; 2. Mike Stanford, 1260; 3. James Adler, 1130; 4. Mira Cook, 1070; 5. Andrew Greiman, 1035; 6. Bruce Fink, 765; 7. Eric Griffin, 390; 8. Joel Chavez Jr., 350; 9. Cameron Dougan, 310; 10. Heath Morton, 215
———————————————–
Ford Focus
Race #7 06/15/2013
Main Event Results: 1. Wally Pankratz, Orange, 20 Laps; 2. Austin Blair, 20 Laps; 3. Brennan Rogers, Camarillo, 20 Laps; 4. Alexander Bissett, Hemet, 20 Laps; 5. Robert Sumpter, 19 Laps; 6. Dakota Kershaw, Oak Park, 0 Laps
Lap Leaders: Alexander Bissett (1-8), Wally Pankratz (9-20)
Heat Race Winners: Heat 1: Wally Pankratz
Top 10 in points: 1. Brennan Rogers, 1615; 2. Wally Pankratz, 1515; 3. Ashley Hazelton, 715; 4. Courtney Crone, 425; 5. Christine Breckenridge, 405; 6. Steve Brown, 210; 7. Clayton Ruston, 195; 8. Robert Sumpter, 0; 8. Darin McCard, 0; 8. Dakota Kershaw, 0; 8. Greg Foster, 0; 8. Alexander Bissett, 0; 8. Cory Elliot, 0; 8. Austin Blair, 0
———————————————–
VRA Mini Dwarf – Superchargers
Race #5 06/15/2013
Main Event Results: 1. J D Brown, Port Hueneme, 12 Laps; 2. Bailey Hendricks, Simi Valley, 10 Laps; 3. Will Mimms, 7 Laps; 4. Isaac Marshall, 0 Laps
Heat Race Winners: Heat 1: J D Brown
Top 10 in points: 1. J D Brown, 1275; 2. Will Mimms, 870; 3. Andrew Orlando, 495; 4. Bailey Hendricks, 465; 5. Eli Marshall, 0; 5. Isaac Marshall, 0
———————————————–
VRA Mini Dwarf – Pistons
Race #5 06/15/2013
Main Event Results: 1. Garrett Egan, Saugus, 12 Laps; 2. Blake Hendricks, Simi Valley, 12 Laps; 3. Zack Chavez, Santa Paula, 12 Laps; 4. Dylan Neal, Oxnard, 11 Laps
Heat Race Winners: Heat 1: Zack Chavez
Top 10 in points: ; 5. Blake Hendricks, 0; 5. Dylan Neal, 0; 5. Garrett Egan, 0; 5. Zack Chavez, 0
———————————————–
NMRA TQ Midgets
Race #1 06/15/2013
Main Event Results: 1. West Evans, Moorpark, 25 Laps; 2. Anthony Lopicollo, Brea, 25 Laps; 3. Don Kiefer, Santa Clarita, 25 Laps; 4. Britt Grissom, Taft, 25 Laps; 5. Chris Thomas, La Habra, 25 Laps; 6. Dave Lambert, Port Hueneme, 24 Laps; 7. Scott Dobson, Newbury Park, 17 Laps; 8. Kenny Wiley, Sunland, 8 Laps; 9. Bruce Hiroshima, Camarillo, 8 Laps; 10. Scott Niven, Moorpark, Did not start; 11. Hunter Drumma, Camarillo, Did not start
Lap Leaders: Scott Dobson (1-5), West Evans (6-25)
Heat Race Winners: Heat 1: Kenny Wiley; Heat 2: Anthony Lopicollo