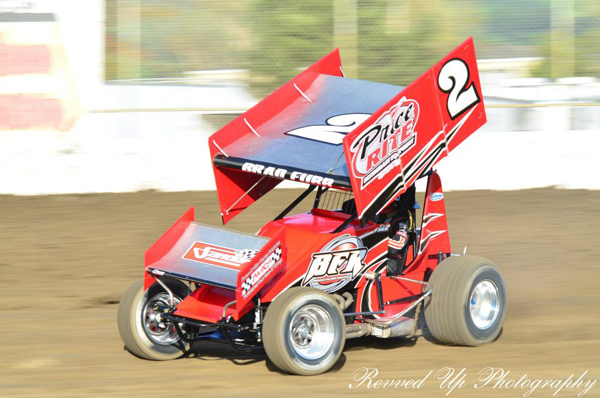 Watsonville, CA — (June 27, 2013) — The first of four qualifying nights for the $10,000 to win Johnny Key Classic is this Friday night at John Prentice's Ocean Speedway Watsonville, where drivers in the Ocean Sprints presented by Taco Bravo will do battle in a 30 lap feature.
Friday's feature winner will earn a coveted guaranteed starting position into the 53rd Johnny Key Classic on Saturday August 24th.
Stockton's Brad Furr leads the points standings on the heels of his series best third victory last Friday night.  The Price Rite Restaurant Equipment #2 team seems poised to land into victory lane during one of the four Johnny Key qualifying nights.  An additional two positions in the guaranteed pool will come from the highest point earners not yet locked in, so Furr has himself in a great position to earn a starting spot come August.
The only other repeat race winner this year is Bud Kaeding of Campbell, and due to a lighter schedule with the series he is 18th in the points.  Kaeding won the 1996 edition of the event.  The only other Ocean Sprints driver with a 2013 win that also has a Key win is Tommy Tarlton, who led all 50 laps in last year's $10,000 to win event.
Second in the Ocean Sprints standings is Kurt Nelson in the Taco Bravo #72w, after a third place run last Friday.  Nelson has distanced himself from third in points Jeremy Chisum of Salinas who is in a heated battle with San Francisco's Nick Rescino, Jr. leading rookie Nick Foster, Jr. and Ryan Rusconi of San Jose.
The balance of the top-ten in the points includes 2012 series champion Shane Golobic of Fremont, who's Keith Day Trucking team won the 2011 Johnny Key, Salinas' Jason Chisum, Fresno's Koen Shaw, and Pleasanton rookie Nathan Washam.
Johnny Key Classic laps are on sale through samantha@oceanspeedway.com  Each lap will be sold for $50 and be distributed to the top three finishers of that lap.
Friday's races for the Ocean Sprints also includes American Stocks, Dwarf Cars, IMCA Sport Mods, and Wingless Sprints.  Adult tickets are just $17 with seniors 65+ $16 and kids ages 6-12 are $15.  The family pass for two adults and two children is value priced at just $55.  Qualifying will get underway at 6 p.m.
For more information on the Ocean Sprints log onto http://www.oceansprints.com and for more on the Ocean Speedway visit http://www.oceanspeedway.com
Ocean Speedway would like to thank Taco Bravo, Digital Delivery Networks, Nobel Construction, Get Som Sports, Ray Scheidt's Electric, Hoosier Tires West, and Kaeding Performance for their support.