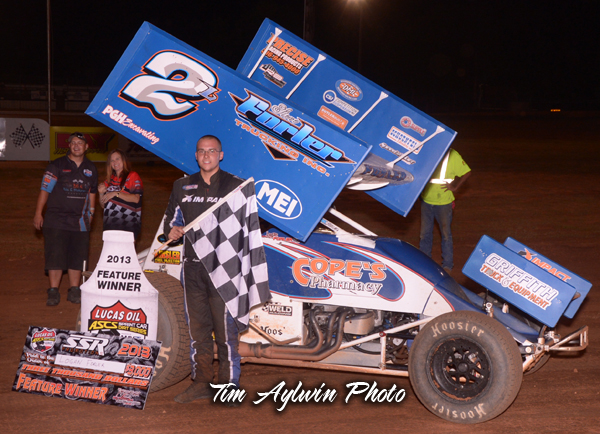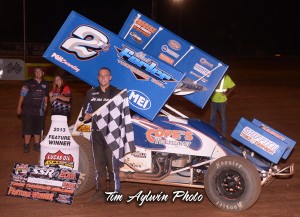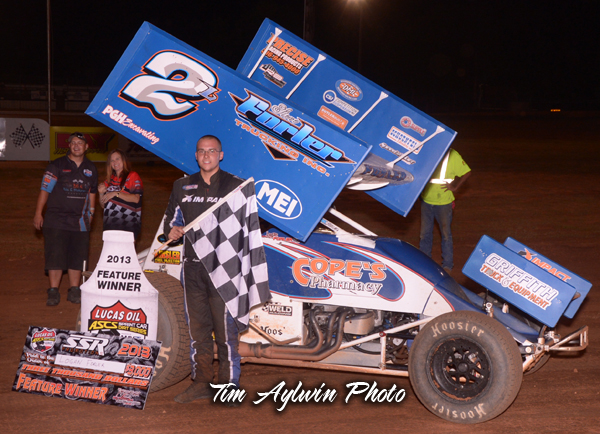 From Bryan Hulbert
Tucson, AZ — (June 29, 2013) — The Hose Advantage Store Southwest Region made its return to the Tucson International Raceway with Logan Forler pulling off the last second pass for his second southwest triumph of the 2013 season in the Steve Forler Trucking No. 2L.
Advancing from fifth, the Lucas Oil ASCS presented by MAVTV American Real regular pursued the Lucas Oil No. 20z of Rick Ziehl into slower traffic in the closing laps.
Dropping to the hub of the Tucson oval through the final turns, Forler's drag race to the win was a difference of a half car length at the checkered flag.
Lance Norick grabbed third with Lorne Wofford fourth after leading the first four circuits. Joshua William completed the top five with Billy Chester, Kaylene Verville, Ryan Linder, Ryan Murphy, and Casey Buckman rounding out the top ten.
Hose Advantage Store Southwest Region
Tucson International Raceway – Tucson, Ariz.
Saturday, June 29, 2013
Car Count: 17
Heat 1 (8 Laps): 1. 18-Lorne Wofford; 2. 94-Billy Chester III; 3. 91-Casey Buckman; 4. 29S-Darrell Sickles; 5. 55-Brent McKee; 6. 27-Perry McMillan
Heat 2 (8 Laps): 1. 2L-Logan Forler; 2. 90-Lance Norick; 3. 51-Cody Cambensy; 4. 56-Ruben Wilson; 5. 33-Rick Eckert; 6. 44K-Koty McGullam
Heat 3 (8 Laps): 1. 20Z-Rick Ziehl; 2. 9-Ryan Linder; 3. 01-Kaylene Verville; 4. 41W-Joshua Williams; 5. 7-Ryan Murphy
A Feature (25 Laps): 1. 2L-Logan Forler; 2. 20Z-Rick Ziehl; 3. 90-Lance Norick; 4. 18-Lorne Wofford; 5. 41W-Joshua Williams; 6. 94-Billy Chester III; 7. 01-Kaylene Verville; 8. 9-Ryan Linder; 9. 7-Ryan Murphy; 10. 91-Casey Buckman; 11. 29S-Darrell Sickles; 12. 44K-Koty McGullam; 13. 55-Brent McKee; 14. 56-Ruben Wilson; DNF 51-Cody Cambensy; DNF 33-Rick Eckert; DNS 27-Perry McMillan
Lap Leader(s): Lorne Wofford (1-4), Rick Ziehl (5-24), Logan Forler (25)