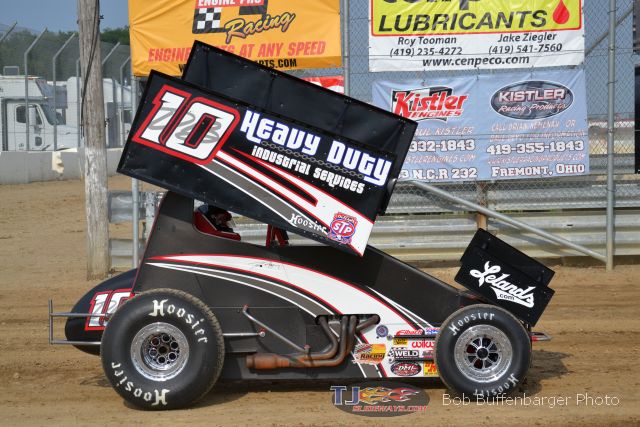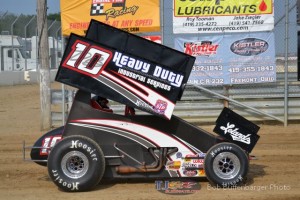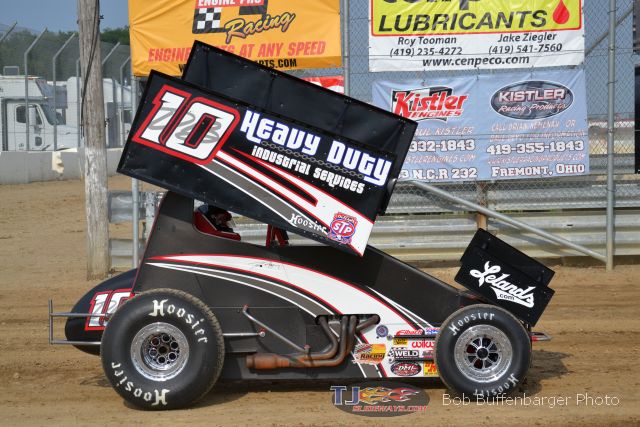 From Hagerstown Speedway

Hagerstown, MD — (July 3, 2013) — Wheeling a heavy stock car around an asphalt speedway every week, NASCAR Sprint Cup's Dave Blaney flew from Charlotte, NC to race at Hagerstown Speedway Wednesday evening for the 23rd Annual Pennsylvania Sprint Speedweek event.  He showed little signs of any rust with his performance and ended by taking the $5,000 victory away from the Pennsylvania sprint drivers.
Deciding to have some fun and go back to his roots, Blaney, who was the 1995 World of Outlaw Sprint champion, had just beat the best sprint drivers around on night five of the Speedweek series. He became the 30th different winner in Speedweek history.
"I'm proud of it (winning)," Blaney said. "This is cool, to come and beat these guys, they're so good in this area. We had the money spot to start and the car was good enough to hang on. We looked really bad in Ohio Speedweek and we took, it home and made some changes and wanted to come over here. The track is so nice all the time and it's good to race on and we thought we could learn a lot and have fun. "
Blaney timed fifth quick of the 30 entries but after Logan Schuchart didn't qualify, Blaney had the pole position in the four car invert with Danny Lasoski sitting alongside while Sam Hafertepe Jr. and quick timer Mike Wagner were in row two.
When the green flag dropped, Blaney pulled ahead of Lasoski while the third row of Greg Hodnett and Lance Dewease quickly grabbed the third and fourth spots over Hafertepe.
Blaney wasn't having any problems keeping a one and a half second lead when he started through the rear of the field on the 12th lap as Lasoski and Hodnett quickly closed in and were running a length apart.
Blaney was still maintaining traffic control when Robbie Kendall spun on the 22nd lap as Dewease went around Hodnett to grab third from Hodnett following the restart. Dewease charged alongside Lasoski but the caution came out the following lap when Donnie Kreitz spun.
Blaney wasn't shaking Lasoski over the final laps as he stormed off the final turn just a length ahead of Lasoski and Dewease while Hodnett and Fred Rahmer who had closed from 11th in the waning laps were next.
Blaney said, "I could hear their motors running back there so I didn't know where to run, whether to block a little bit, so I went with where I thought was best and hung on and it worked out."
Schuchart, Wagner, Blane Heimbach, T.J.Stutts (from 18th) and Hafertepe Jr. rounded the top ten.  Hodnett, Dewease and Hafertepe Jr. were the heat winners while Schuchart won the B main. Wagner rounded the track with fast time of 16.174 seconds.
The latest news, results, photos, schedule or rule changes can be on the speedway's website:  www.hagerstownspeedway.com. Follow the speedway on Twitter and Facebook. Also check the website for any changes in weather conditions that may delay or cancel the program or contact the speedway office at 301-582-0640.
Hagerstown Speedway Results
23rd Annual Pennsylvania Sprint Speedweek – 30 Entries, 30 Laps, (Lap leaders 1-30 – Dave Blaney): 1.Dave Blaney, 2.Danny Lasoski, 3.Lance Dewease, 4.Greg Hodnett, 5.Fred Rahmer, 6.Logan Schuchart, 7.Mike Wagner, 8.Blane Heimbach, 9.T.J.Stutts, 10.Sam Hafertepe Jr., 11.Brent Marks, 12.Danny Dietrich, 13.Stevie Smith, 14.Cory Haas, 15.Keith Kauffman, 16.Aaron Ott, 17.Jacob Allen. 18.Rodney Westhafer, 19.Donnie Kreitz Jr., 20.Darren Mollenoyux, 21.Eric Riggins Jr., 22.Joey Hershey, 23.Robbie Kendall, 24.Brady Bacon, DNQ- Chad Layton, Ryan Wilson, Nichole Bower, Troy Fraker, Will Rose, Alan Krimes