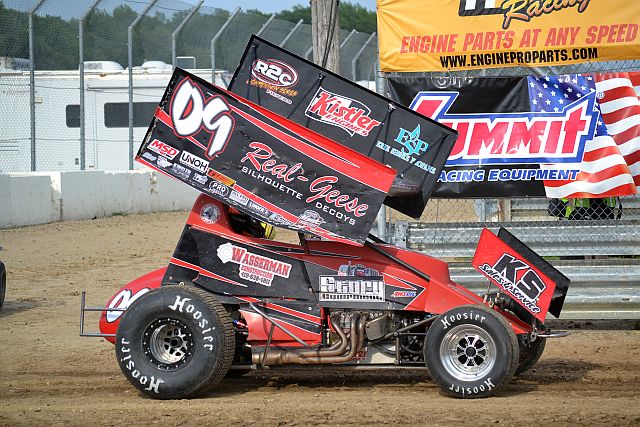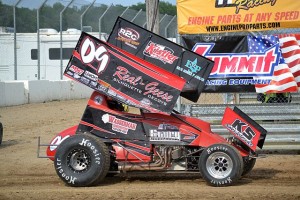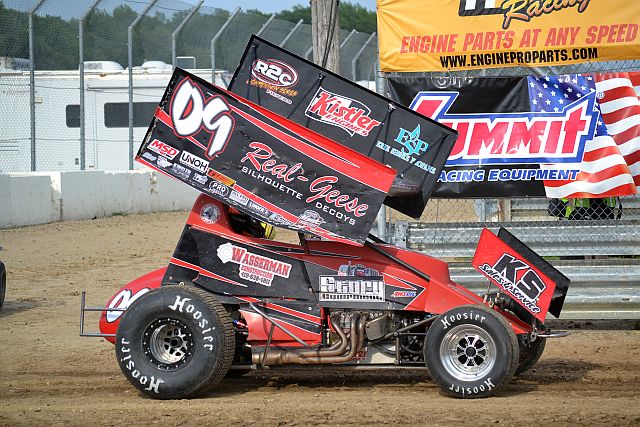 From Brian Liskai
Attica, OH — (July 5, 2013) — Two weeks ago it looked like Craig Mintz was going to take the win to open up the Ohio Sprint Speedweek at Attica Raceway Park. But, a part failure in the steering sent him to the pits after he led the first 13 laps. The Gibsonburg, Ohio driver was very dejected…another potential win had slipped away.
But, they say racers have to have short memories and Mintz, Attica's 2012 champion of the O'Reilly Auto Parts 410 Sprints, put that disappointment behind him and came back Friday to lead all 30 laps to claim his first victory of the season on Kear's Speed Shop Fan Appreciation Night. It wasn't easy for Mintz as Danny Holtgraver closed late in the race and drove to Mintz' inside as they drove to the checkers.
"It's been like 21 months since we won a race. These guys behind me have dug hard and dug hard. We've run second a lot and I recently got married so we said that bridesmaid thing but I'll tell you what that was getting old," said Mintz beside his Real Geese Decoys/R2C Filters/KS Sales and Service/Erie Shore Propane/Design Graphics Group/Keller Chevrolet/Walby Construction/Story Equipment backed #09.
"I was missing my marks in the back majorly. It was everything I could do just to keep it there. We were really good early and just kind of started fading. It was just everything I could do to hold on. I was just waiting for them to throw that checkered," added Mintz of his ninth career Attica victory.
Wayne, Ohio's Jeff Babcock took the lead from Ryan Missler with just two laps to go and went on to score his first victory of the season at Attica in the Summit Racing Equipment UMP Late Models. It was Babcock's fourth career Attica victory.
"I thought the top was going to be good and then those guys got going on the bottom and I thought I'd better move back down to the bottom. It was kind of rough and choppy down there but if you kept your foot plugged in her it went through it," said Babcock beside his Best Performance Motorsports/Bulk Material Lift.com/Professional Drywall/Craig Miller Trucking backed #1.
"Ryan (Missler) runs good here…he's always tough to beat. The bottom just kept getting better and better and better and the top was fading away…it was a bunch of marbles up there and that hurt him," continued Babcock. "I have to thank Shane and Jennifer Halcomb for putting this team together."
In the Foster's Auto Body 305 Sprints Nate Dussel overcame some engine woes earlier in the night to lead all 25 laps to record his fourth win of the season at Attica. Dussel has eight feature wins total for 2013 including four at Fremont Speedway. It was the ninth win of his career at Attica.
"In hot laps we thought we had a blowed up motor but I have a great crew around me. They tore the motor apart even with Scott (Gressman) not here. They figured out what was wrong with it and got it back together and here we are," said Dussel beside his Kylynn Manufacturing/Berrier Fabrication/Gressman Powersports/Conrad Transportation backed #1.
"I want to thank all the fans for sticking around tonight for our feature. You don't know how much it means to the 305 guys and truck guys when you stick around," continued Dussel. "I told myself I wasn't going to let Jordan (Ryan) pass me on the bottom cause that's where I figured he was going to be. There was a good chance I was going to mess myself up and Jordan was going to sneak by. But I tried the middle and it worked out."
In the 15-lap Bob's Machine Shop Dirt Truck feature, Fremont, Ohio's John Ivy held off Daniel Roepke to score his second win of the season. Ivy also has six truck wins at Fremont Speedway this season.
"Charlie and Craig have this thing rolling pretty good right now," said Ivy beside his Diversified Machining/ Level Performance/Sonny's Machine Shop backed #00. "I'm just having a ball out there."
Caleb Griffith and Mintz would pace the field to the green for the 30-lap 410 sprint main with Mintz grabbing the lead while Griffith, Danny Holtgraver, Stuart Brubaker, Brandon Martin, Brian Smith and Brian Lay gave chase. Holtgraver would take second on lap three but couldn't close on Mintz as he raced into lapped traffic with just six circuits recorded.
Meanwhile Griffith was locked in a great battle for third with Martin as Lay and 12th starter D.J. Foos closed. On lap 16 the red would fly for a Troy Kingan flip as he collected Martin. The restart order was Mintz, Holtgraver, Lay, Griffith, Foos, Duane Zablocki and Cole Duncan. With a clear track, Mintz would pull away as Holtgraver had his hands full with Lay while Foos grabbed fourth.
It looked like Mintz had things well in hand, but as the laps ticked off, Holtgraver was eating into his lead and when they took the white flag Holtgraver was right on Mintz' rear bumper. As they blasted into turns three and four for the final time, Holtgraver tried to race to Mintz' inside, but couldn't get the pass completed. Lay would come home third with Foos and Duncan rounding out the top five.
In the 25-lap late model main, Wayne Maffett Jr. and Ryan Markham brought the field to the green with Maffett leading the first lap while third starter Missler drove into second with Markham, Babcock, Nate Potts, Devin Shiels and Dusty Moore in pursuit.
Missler would drive into the lead on lap two as Maffett had his hands full with Markham. Potts and Rick Bond would spin on lap three with Missler leading Maffett, Markham, Babcock, Shiels, Moore and John Mayes Jr. Babcock would drive into third on lap five just as the caution flew for a Cody Scott spin.
Missler would drive away from Maffett on the restart while Babcock, Markham and Shiels were battling hard for third. Scott would spin again on lap 10 with the running order Missler, Maffett, Markham, Babcock, Shiels, Mayes and Matt Irey. When the green flew again Missler pulled away as Maffett, Babcock and Markham waged war for second. Dusty Moore would come to a stop on lap 14 for the event's final caution.
When the green flew Missler launched out to a 1.8 second lead while Maffett, Babcock and Markham continued their great battle for second. They would be joined a few laps later by Mayes. With five laps to go, Babcock had found his groove on the bottom and was closing on Missler. The pair raced side by side the next three laps before Babcock would drive under Missler for the lead on lap 23. Babcock would take the win over Missler, Mayes, Markham and Shiels.
Dussel and Jordan Ryan would bring the field to the green for the 25-lap 305 sprint feature with Dussel blasting to the lead with Ryan, Dustin Dinan, Alvin Roepke, Tyler Gunn and Jason Keckler in tow. Dussel would set a blistering pace and would hit heavy lapped traffic by the 10th circuit, allowing Ryan to close with Dinan, Roepke, Gunn and Keckler giving chase. The only caution would fly for debris on lap 16.
Now with a clear track, Dussel pulled away from Ryan who had his hands full with Dinan as Keckler took fourth on lap 17. Dinan would grab second on lap 19 but Ryan regained the position on lap 21. With three laps to go Dussel had built his lead to nearly three seconds as Keckler drove around Dinan into third.
Dussel would take the win over Ryan, Keckler, Dinan and Steve Rando.
Ivy and Keith Sorg brought the dirt truck field to the green with Ivy taking the lead over fourth starter Kyle Cline, Roepke, Dustin Keegan and Shawn Valenti. After one lap was scored Tony Siferd would spin. On the restart Ivy continued to lead as Cline was locked in a heated battle with Roepke and Valenti. Roepke would take second on lap four with Valenti grabbing third by lap 7.
The final caution flew on lap nine for a stalled Jeff Warnick. Ivy could not shake Roepke or Valenti as they stayed close while Cline, Keegan and Brian Sorg gave chase. Ivy never made a mistake the remainder of the race and drove to the win over Roepke, Valenti, Cline and Brian Sorg.
Attica Raceway Park will be back in action Friday, July 12 as UUI and Bazel Race Fuels Present the 305 Engine Builder's Classic with the late models and dirt trucks also in action.
For more information go to www.atticaracewaypark.com
Attica Raceway Park – 7/5/2013
Kears Speed Shop Night
O'Reilly Auto Parts 410 Sprints (25 Cars)
[#]-Starting Position
Heat 1 – Nitro Black Performance by Engine Pro (8 Laps – Top 5 finishers transfer to the A-feature)
1. O-Phil Gressman[2] ; 2. 45-Danny Holtgraver[4] ; 3. 11X-Brandon Martin[6] ; 4. 40DD-Caleb Griffith[5] ; 5. 5T-Travis Philo[7] ; 6. 53-DJ Foos[9] ; 7. 69-Scott Curren[8] ; 8. 11-Shawn Hubler[3] ; 9. 96AU-Bruce White[1]
Heat 2 – Summit Racing Equipment (8 Laps – Top 5 finishers transfer to the A-feature)
1. O9-Craig Mintz[2] ; 2. 16-Chris Andrews[6] ; 3. 45L-Brian Lay[3] ; 4. 9-Dean Jacobs[1] ; 5. 53X-Greg Wilson[4] ; 6. 60-Jody Keegan[8] ; 7. 22-Cole Duncan[7] ; 8. 46AU-Stuart Williams[5]
Heat 3 – Ultra Shield Race Products (8 Laps – Top 5 finishers transfer to the A-feature)
1. 35-Stuart Brubaker[1] ; 2. 9Z-Duane Zablocki[5] ; 3. 2+-Brian Smith[7] ; 4. 97X-Rodney Hurst[2] ; 5. 7-Troy Kingan[4] ; 6. 73-Joe Armbruster[3] ; 7. 17-Scott Euler[6] ; 8. 5-Jordan Harble[8]
B-Main – Computer Man Inc. (10 Laps – Top 5 finishers transfer to the A-feature)
1. 53-DJ Foos[1] ; 2. 60-Jody Keegan[2] ; 3. 22-Cole Duncan[5] ; 4. 46AU-Stuart Williams[8] ; 5. 73-Joe Armbruster[3] ; 6. 11-Shawn Hubler[7] ; 7. 69-Scott Curren[4] ; 8. 5-Jordan Harble[9] ; 9. 96AU-Bruce White[10] ; 10. 17-Scott Euler[6]
A-Main – (30 Laps)
1. O9-Craig Mintz[2]; 2. 45-Danny Holtgraver[3]; 3. 45L-Brian Lay[7]; 4. 53-DJ Foos[14]; 5. 22-Cole Duncan[16]; 6. 9Z-Duane Zablocki[8]; 7. 53X-Greg Wilson[12]; 8. 2+-Brian Smith[5]; 9. 16-Chris Andrews[9]; 10. 40DD-Caleb Griffith[1]; 11. 35-Stuart Brubaker[4]; 12. 5T-Travis Philo[13]; 13. 11-Shawn Hubler[20]; 14. 11X-Brandon Martin[6]; 15. 7-Troy Kingan[15]; 16. 46AU-Stuart Williams[19]; 17. 73-Joe Armbruster[18]; 18. 9-Dean Jacobs[10]; 19. 60-Jody Keegan[17]
Hard Charger: 22-Cole Duncan[+11]
Summit Racing Equipment Late Models (29 Cars)
[#]-Starting Position
Heat 1 – Nitro Black Performance by Engine Pro (8 Laps – Top 5 finishers transfer to the A-feature)
1. 92-Cody Scott[2] ; 2. 69-John Mayes Jr.[4] ; 3. 50Y-Ryan Missler[8] ; 4. 1-Jeff Babcock[3] ; 5. 36-Matt Irey[6] ; 6. OO7-Rick Bond[7] ; 7. 15B-Mike Bores[9] ; 8. 5J-Josh Haynes[5] ; 9. 59-Larry Bellman[10] ; 10. O1-Brandon Perkins[1]
Heat 2 – Summit Racing Equipment (8 Laps – Top 5 finishers transfer to the A-feature)
1. 61-George Lee[9] ; 2. 30-Nate Potts[8] ; 3. 48-John Bores[7] ; 4. 27-Ken Hahn[3] ; 5. 42S-Bob Mayer[6] ; 6. 151-Jason Hinton[10] ; 7. 66-Bobby Hutchins[1] ; 8. 24-Jerry Aber[2] ; 9. 7-Cody Houston[5]
Heat 3 – Ultra Shield Race Products (8 Laps – Top 5 finishers transfer to the A-feature)
1. 40-Wayne Maffett Jr.[1] ; 2. 75-Dusty Moore[3] ; 3. 5M-Ryan Markham[8] ; 4. 51-Devin Shiels[5] ; 5. 2-Justin Chance[4] ; 6. 98-Tim Sabo[2] ; 7. 21-Larry Kingseed[9] ; 8. O3-Jim Gingery[6] ; 9. 99-Steve Sabo[7]
B-Main – Computer Man Inc. (10 Laps – Top 5 finishers transfer to the A-feature)
1. OO7-Rick Bond[1] ; 2. 98-Tim Sabo[3] ; 3. 21-Larry Kingseed[6] ; 4. 59-Larry Bellman[10] ; 5. 7-Cody Houston[11] ; 6. 99-Steve Sabo[12] ; 7. O3-Jim Gingery[9] ; 8. 66-Bobby Hutchins[5] ; 9. 5J-Josh Haynes[7] ; 10. 151-Jason Hinton[2] ; 11. 15B-Mike Bores[4]
A-Main – (25 Laps)
1. 1-Jeff Babcock[4]; 2. 50Y-Ryan Missler[3]; 3. 69-John Mayes Jr.[7]; 4. 5M-Ryan Markham[2]; 5. 51-Devin Shiels[6]; 6. 40-Wayne Maffett Jr.[1]; 7. 36-Matt Irey[13]; 8. 2-Justin Chance[15]; 9. 27-Ken Hahn[8]; 10. 21-Larry Kingseed[18]; 11. 48-John Bores[12]; 12. OO7-Rick Bond[16]; 13. 61-George Lee[10]; 14. 98-Tim Sabo[17]; 15. 59-Larry Bellman[19]; 16. 42S-Bob Mayer[14]; 17. 75-Dusty Moore[9]; 18. 7-Cody Houston[20]; 19. 92-Cody Scott[11]; 20. 30-Nate Potts[5]
Hard Charger: 21-Larry Kingseed[+8]
Foster Auto Body 305 Sprints (18 Cars)
[#]-Starting Position
Heat 1 – Nitro Black Performance by Engine Pro (8 Laps – Top 10 finishers transfer to the A-feature)
1. 9-Jimmy Colvin[2] ; 2. 1W-Paul Weaver[3] ; 3. 1-Nate Dussel[4] ; 4. 13D-Jeremy Duposki[1] ; 5. 5R-Jordan Ryan[5] ; 6. 25-Jason Keckler[8] ; 7. 913-Junior Felver[9] ; 8. 22D-Dan Hammond[6] ; 9. 34-Eric Duposki[7]
Heat 2 – Summit Racing Equipment (8 Laps – Top 10 finishers transfer to the A-feature)
1. 36-Seth Schneider[1] ; 2. OO-Alvin Roepke[2] ; 3. 68G-Tyler Gunn[4] ; 4. 19R-Steve Rando[6] ; 5. 6-Dustin Dinan[7] ; 6. 83X-Nate Reeser[5] ; 7. 2-Ricky Peterson[3] ; 8. 22M-Dan McCarron[8] ; 9. 8J-Jess Stiger[9]
A-Main – (25 Laps)
1. 1-Nate Dussel[1]; 2. 5R-Jordan Ryan[2]; 3. 25-Jason Keckler[5]; 4. 6-Dustin Dinan[8]; 5. 19R-Steve Rando[7]; 6. 68G-Tyler Gunn[6]; 7. OO-Alvin Roepke[4]; 8. 1W-Paul Weaver[11]; 9. 36-Seth Schneider[9]; 10. 9-Jimmy Colvin[12]; 11. 13D-Jeremy Duposki[3]; 12. 8J-Jess Stiger[18]; 13. 913-Junior Felver[13]; 14. 22M-Dan McCarron[16]; 15. 2-Ricky Peterson[14]; 16. 22D-Dan Hammond[15]; 17. 83X-Nate Reeser[10]; 18. 34-Eric Duposki[17]
Hard Charger: 8J-Jess Stiger[+6]
Bob Machine Shop Dirt Trucks (17 Trucks)
[#]-Starting Position
Heat 1 – Nitro Black Performance by Engine Pro (8 Laps – Top 10 finishers transfer to the A-feature)
1. OO-John Ivy[3] ; 2. D1-Dustin Keegan[2] ; 3. 33C-Kyle Cline[4] ; 4. 2-Brian Sorg[7] ; 5. 7-Dana Frey[1] ; 6. 37-Eric Devanna[5] ; 7. 8KB-Kent Brewer[9] ; 8. 9-Curt Inks[6] ; 9. 85S-Brandon Stuckey[8]
Heat 2 – Summit Racing Equipment (8 Laps – Top 10 finishers transfer to the A-feature)
1. 88-Dan Roepke Jr.[2] ; 2. 7B-Shawn Valenti[3] ; 3. O1-Art Ball[1] ; 4. P51-Willie Keegan[4] ; 5. 39-Dwight Waltermier[7] ; 6. 95-Keith Sorg[5] ; 7. 69-Jeff Warnick[8] ; 8. 25S-Tony Siferd[6]
A-Main – (15 Laps)
1. OO-John Ivy[1]; 2. 88-Dan Roepke Jr.[3]; 3. 7B-Shawn Valenti[5]; 4. 33C-Kyle Cline[4]; 5. 2-Brian Sorg[9]; 6. D1-Dustin Keegan[6]; 7. 37-Eric Devanna[10]; 8. 7-Dana Frey[11]; 9. 8KB-Kent Brewer[13]; 10. P51-Willie Keegan[12]; 11. O1-Art Ball[7]; 12. 9-Curt Inks[15]; 13. 39-Dwight Waltermier[8]; 14. 25S-Tony Siferd[16]; 15. 85S-Brandon Stuckey[17]; 16. 69-Jeff Warnick[14]; 17. 95-Keith Sorg[2]
Hard Charger: 2-Brian Sorg[+4]