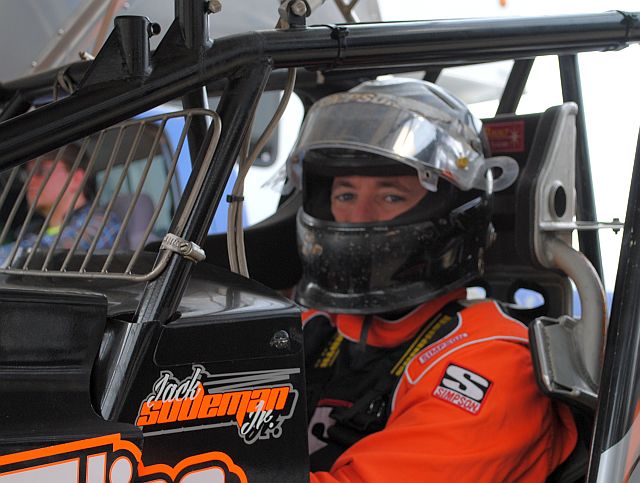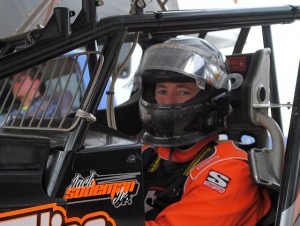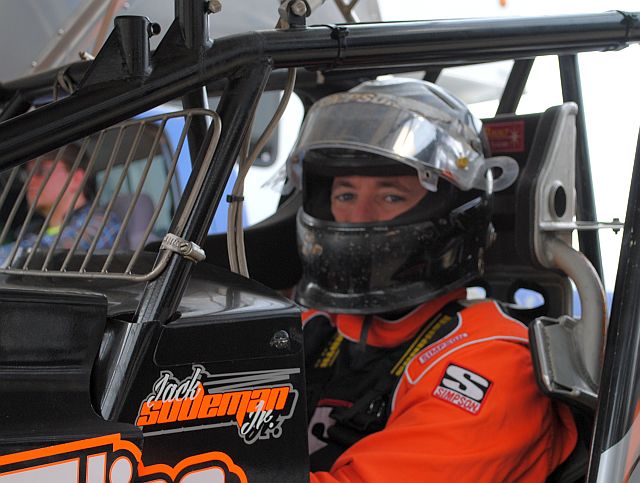 Sarver, PA — (July 5, 2013) — The names Sodeman, Spithaler and Beaber have been in the Lernerville Sprint car race results for decades, but on Friday, July 5 the names were tied to a new generation and without their signature wings.  20-25 years ago the names were Johnny Beaber, Jack Sodeman and Ralph Spithaler, last night it was sons Tony Beaber and Jack Sodeman Jr. and cousin Brandon Spithaler.  Beaber took the early lead from the inside of row two and set a blistering pace, but Sodeman and Spithaler gave chase from fourth and fifth on the grid.
Sodeman was all over Beaber on lap seven when a red flag came out for Steve Irwin in turn two.  On the restart, Sodeman pulled even with Beaber exiting turn two and took the lead in turn four.  Two laps later, Spithaler got around Beaber for second and the Budweiser Points leader Spithaler was on the prowl of his runner-up Sodeman as lightning off turn two and fireworks off turn three lit up the sky.  Despite Spithaler's best efforts on a lap 20 restart, Sodeman pulled away on an open track and scored his third win of the season; both at Lernerville Speedway and with the BOSS Wingless Sprint Series.
Brandon Spithaler raced home to a second place finish and Mike Miller (no, not the Sportsman driver) finished third.   Earlier leader Tony Beaber finished fourth ahead of Kirk Jeffries in fifth, Chad Wilson in sixth and Aaron Middaugh in seventh.  Hall of Famer Johnny Beaber made his long-awaited return to the Action Track where he dominated the sprint ranks in the 1980s with three Track Championships and 55 feature wins.  Third generation star Brandon Matus came home ninth ahead of Gale Ruth Jr. in tenth.  Michael Fischesser, Jack Sodeman Jr. and Aaron Middaugh scored BOSS Heat Race wins.
Sodeman, Spithaler and the boys will put the wings back on next Friday, July 12 for another Fast Friday of Fab Four Racing as the Peoples TWP Sprints get one last tune-up for Tuesday, July 16's Don Martin Memorial Silver Cup Twin 30s against the World of Outlaws STP Sprints!  Sodeman is already locked into the A-Main as the Mid-Season Championship and Brandon Spithaler can punch his ticket into the show by maintaining his Budweiser Points lead.


Peoples TWP DIRTcar Sprint Feature (25 Laps)
1. (X) Jack Sodeman Jr., N. Jackson, OH
2. (57B) Brandon Spithaler, Evans City
3. (82) Mike Miller, Wapakoneta, OH
4. (3T) Tony Beaber, Gibsonburg, OH
5. (59J) Kirk Jeffries, Westerville, OH
6. (14) Chad Wilson, Toledo, OH
7. (91X) Aaron Middaugh, Polk, OH
8. (3J) Johnny Beaber, Gibsonburg, OH
9. (13) Brandon Matus, Wampum
10. (5X) Gale Ruth Jr., Pleasantville
11. (11) Scott Priester, Rimersburg
12. (C9) Charlie Cornelius, Ellwood City
13. (24M) Adam Miller, McDonald
14. (5) Bob McMillan, Wampum
15. (5M) Jim McMillan, Wampum
16. (2S) Francis Sesco, New Bethlehem
17. (33) Brent Matus, Wampum
18. (C11) Brandon Cornelius, Ellwood City
19. (4) Michael Fischesser, Cincinnati, OH
20. (31) Chuck Wilson, Perrysburg, OH
21. (0)Steve Irwin, Fenton, MI
22. (1R) Gale Ruth Sr., Pleasantville
23. (18) Arnie Kent, New Castle
Heat Race Winners: Michael Fischesser, Jack Sodeman Jr., Aaron Middaught