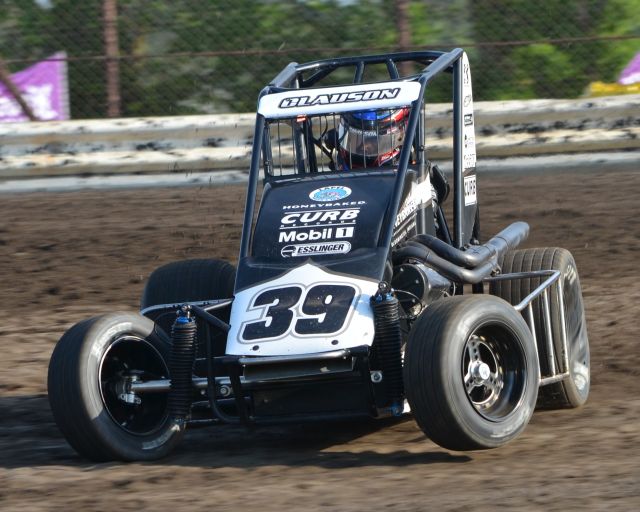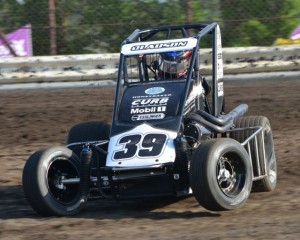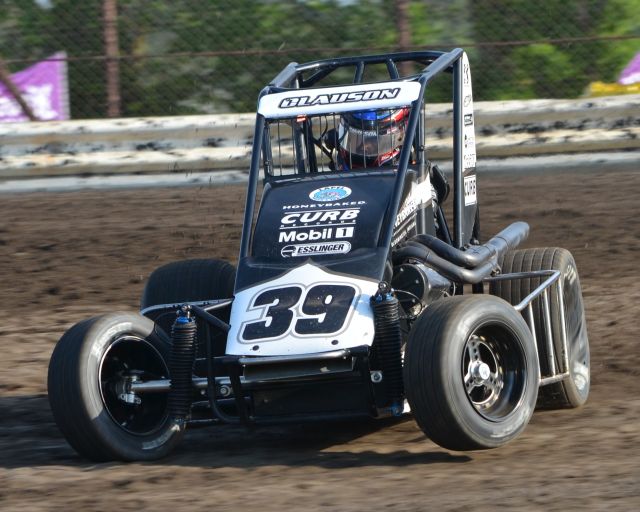 From Tim Tuttle and Dick Jordan
Belleville, IL — (July 6, 2013) —
Bryan Clauson passed Jerry Coons Jr. for the lead with less than three laps remaining and drove on to victory in the feature of the POWRi Lucas Oil National Midget Series, Honda USAC National Midget Dirt Series, Badger Midgets tri-sanctioned event and Cale Thomas led all 20 laps to win the feature in POWRi Speedway Motors 600cc Outlaw Micro Series on Saturday at Belle-Clair Speedway.
Clauson had started fourth in the Bryan Clauson/Curb-Agajanian Racing Spike Esslinger and passed Brad Kuhn for second on the 18th of 30 laps. The 24-year-old from Noblesville, Ind., chased Coons' Joe Dooling-owned Spike-Esslinger until finding an opening on the 28th lap.
"I wanted to make sure I timed it right," Clauson said. "I didn't want to let him come back and get into trading slide jobs and let somebody from the bottom get in front. I got a run out of turn two and drove into turn three as hard as I could to get to the cushion. Our car was right with him most of the race and had the speed to do it.
"He (Coons) was pretty good up there and I didn't want to let him know I was there. I didn't show him my nose until I knew I could make it stick. The race really came down to minimizing mistakes and we had the car to do it."
It was Clauson's 19th victory in POWRi Midgets and 27th in USAC Midgets.
"We had to battle tooth and nail," Clauson said. "It's a huge win. We've had a little bit of a slow start, we haven't been quite as strong as we want to be"
Coons of Tucson, Ariz., started on the outside of the front row and took the lead exiting turn two on the opening lap He led until Clauson passed him.
"Sometimes, you just get beat and we just got beat," Coons said. "I made a couple of mistakes. I really wish I could have won, but we'll take second.  I just kinda got in the cushion a little too much coming off the corner and bobbled enough for him to get a run. There was nothing I could do – that was a perfect slide job where he was far enough by me that I couldn't turn and go back past him. I was trying to minimize mistakes and felt like I did better towards the end, but that one bobble was enough," Coons said.
Kuhn of Avon, Ind., finished third for the second straight night in the Belleville Bash. He started on the pole in the Mason Cook-owned Beast-Fontana, ran second for the opening 17 laps, but fell back to sixth before mounting a late charge.
"We were absolutely horrible in the middle of the race," Kuhn said. "The caution (prior to a lap 23 restart) saved us. I dialed in some shock adjustments and we kept getting faster and faster."
Tracy Hines of New Castle, Ind., drove the inside line and was a close fourth in his Toyota-powered Spike and Chris Bell's Bullet-Toyota was fifth.
Thomas won his second POWRi feature of the season and his career. The 15-year-old from Fairland, Ind, started and pole and was in control the entire distance to several car lengths in front of runner-up Nic Harris of Atlanta, Ill. Jeremy Camp of Blue Mound, Ill., was third.
"We won our heat and got good track position for the main," Thomas said. "The track was slick from top to bottom. I was arcing the corners turning in and running low coming off and it worked. It's really good to have two wins. It makes me more comfortable for the 66 Mike Phillips Memorial. It pays $10,000 to win and it's a race I hope to win."
The 3rd annual 66 Mike Phillips Memorial is the next event for the POWRi Micros on July 19-20 at Belle-Clair.
HONDA USAC NATIONAL DIRT MIDGET RACE RESULTS: July 6, 2013 – Belleville, Illinois – Belle Clair Speedway – Co-sanctioned by Powri and BMARA – "Belleville Bash"
FIRST HEAT : (10 laps) 1. Tracy Hines (24, Parker), 2. Zach Daum (5D, Daum), 3. Andrew Felker (11A, Felker), 4. Tim Siner (15, Siner), 5. Korey Weyant (37x, Felker), 6. Terry Babb (88, Babb), 7. Jake Blackhurst (25, Blackhurst), 8. Taylor Ferns (55, Ferns), 9. Derek Rossio (70, Rossio). NT
SECOND HEAT : (10 laps) 1. Bryan Clauson (39, Tucker/BCI/Curb-Agajanian), 2. Danny Stratton (2, Lein), 3. Kevin Thomas, Jr. (17, RW/Curb-Agajanian), 4. Nick Knepper (155, Knepper), 5. Ryan Criswell (11R, R&C), 6. Bubba Altig (37, Felker), 7. Alex Bright (27, RW/Curb-Agajanian), 8. Bobby East (4, Klatt). 1:58.78
THIRD HEAT : (10 laps) 1. Justin Grant (56, Hmiel), 2. Caleb Armstrong (7c, C&A), 3. Cameron King (55K, King), 4. Parker Price-Miller (9P, Ronk), 5. Colten Cottle (5c, Cottle), 6. Payton Pierce (2P, Murdock), 7. Travis Berryhill (401K, Kirkpatrick). NT
FOURTH HEAT : (10 laps) 1. Jerry Coons, Jr. (63, Dooling), 2. Chris Bell (71, Kunz/Curb-Agajanian), 3. Tyler Robbins (35, Robbins), 4. Matt Ponder (5H, Hoppe), 5. Tanner Thorson (67, Kunz/Curb-Agajanian), 6. Chett Gehrke (11c, Gehrke), 7. Justin Dickerson (21D, Dickerson), 8. Bobby Brewer (1, Brewer). NT
FIFTH HEAT : (10 laps) 1. Brad Kuhn (10, Cook), 2. Derrick Myers (25M, Myers), 3. Daniel Robinson (57D, Ecker), 4. Seth Motsinger (2M, KBR), 5. Jake Neuman (3N, Neuman), 6. Danny Frye (5, Frye), 7. Dalton Armstrong (7A, C&A), 8. Dalton Camfield (10c, Camfield). NT
SIXTH HEAT : (10 laps) 1. Austin Brown (7, KBR), 2. Tony Roney (1T, Roney), 3. Garrett Aitken (32, Aitken), 4. Daniel Adler (50, Adler), 5. Darren Hagen (3, RFMS), 6. Ross Rankine (39x, Rankine), 7. Brian Rieck (57A, McCreery), 8. Shane Cottle (57, Ecker). 2:06.46
ALSO AT THE TRACK: Davey Camfield (#86 Camfield).
FIRST QUALIFYING RACE: (12 laps) 1. Kuhn, 2. Daum, 3. Hines, 4. Price-Miller, 5. Knepper, 6. S. Cottle, 7. East, 8. Neuman, 9. Weyant, 10. Ferns, 11. Roney, 12. Criswell. NT
SECOND QUALIFYING RACE: (12 laps) 1. Coons, 2. Stratton, 3. Hagen, 4. Grant, 5. Thorson, 6. Motsinger, 7. Ponder, 8. C. Cottle, 9. Altig, 10. Dalton Camfield, 11. Thomas, 12. Brewer. NT
THIRD QUALIFYING RACE: (12 laps) 1. Brown, 2. Felker, 3. Robinson, 4. Blackhurst, 5. Adler, 6. Bright, 7. C. Armstrong, 8. Gehrke, 9. Babb, 10. King, 11. Rossio, 12. Dickerson. NT
FOURTH QUALIFYING RACE: (12 laps) 1. Clauson, 2. Bell, 3. Aitken, 4. Myers, 5. Robbins, 6. Siner, 7. Berryhill, 8. Rankine, 9. D. Armstrong, 10. Frye, 11. Pierce. 2:37.39
FEATURE: (30 laps) 1. Bryan Clauson, 2. Jerry Coons, Jr., 3. Brad Kuhn, 4. Tracy Hines, 5. Chris Bell, 6. Daniel Robinson, 7. Zach Daum, 8. Andrew Felker, 9. Tanner Thorson, 10. Danny Stratton, 11. Austin Brown, 12. Tim Siner, 13. Parker Price-Miller, 14. Garrett Aitken, 15. Tyler Robbins, 16. Daniel Adler, 17. Jake Blackhurst, 18. Shane Cottle, 19. Justin Grant, 20. Alex Bright, 21. Caleb Armstrong, 22. Seth Motsinger, 23. Darren Hagen, 24. Derrick Myers, 25. Nick Knepper, 26. Colten Cottle. NT
——————————–
**Criswell flipped during the First Qualifier.
FEATURE LAP LEADERS: Laps 1-27 Coons, Laps 28-30 Clauson.
NEW HONDA NATIONAL DIRT MIDGET POINTS: 1-Bell-441; 2-Clauson-416; 3-Felker-372; 4-Coons-369; 5-Hagen-365; 6-Hines-349; 7-Kuhn-326; 8-Daum-311; 9-C.Armstrong-271; 10-Rico Abreu-250.
NEXT HONDA NATIONAL DIRT MIDGET RACE: July 30 – Beloit, Kansas – Solomon Valley Raceway – "Chad McDaniel Memorial"