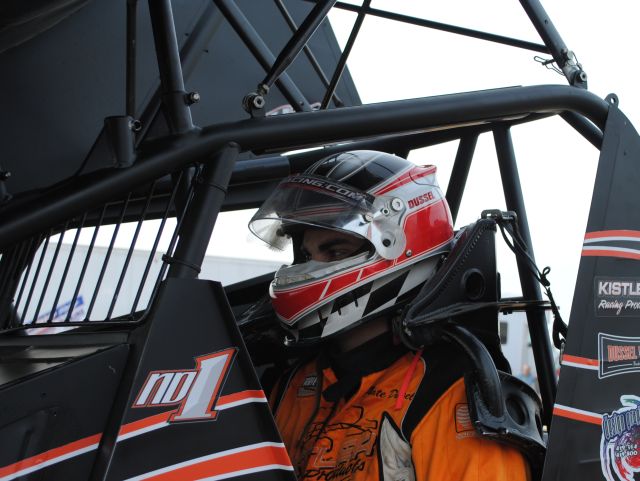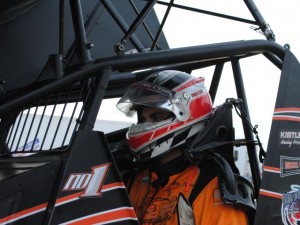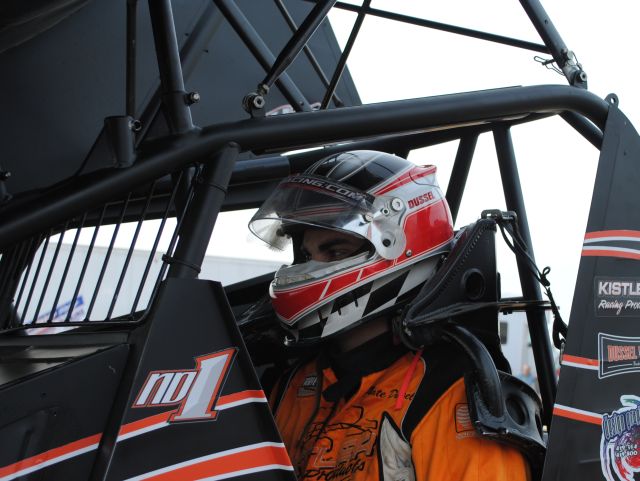 From Brian Liskai
Attica, OH — (July 12, 2013) — Nate Dussel is having a dream season. The defending Attica Raceway Park 305 sprint track champion traded several sliders with John Ivy before taking the lead for good with four laps to go to take the $1,200 Engine Builders Challenge at Attica Raceway Park Friday night.
The win was the fifth of the season at Attica for Dussel who now owns 10 career 305 sprint victories at "Ohio's Finest Racing" speedplant. Coupled with the four wins he has at Fremont in 2013, Dussel's nine victories in 2013 ranks him among the top 10 in the entire country in sprint car wins.
'If that wasn't an awesome show for the fans I don't know what is. It was slicing and dicing between Ivy, myself and Paul (Weaver). Those guys are just so much fun to race with because you can run them tight and they will run you clean," said Dussel beside his Kylynn Manufacturing/Berrier Fabrication/Dussel Welding/Conrad Transport/Gressman Powersports/Kistler Racing Products/Design Graphics Group backed #1.
"Everything is clicking. Shane Stewart said something on Twitter the other day that people think its just one thing when you are running well but it's absolutely the entire package. The motor is awesome…Scott (Gressman) kind of apologized the last year he was so focused on the 410 program that he kind of just got our stuff together. But, he spent a lot of time in the off season really focusing on it and I can tell a huge difference," continued Dussel. "This money will go to fixing our trailer. That storm kind of destroyed it this week. Hats off to Bill Berrier who busted his butt the last two and half days working to have us a trailer."
Mike Bores and Rusty Schlenk ran side by side the first 16 laps of Summit Racing Equipment UMP Late Model feature before Schlenk switched grooves and drove into the lead and away from the field for his third win of the season at Attica. It was his 17th career victory to lead the track in all-time late model wins.
But, it wasn't that easy for Schlenk to find victory lane. The transmission in his Lazer Chassis/Kercher Engines/Micro-Armor Lubricants/Main & Company/Zeller Automotive backed #91 suffered some sort of problem at the beginning of the race and after taking the checkered and crossing the scales Schlenk couldn't get the car out of gear to drive to the Engine Pro Victory Lane.
"I've never had to get a ride from a four-wheeler to the horse track before. The car was really good. Honestly the transmission broke as we took the green flag on the first lap. Actually it was before that. I don't know if you noticed me hang back there at the beginning. I thought I was going to have to pull off because it was jammed into gear. I was taking it easy and tried to be as smooth as possible to make sure nothing else broke. Once I got out front and got up top to keep my momentum going it was easier on the transmission," said Schlenk.
In the non-stop 15 lap Bob's Machine Shop Dirt Truck feature Dan Roepke Jr. and Shawn Valenti raced side by side literally the first 12 laps of the event. Valenti would pull away the last two laps to score his third career Attica dirt truck win.
"That was a lot of fun. I have to give Daniel all the credit for racing me clean. I have to thank Jeff Babock… he put this deal together kind of last minute and I'm having a lot of fun," said Valenti.
In the 30 lap feature for the Foster's Auto Body 305 Sprints, Ivy and Steve Rando would bring the field to the green as they won the pair of Computer Man Dashes. Ivy would drive into the lead while Rando had his hands full with Dussel, Paul Weaver, Seth Schneider and Jordan Ryan. Ivy would hit lapped traffic by lap nine as Dussel drove into second with Rando, Weaver, Ryan, Jimmy Colvin, T.J. Michael and Jason Keckler in tow.
Dussel quickly closed on Ivy and executed a flier for the lead on lap 12. Ivy would return the favor the next lap as they drove into heavy lapped traffic. Weaver would take second at the half-way point and closed on Ivy when the caution flew for a Dan Hammond spin on lap 16. On the restart, it was a three car battle for the lead between Ivy, Weaver and Dussel with Ryan, Rando, Colvin and Keckler in pursuit. Weaver would slide back a bit on lap 18 as Dussel regained second and Ryan moved into third.
With 10 laps to go Ivy held a slim lead over Dussel and Ryan with Weaver, Rando, Colvin, Keckler, Michael and 15th place starter Dustin Dinan giving chase. The order remained that way for the next four laps before Dussel kicked in the after-burners and closed on Ivy. With four to go, the second caution of the feature flew for Keckler who spun in turn two.
On the restart Dussel drove under Ivy and slid in front with Ryan, Weaver and Rando in pursuit. Once in the lead and a clear track, Dussel pulled away as Ryan battled with Ivy for second, taking the runner-up spot on lap 28. Dussel would drive to the win over Ryan, Ivy, Weaver and Rando.
Bores and Schlenk would pace the field to the green for the 25-lap late model feature that saw several cautions slow the pace. Bores would blast the high line for the lead with Schlenk constantly running to his inside while Devin Shiels, George Lee and Chris Keller in pursuit. The first of seven cautions would fly on lap four for a Cody Scott spin with the running order Bores, Schlenk. Shiels, Lee, Keller, Dusty Moore, John Mayes Jr. and Ryan Missler.
Following another lap and a caution for debris, Bores would continue to lead Schlenk, Shiels, Keller, Lee and Moore. But, the car on the move was Ky Harper who started 16th and was up to 8th by lap 8 when the caution flew for Rocky Owens and Matt Irey who both spun in turn three. On the restart Bores and Schlenk resumed their side by side battle as Shiels had his hands full with Keller while Harper drove into 7th.
After several laps of door to door racing, Schlenk was able to take the lead on lap 16. The caution would fly a lap later for a Nate Potts and Coby Bartram incident. During the caution Keller, who had been running third, went to the pits. The running order on the restart was Schlenk, Shiels, Bores, Lee, Harper, Moore, Missler and Wayne Maffett Jr. Two laps later and the caution flew again for Scott, ending his night. Another two laps and a caution for Larry Kingseed who came to a rest in turn one.
With four laps to go, Schlenk had Shiels, Harper, Bores, Moore, Lee and Missler on his tail. When the green flew, Schlenk pulled away and drove to the win over Shiels, Harper, Moore and Bores.
Roepke and Art Ball would bring the field to the green for the dirt truck feature with Roepke gaining the upper hand as third starter Valenti rocketed into second and drove to the leader's inside. Roepke and Valenti would virtually run side by side around the entire race track over the first 12 laps of the 15-lap affair with Ball running third while Brian Melnek, Tony Siferd, Jimmy McGrath Jr., Dustin Keegan, John Ivy and Brian Sorg putting on a whale of race for fourth.
Valenti would take the lead by a bumper on lap seven but Roepke regained the slight advantage the next lap as Valenti drove back into the lead on lap nine. Meanwhile Ball continued to run a comfortable third as Ivy moved into fourth by lap 10 with Melnek, Keegan and McGrath in pursuit. With three laps to go Valenti started to pull away from Roepke ever so slightly as Ivy took third.
Valenti would take the checkered over Roepke, Ivy, Ball and McGrath.
Attica Raceway Park will be back in action Friday, July 19 as Central Ohio Farmers and Summit Racing Equipment Present the UMP Summer Nationals Hell Tour for the late models and modifieds. The 410 sprints will also be in action for a $3,000 to win affair.
For more information go to www.atticaracewaypark.com
Attica Raceway Park – 7/12/2013
Bazell Race Fuels \ UUI Night
Foster Auto Body 305 Sprints (23 Cars)
[#]-Starting Position
Heat 1 – Nitro Black Performance by Engine Pro (8 Laps – Top 8 finishers transfer to the A-feature)
1. 13D-Jeremy Duposki[2] ; 2. 83X-Nate Reeser[1] ; 3. 8M-T.J Michael[4] ; 4. 19R-Steve Rando[7] ; 5. OO-Alvin Roepke[3] ; 6. 2-Ricky Peterson[6] ; 7. 10-Josh Harrison[5] ; 8. 1J-Jeremy Shambaugh[8]
Heat 2 – Summit Racing Equipment (8 Laps – Top 8 finishers transfer to the A-feature)
1. 25-Jason Keckler[1] ; 2. 9-Jimmy Colvin[2] ; 3. 36-Seth Schneider[4] ; 4. 1W-Paul Weaver[8] ; 5. 68G-Tyler Gunn[6] ; 6. 4M-Jamie Miller[5] ; 7. 8J-Jess Stiger[3] ; 8. 36X-Dustin Keegan[7]
Heat 3 – Ultra Shield Race Products (8 Laps – Top 8 finishers transfer to the A-feature)
1. 913-Junior Felver[1] ; 2. 5R-Jordan Ryan[2] ; 3. 8I-John Ivy[4] ; 4. 1-Nate Dussel[3] ; 5. 6-Dustin Dinan[6] ; 6. 4X-Bobby Clark[7] ; 7. 22D-Dan Hammond[5]
Dash #1 – Computer Man Inc. (6 Laps, finishing order determined first 6 starting positions of A-feature
1. 8I-John Ivy[2] ; 2. 1W-Paul Weaver[1] ; 3. 5R-Jordan Ryan[4] ; 4. 25-Jason Keckler[6] ; 5. 8M-T.J Michael[3] ; 6. 13D-Jeremy Duposki[5]
Dash #2 – Computer Man Inc. (6 Laps – Top – finishers transfer to the A-feature)
1. 19R-Steve Rando[1] ; 2. 1-Nate Dussel[3] ; 3. 36-Seth Schneider[2] ; 4. 9-Jimmy Colvin[4] ; 5. 913-Junior Felver[5] ; 6. 83X-Nate Reeser[6]
A-Main –  (30 Laps)
1. 1-Nate Dussel[4]; 2. 5R-Jordan Ryan[5]; 3. 8I-John Ivy[1]; 4. 1W-Paul Weaver[3]; 5. 19R-Steve Rando[2]; 6. 9-Jimmy Colvin[8]; 7. 6-Dustin Dinan[15]; 8. 8M-T.J Michael[9]; 9. 68G-Tyler Gunn[14]; 10. 4M-Jamie Miller[17]; 11. 4X-Bobby Clark[18]; 12. 2-Ricky Peterson[16]; 13. 913-Junior Felver[10]; 14. OO-Alvin Roepke[13]; 15. 25-Jason Keckler[7]; 16. 8J-Jess Stiger[20]; 17. 13D-Jeremy Duposki[11]; 18. 22D-Dan Hammond[21]; 19. 1J-Jeremy Shambaugh[22]; 20. 83X-Nate Reeser[12]; 21. 10-Josh Harrison[19]; 22. 36X-Dustin Keegan[23]; 23. 36-Seth Schneider[6]
Hard Charger: 6-Dustin Dinan[+8]
Summit Racing Equipment Late Models (25 Cars)
[#]-Starting Position
Heat 1 – Nitro Black Performance by Engine Pro (8 Laps – Top 5 finishers transfer to the A-feature)
1. 51-Devin Shiels[2] ; 2. 15B-Mike Bores[1] ; 3. 40-Wayne Maffett Jr.[3] ; 4. OO-Chris Keller[5] ; 5. 36-Matt Irey[9] ; 6. 99-Steve Sabo[4] ; 7. 77-Coby Bartram[8] ; 8. 5J-Josh Haynes[7] ; 9. 2-Rocky Owens[6]
Heat 2 – Summit Racing Equipment (8 Laps – Top 5 finishers transfer to the A-feature)
1. 69-John Mayes Jr.[4] ; 2. 98-Tim Sabo[5] ; 3. O3-Jim Gingery[6] ; 4. 30-Nate Potts[8] ; 5. 48-John Bores[7] ; 6. 2D-Curtis Deisenroth[1] ; 7. 34-Ky Harper[3] ; 8. 92-Cody Scott[2]
Heat 3 – Ultra Shield Race Products (8 Laps – Top 5 finishers transfer to the A-feature)
1. 50Y-Ryan Missler[1] ; 2. 91-Rusty Schlenk[3] ; 3. 61-George Lee[7] ; 4. 75-Dusty Moore[4] ; 5. 21-Larry Kingseed[5] ; 6. 27-Ken Hahn[2] ; 7. 9C-Troy Cattarene[6] ; 8. 76-Skip McKinney[8]
B-Main – Computer Man Inc. (10 Laps – Top 5 finishers transfer to the A-feature)
1. 34-Ky Harper[5] ; 2. 9C-Troy Cattarene[6] ; 3. 77-Coby Bartram[4] ; 4. 92-Cody Scott[8] ; 5. 2-Rocky Owens[10] ; 6. 76-Skip McKinney[9] ; 7. 99-Steve Sabo[1] ; 8. 5J-Josh Haynes[7]
A-Main –  (25 Laps)
1. 91-Rusty Schlenk[2]; 2. 51-Devin Shiels[3]; 3. 34-Ky Harper[16]; 4. 75-Dusty Moore[10]; 5. 15B-Mike Bores[1]; 6. 61-George Lee[5]; 7. 50Y-Ryan Missler[9]; 8. 36-Matt Irey[13]; 9. 40-Wayne Maffett Jr.[12]; 10. O3-Jim Gingery[4]; 11. 48-John Bores[14]; 12. 98-Tim Sabo[11]; 13. 2-Rocky Owens[20]; 14. 77-Coby Bartram[18]; 15. 21-Larry Kingseed[15]; 16. 92-Cody Scott[19]; 17. OO-Chris Keller[7]; 18. 69-John Mayes Jr.[8]; 19. 30-Nate Potts[6]; 20. 9C-Troy Cattarene[17]
Hard Charger: 34-Ky Harper[+13]