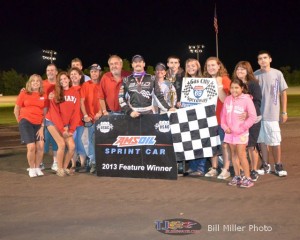 By T.J. Buffenbarger
Gas City, IN – (July 12, 2013) – Jon Stanbrough won the opening night of the 2013 edition of Indiana Sprint Week Friday night at Gas City I-69 Speedway with the USAC Amsoil National Sprint Car Series.  Stanbrough passed Chad Boespflug on lap 16 and never relinquished the top spot.  For Stanbrough it was the first victory since reuniting with Darrell Tate as his crew chief and the first USAC National Sprint Car Series victory for car owner Shane Wade.
"We talked about being good at the end before we went out.  At the beginning I just wanted to be able to stay close to where I did the whole race in second or third, and keep them in my sights," ," said Stanbrough.  "When Shane (Cottle) got to up to third and backed me up to fourth I moved out a bit and found something the car liked.  Once we got back into the lead I could see it was slicking up a little bit.  I could pretty much run where I wanted to go when I got into lapped traffic. I could just move a car width out and the car ran good.  I never really had to go to the top."
Stanbrough shared the front row with Boespflug for the 30-lap feature event.  Boespflug took the lead over Stanbrough, Bryan Clauson and Chase Stockon.  Clauson tried to pass Stanbrough for second on the low side of the speedway, but could not make the pass.  Behind them Shane Cottle passed Stockon for fourth.  By lap four Boespflug, Stanbrough, Clauson, and Cottle pulled away from the rest of the field with Clauson and Stanbrough racing side by side for second.
By lap seven Clauson took over second from Stanbrough and started to pressure Boespflug for the lead.  On lap 11 Clauson began to challenge Boespflug on the bottom of the race track, but could not make the pass.  Behind them Cottle moved past Stanbrough to take over third on lap 13.
Clauson's bid for the lead ended on lap 14 when he bicycled in turn two and made an incredible save to keep going in the fourth spot.  When Clauson bicycled Stanbrough moved up to second and started to pressure Boespflug for the lead.  Stanbrough went to outside of Boespflug on lap 16 and took the lead.  One lap later the caution flag waved for Casey Shuman slowing in turns three and four with driveline issues.
Stanbrough opened up a sizeable lead after the restart with Cottle taking second place from Boespflug after the restart and tried to keep pace with Stanbrough.  Further back in the field Hunter Schuerenberg was making a charge from 14th starting position into the top five.  With 21 laps in Schuerenberg moved into fourth and was closing on the leaders.
On lap 23 Clauson passed Cottle for second, but Cottle returned the favor one lap later to retain the runner up position.
With three laps to go Stanbrough approached slower traffic, but the slower cars were not a  factor as Stanbrough went on to victory.   Cottle held on for second while Schuerenberg passed Clauson for the final spot on the podium.  Clauson and Dave Darland rounded out the top five.
Darland was the fastest qualifier with a lap of 12.295 seconds over the 53 car field.  Chris Gurley and Max McGhee won the non-qualifer events.  Schuerenberg, Tracy Hines, Stanbrough, and Clauson won heat races.  Brady Bacon won the semi-feature.
Cooper Clouse won the USAC Honda Ignite Midget Car Series feature.
AMSOIL USAC NATIONAL SPRINT CAR RACE RESULTS: July 12, 2013 – Gas City, Indiana – Gas City I-69 Speedway – 26th "Indiana Sprint Week"
QUALIFYING: 1. Dave Darland, 71p, Phillips-12.295; 2. Shane Cottle, 2, Epperson-12.466; 3. Chase Stockon, 32, 31 TBI Racing-12.609; 4. Bryan Clauson, 20, Stewart/Curb-Agajanian-12.619; 5. Brady Bacon, 69, Dynamics-12.620; 6. C.J. Leary, 30, Leary-12.625; 7. Jon Stanbrough, 66, Amati-12.712; 8. Mark Smith, 1m, Smith-12.740; 9. Justin Grant, 27a, Elson-12.838; 10. Chad Boespflug, 57, Hazen-12.917; 11. Dakota Jackson, 3, Jackson-12.973; 12. Christopher Bell, 67, Kunz/Curb-Agajanian-12.997;13. Richard Vander Weerd, 10, Vander Weerd-13.145; 14. Nick Drake, 55, Cline-13.288; 15. Chris Windom, 11, Walker-13.354; 16. Jace Vander Weerd, 88, Vander Weerd-13.385; 17. Hunter Schuerenberg, 35, Byram-13.414; 18. Wes McIntyre, 83, McIntyre-13.462; 19. Brady Short, 11p, Pottorff-13.472; 20. Kyle Robbins, 17R, Robbins-13.487; 21. Ryan Pace, 44, Pace-13.493; 22. Tracy Hines, 4, Hines-13.530; 23. Tyler Courtney, 23c, Courtney-13.558; 24. Gary Taylor, 40, Hery-13.585; 25. Kevin Thomas Jr., 17RW, Dutcher/RW/Tri-Star-13.601; 26. Todd Keen, 18k, Keen-13.629; 27. Chad Shields, 81, Shields-13.644; 28. Casey Shuman, 21k, Krockenberger-13.686; 29. Kyle Cummins, 3c, Cummins-13.729; 30. Brett Burdette, 17B, Burdette-13.767; 31. Bradley Sterrett, 90, Leer-13.782; 32. Kevin Studley, 57x, Studley-13.825; 33. Chris Gurley, 12G, Team Automotive-13.831; 34. Max McGhee, 17, McGhee-13.853; 35. Ryan Bernal, 73, Ford-13.875; 36. Nathan Moore, 48, Moore-13.899; 37. Tyler Hewitt, 97x, Hewitt-13.901; 38. A.J. Hopkins, 14H, Hopkins-13.914; 39. Jerry Coons Jr., 10E, Edison-14.008; 40. Scotty Weir, 18, Keen-14.008; 41. Ted Hines, 12, Hines-14.073; 42. Kent Schmidt, 5k, Schmidt-14.114; 43. Todd Gnat, 51G, Gnat-14.155; 44. Conner Donelson, 3W, Sweat-14.236; 45. Brian Hayden, 77, Wingo-14.256; 46. Robert Ballou, 21x, Pollock-14.268; 47. Travis Welpott, 18x, Welpott-14.326; 48. Logan Jarrett, 29, Jarrett-14.420; 49. Mike Terry Jr., 85, Terry-14.697; 50. Dalten Gabbard, 77x, Walker-14.754; 51. Ca leb Armstrong, 11J, Yeley-14.809; 52. Daylan Chambers, 4c, Chambers-14.900; 53. Dusty Shriever, 73x, Shriever-15.477.
QUALIFYING RACE #1: (8 laps) 1. Gurley, 2. Bernal, 3. Coons, 4. Hewitt, 5. Terry, 6. Ted Hines, 7. Hayden, 8. Shriever, 9. Gnat, 10. Welpott, 11. Armstrong. NT
QUALIFYING RACE #2: (8 laps) 1. McGhee, 2. Hopkins, 3. Weir, 4. Ballou, 5. Jarrett, 6. Gabbard, 7. Donelson, 8. Schmidt, 9. Chambers, 10. Moore. NT
FIRST HEAT: (10 laps) 1. Schuerenberg, 2. Darland, 3. Weir, 4. R.Vander Weerd, 5. Pace, 6. Thomas, 7. Bacon, 8. Grant, 9. Cummins, 10. McGhee. NT
SECOND HEAT: (10 laps) 1. Tracy Hines, 2. Cottle, 3. McIntyre, 4. Boespflug, 5. Drake, 6. Keen, 7. Leary, 8. Hopkins, 9. Burdette, 10. Ballou. 2:04.46
THIRD HEAT: (10 laps) 1. Stanbrough, 2. Short, 3. Courtney, 4. Stockon, 5. Coons, 6. Windom, 7. Gurley, 8. Jackson, 9. Sterrett, 10. Shields. 2:10.44
FOURTH HEAT: (10 laps) 1. Clauson, 2. Bell, 3. Taylor, 4. Shuman, 5. Bernal, 6. J.Vander Weerd, 7. Hewitt, 8. Smith, 9. Studley, 10. Robbins. NT
SEMI: (12 laps) 1. Bacon, 2. Grant, 3. Leary, 4. Smith, 5. Thomas, 6. Windom, 7. Cummins, 8. Pace, 9. Coons, 10. Hopkins, 11. Gurley, 12. Hewitt, 13. B+allou, 14. Burdette, 15. Sterrett, 16. Drake, 17. Jackson, 18. Bernal, 19. Robbins, 20. J.Vander Weerd, 21. Keen, 22. Shields. NT
FEATURE: (30 laps) 1. Jon Stanbrough, 2. Shane Cottle, 3. Hunter Schuerenberg, 4. Bryan Clauson, 5. Dave Darland, 6. Chad Boespflug, 7. Christopher Bell, 8. Chase Stockon, 9. Kevin Thomas Jr., 10. Chris Windom, 11. Tyler Courtney, 12. Brady Bacon, 13. Richard Vander Weerd, 14. Justin Grant, 15. Brady Short, 16. Jerry Coons Jr., 17. Gary Taylor, 18. Ryan Bernal, 19. Wes McIntyre, 20. Tracy Hines, 21. C.J. Leary, 22. Mark Smith, 23. Casey Shuman, 24. Scotty Weir. NT8
——————————–
FEATURE LAP LEADERS: Laps 1-15 Boespflug, Laps 16-30 Stanbrough.
NEW AMSOIL NATIONAL SPRINT POINTS: 1-Darland-865, 2-Clauson-831, 3-Stockon-792, 4-Thomas-791, 5-Schuerenberg-790, 6-Bacon -774, 7-Hines-728, 8-Ballou-682, 9-Cottle-534, 10-Courtney-525.
NEW INDIANA SPRINT WEEK POINTS: 1-Cottle-68, 2-Stanbrough-68, 3-Schuerenberg-62, 4-Clauson-62, 5-Darland-61, 6-Boespflug-50, 7-Bell-49, 8-Stockon-48, 9-Thomas-37, 10-Courtney-37.
NEXT AMSOIL NATIONAL SPRINT RACE: July 13 – Kokomo (IN) Speedway – 26th "Indiana Sprint Week"
HONDA IGNITE USAC MIDWEST DIRT MIDGET RACE RESULTS: July 12, 2013 – Gas City, Indiana – Gas City I-69 Speedway
FIRST HEAT: (8 Laps) 1. Katlynn Leer (#77x Leer), 2. Patrick Bruns (#83 Bruns – no points), 3. Austin Nemire (#91 Nemire/Yager), 4. Cooper Clouse (#14 Clouse), 5. Toby Alfrey (#5 Alfrey), 6. John Heydenreich (#22 Givens), 7. Joey Greening (#17G Greening), 8. Bill Kriegbaum (#12 Kriegbaum). 1:50.65
SECOND HEAT: (8 Laps) 1. Adam Thomason (#74 Thomason), 2. Gage Walker (#7 Walker), 3. Stratton Briggs (#2 Alfrey), 4. Kurt Mayhew (#21 Mayhew – no points), 5. Jessica Bean (#9 Bean), 6. Sam McGhee (#11 Alfrey), 7. Emmy Gray (#77 Gray). NT
FEATURE: (25 Laps) 1. Cooper Clouse, 2. Patrick Bruns (no points), 3. Gage Walker, 4. Stratton Briggs, 5. Katlynn Leer, 6. Austin Nemire, 7. Adam Thomason, 8. Sam McGhee, 9. Joey Greening, 10. Kurt Mayhew (no points), 11. Emmy Gray, 12. Bill Kriegbaum, 13. Toby Alfrey, 14. John Heydenreich, 15. Jessica Bean. NT
——————————
——————–
**Bean flipped on lap 2 of the feature. Alfrey flipped on lap 4 of the feature.FEATURE LAP LEADERS: Laps 1 Nemire, Laps 2-16 Walker, Laps 17-25 Clouse.NEW HONDA IGNITE USAC MIDWEST DIRT MIDGET POINTS: 1-Walker-311, 2-Briggs-303, 3-Alfrey-303, 4-Leer-286, 5-Clouse-260, 6-Nemire-225, 7-Bean-177, 8-Greening-142, 9-Hetdenreich-124, 10-B.Kriegbaum-104.NEXT HONDA IGNITE USAC MIDWEST DIRT MIDGET RACE: July 13 – Montpelier (IN) Motor Speedway