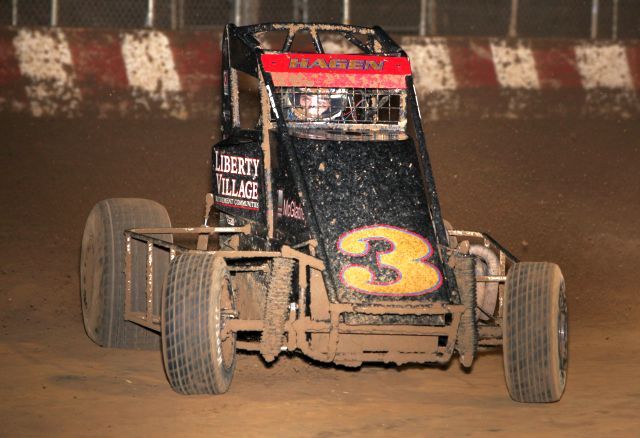 From Tim Tuttle
Sun Prarie, WI — (July 14, 2013) — Darren Hagen bounced back impressively Sunday, leading the final 20 laps to win the feature in the POWRi Lucas Oil National Midget Series, co-sanctioned by the Stark Automotive Group/Mid-State Equipment Badger Midget Series, at Angell Park Speedway.
Hagen finished 1.5 seconds ahead of runner-up Mike Hess. Brad Kuhn was third in the 77th Anniversary Night event, which celebrated Badger's 77years of sanctioning Midget racing.
The 27-year-old from Riverside, Calif., was leading Kuhn with less than three laps remaining on Saturday night in a POWRi/Badger feature at Wilmot (Wis.) Raceway when his ignition failed and eliminated him.
Hagen was even stronger at Angell Park despite driving the final third of the feature with a broken header. He started fourth in the RFMS Racing Esslinger-powered DRC, moved into second behind Danny Stratton on the second lap and took the lead with a decisive move to the inside entering turn three on the first restart on the 11th lap. Hagen wasn't seriously challenged the rest of the way.
"It's easy when the car is good," Hagen said. "You could hear the header popping and I lost all torque. I had to go to a fast pace on the restarts and keep off the cushion because if  hit it, it bogged me down. I ran four inches below the cushion.
"We managed to hang on despite half our header breaking off. It makes up for last night."
It was Hagen's second victory in POWRi this season and the seventh of his career. He has five top-three finishes in nine POWRi events this year. The victory earned him a good paycheck, his share of the $2,000 winner's prize, and a good night's sleep.
"My boss said I could have the day off if I won," Hagen said. "I would have spent all night driving to Indianapolis (where he lives in the racing season) and had to go to work. Now, I don't have to stay up all night."
Hess, a former POWRi and Badger champion passed Kuhn in the final 25 yards to take second by half a car length. The 38-year-old from Riverton, Ill., was running the low line, Kuhn the high line.
"Lots of laps and experience did that," Hess said "You have to be patient and roll the bottom. I had run the top, but the cushion got big and treacherous and halfway through, I went to the bottom. It was the same speed as the top and a shorter way around."
Hess started in ninth position in his Buzzard-Hawk and moved into third on the final restart with seven laps remaining. Hess ran second from laps 24 through 28, but Kuhn had edged him at start/finish on the 29th lap.
"Kuhn got me and going down the back straight n the last lap, I knew I had to do (turns) three and four perfect to beat him and I did," Hess said.
Kuhn had started 11th and steadily climbed. The two-time POWRi Midget champion from Avon, Ind., passed Andrew Felker for third on the lap 19 restart and was running there for the last restart.
Second-running Zach Daum of Pocahontas, Ill., had his rear suspension break in turn one and he bounced off the wall into the path of Kuhn's Spike-Fontana on the outside.
"I turned down away from Daum, but I hit his left rear tire with my right front tire," Kuhn said. "Hess squeezed through on the bottom."
The contact allowed Hagen to pull out to a substantial advantage and set up the battle between Kuhn and Hess for second.
Daum recovered to finish fourth and veteran Scott Hatton of Roscoe, Ill., was fifth.
POWRi Lucas Oil National Midget Series feature results (30 laps): 1. Darren Hagen, 2. Mike Hess, 3. Brad Kuhn, 4. Zach Daum, 5. Scott Hatton,  6. Andrew Felker, 7. Austin Brown;, 8. Jake Blackhurst, 9. Parker Price-Miller, 10. Garrett Aitken, 11. Seth Motsinger, 12. Robbie Ray; 13. Danny Stratton, 14. Tyler Thomas, 15. Billy Balog, 16. Terry Babb, 17. Justin Peck, 18. Bob Schreffler.
For more information, go to www.POWRi.com.