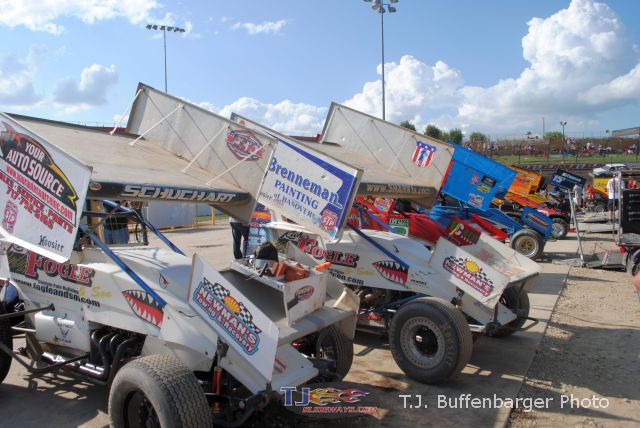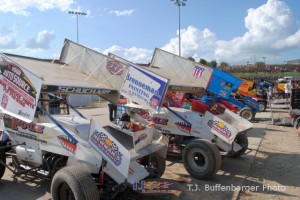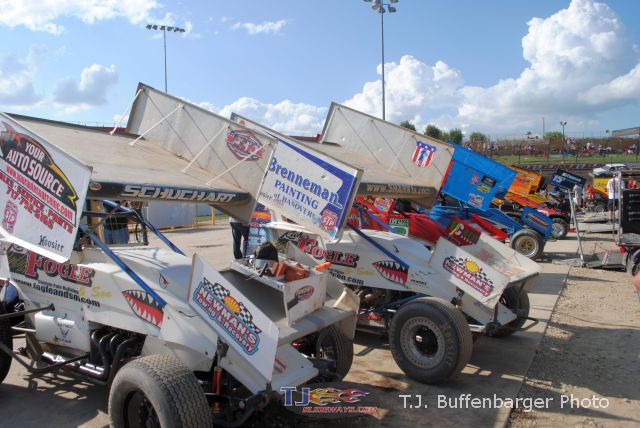 By T.J. Buffenbarger
Now that the 2013 Kings Royal is in the books its time to empty out the notebook with a few final tidbits from the 2013 edition.
The 30th edition of the Kings Royal was a banner night for drivers from California.  Drivers from the left coast finished first and second in the feature event on Saturday with Brad Sweet winning and Tim Kaeding taking the running up position on the final lap from Donny Schatz.  For Kaeding the second place finish was a highlight after a nasty crash on Thursday at Limaland Motorsports Park during the Brad Doty Classic.  Kaeding's Beef Packers crew moved some things around in the car to make him more comfortable and it paid off on Saturday.  Kaeding revealed to PennLive.com writer Jeremy Elliott that he is not sure if the Beef Packers team will take in the upcoming Pennsylvania tour with the World of Outlaws due to running low on equipment.
Another California product, Rico Abreu, made his first winged sprint car start at Eldora Speedway during Kings Royal weekend after making his debut at the high-banked ½-mile oval last September at the 4-Crown Nationals.  Abreu became the 151st driver to start a Kings Royal A-Main, transferring through his heat race.  Abreu and Brian Brown made contact on a restart with Abreu's car suffering damage, ending his night.  Abreu will now head west for some 360 racing before going to Knoxville Raceway again on Saturday.
Another driver heading to Knoxville this week after the Kings Royal is fourth place finisher Brandon Wimmer.  Wimmer started on the pole, ran second for the first half of the event before his car loosened up just enough that he fell back to fourth place.  The top five finish was still a nice run for Destiny Motorsports in their Kings Royal debut and continued Wimmer's comeback for a variety of ailments that kept him out of a race car for over year.
Australia's James McFadden made his first attempt to start the Kings Royal on Saturda at Eldora.  McFadden said he was getting used to the style of racing at Eldora and said it was different than anything else he had ever done.  As of now McFadden plans on staying through the Knoxville Nationals before going home to pick and choose races to hit in Australia for 2013 along with holding down his da job a KRE Racing Engines.  McFadden had moments of brilliance, but missed the transfer in the B-Main by two positions.
Former sprint car driver and engine builder Charlie Fisher was chosen as the, "sovereign king" and had the honor of crowning Brad Sweet after winning the Kings Royal.  Fisher was extremely honored to do so and was excited to into costume and crown the winner of the event.
While Eldora Speedway became the largest "city" in Darke County, Ohio over Kings Royal weekend there was also another major event taking place just down the road.  Country Concert in Fort Loramie, OH featuring acts such as Jason Aldean, Brad Paisley, Kelli e Pickler, and Little Big Town was taking place right down the road from Eldora Speedway.  At one point on Friday the party story east of the track in North Star, a prime location on the way to both venues, had run out of Gas, Ice, virtually anything to drink, and almost all of their food.
Eight former Kings Royal winners were on hand for Saturda's event, all of which participated in the event.  Dale Blaney, Joey Saldana, Steve Kinser, Sammy Swindell, Jason Sides, Jac Haudenschild, Donny Schatz, Daryn Pittman were all recognized in pre-race ceremonies and before driver introductions with a photo retrospective on the jumbotron.
Several travelers used the Kings Royal weekend to take part in the K&L Ready Mix Sprint Invaders portion of the program.  Midwest Sprint Car Association driver Scotty Thiel traveled down for the NRA portion of the program.  The United Racing Company was well represented by Dan Mazy, Adam Anderson, and Robbie Stillwaggon.  Jim Perricone traveled up again this season from San Antonio, Texas for the program.

Of all of the drivers listed Stillwaggon had the best run on Saturday with a fifth place finish.  Stillwaggon indicated that the remainder of their season will be largely decided by weather based on when and where it might rain.  If the weather forecast is good Stillwaggon is still strongly considering coming back to the Canadian Sprint Car Nationals this September.

One thing all of the visiting 360 teams found the most difficult was having their first laps around Eldora serve as their warm up and qualifying lap, something largely unpopular with a majority of competitors.

Car owner and aspiring event promoter Ron Hammons was excitin that the second annual Bob Reynolds Memorial at Waynesfield Raceway Park was a success and look for the event to return in 2013.  Tentatively the race date is once again set for Thursday July 3rd, 2014.  Hammons had his regular driver J.R. Stewart joined by 410 sprint car driver Tim Shaffer for the NRA portion of the program.  Shaffer finished in eighth position while Stewart finished 11th.
Every year at Eldora there is a benefit held for the National Sprint Car Hall of Fame and Museum.  This year's benefit featured one of the three winner trophies for the 2013 Kings Royal.  One trophy goes to the winner driver, another to the winner car owner, and the third was purchased in the auction for $2,175 dollars.   Later that night the winner bidder was able to get a photo with Brad Sweet and her winner trophy following the post-race press conference.
Other events included a popular Q&A session with Donny Schatz, Steve Kinser, and Kraig Kinser at the Bad Boy Buggies display, an autograph session with all of the World of Outlaws drivers, and the Big Game Tree Stands display selling seat cushions to benefit the upcoming Kick-It for Cancer game at the Knoxville Nationals.
Best quote of the weekend:  "Just think, nine months from now there will be a lot of baby boys born named "King".