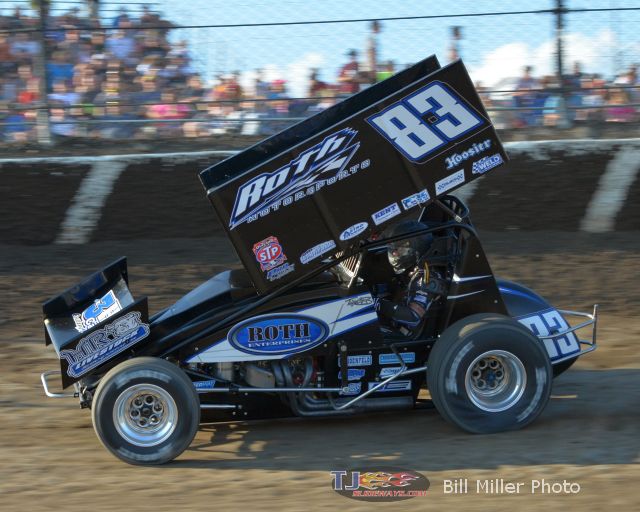 PETERSEN MEDIA
– Tim Kaeding came alive late during the feature event on Saturday night during the 30th Annual King's Royal at the Eldora Speedway, as he charged to a second place finish.
"I was just biding my time on Saturday night, and really made some speed late in the feature, and grabbed a nice second place finish," Kaeding said. "I have to congratulate Brad Sweet on the big win, that is awesome to see."
Kaeding's night did not get off to a great start, as he timed the Roth Enterprises/HR Livestock Transportation/3H Cattle machine in 22nd quick, but with the King's Royal format, it worked out.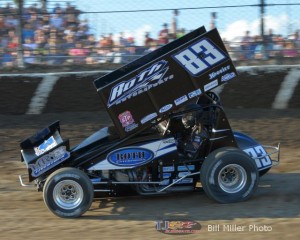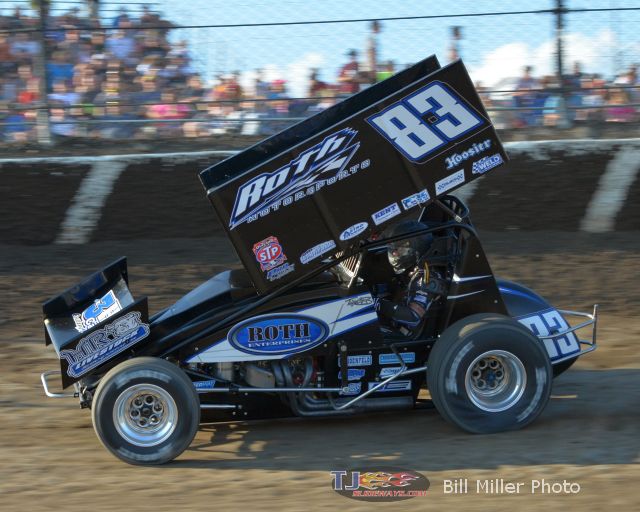 Starting on the pole of the third heat race, the San Jose, CA pilot, raced his way to the heat win, and put himself in the second row of the feature event.
When the race fired off after a dazzling display of pyrotechnics, Kaeding held the fourth spot, as he chased after Sweet, Brandon Wimmer, and Donny Schatz.
Hustling his machine on the top of the Eldora Speedway, Kaeding looked strong, but really began making a run for the top spot late in the feature.
Getting around Wimmer, Kaeding closed in on Schatz, as the duo both made ground on Sweet as they got into lapped traffic.
When the white flag waived, TK threw a slid-job at Schatz, but Schatz turned under Kaeding, and took the second spot back as they headed down the back stretch, but Kaeding was able to use his momentum to grab the second spot as the duo raced out of turn four, coming to the finish line.
"We had a rough week, and it is awesome to run second at such a marquee event for the entire Roth family and organization," he said. "My team is pretty good right now, and this car is a pleasure to drive."
Friday night at the Eldora Speedway, Kaeding timed in 22nd quick, and proceeded to charge from 21st to 14th in a non-stop 30-lap feature event.
Thursday at the Brad Doty Classic in Lima, OH, TK
Tim and his Roth Motorsports team would like to thank Roth Enterprises, HR Livestock Transportation, 3H Cattle,  Mobil1, FK Rod Ends, Weld Wheels, Brown and Miller Racing Solutions, Kent Performance, Kaeding Performance, and Astro Titanium for their support in 2013.
2013 ROTH MOTORSPORTS BY THE NUMBERS: Starts-37, Wins-8, Top 5's-20, Top 10's-26.
ON TAP: TK and his Roth Motorsports team will be in Limaland on Wednesday night for the Brad Doty Classic before heading to the Eldora Speedway this weekend for the King's Royal!
STAY CONNECTED: Stay connected with Roth Motorsports by checking out their new website, www.rothmotorsports83.com. You can also follow Tim on Twitter by following @tkaedingracing.