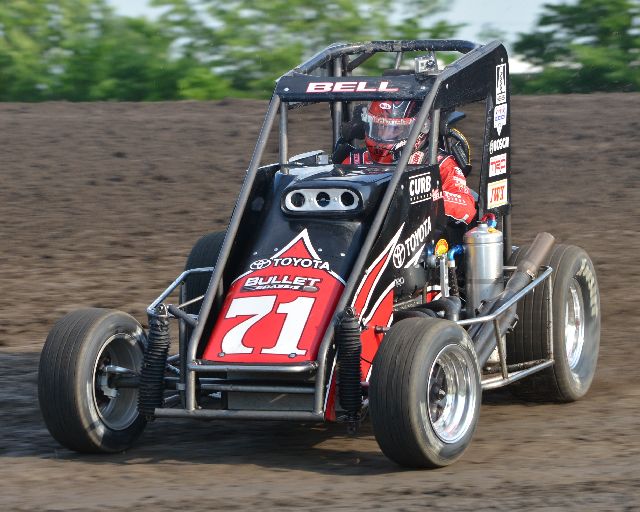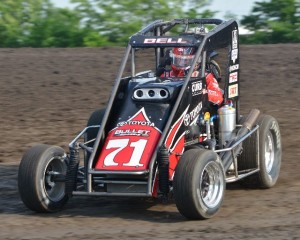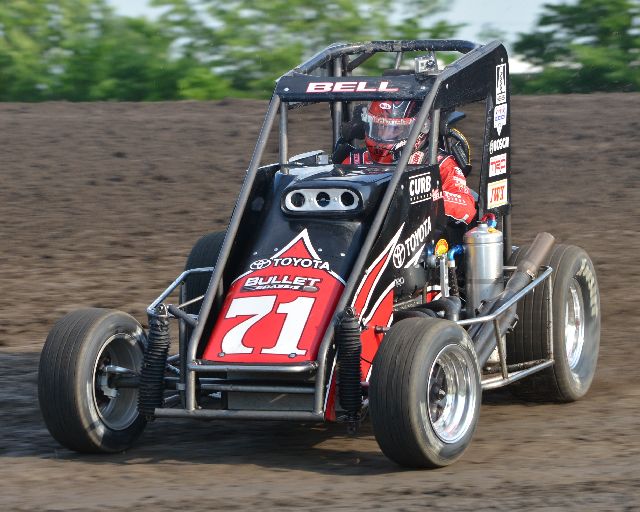 From Dick Jordan and Bryan Gapinski
Belleville, KS — (August 3, 2013) — Oklahoma's Christopher Bell won the 36th annual Belleville Midget Nationals, Saturday Night at the Belleville High Banks. Bell led a three-car sweep for Kunz/Curb-Agajanian Motorsports in the USAC Honda National Dirt Midget series event.
Bell jumped into the lead from the pole position at the start. On the second lap Patrick Stasa flipped, escaping injury. On the restart Bell led teammate Rico Abreu, Dave Darland and Tracy Hines. Bell held a one second lead at the completion of Lap 5. Three laps later Bell began lapping the tail of the field. The event's only caution occurred for a stalled car on lap 10, erasing Bell's lead.
On lap 15 Bell led Abreu by one second, while Zach Daum and Bobby East who started at the tail of the field worked there way into the top ten. Defending race winner Jerry Coons Jr., retired on Lap 17, the same lap Hines moved into third place.
Bell held a four-car length lead over Abreu, Hines, Darland and Bryan Clauson at the midway point. Abreu gained momentum off Turn 4 on Lap 23 and passed Bell for the lead entering turn one. Abreu stretched his lead to six car lengths, two laps later.
The pair held a quarter-lap advantage over third place Hines, with ten laps remaining. Abreu encountered trouble lapping a car in the racing groove allowing Bell to close to his rear bumper, with seven laps remaining. Entering Turn 1 on lap 34 Bell drove under Abreu and the lapped car, taking the lead exiting Turn 2.
Bell maintained his two-car length advantage over Abreu for the remainder of the event driving the Kunz/Curb-Agajanian Motorsports No. 71 Bullet-Toyota. Tanner Thorson driving the third team car No. 67 passed Hines for third place, with five laps remaining, giving the team the first ever three-car sweep in the events history. Both Bell and Thorson were running in their first Nationals, while Abreu equaled his second place finish from last year in his second start.
" This is incredible coming here for the first time and winning. The crew had the car perfect, its an unforgettable night for the whole team to be here in victory lane. The victory was the fourth Belleville Midget Nationals win for car owner Keith Kunz.
Hines placed fourth, followed by two-time winner Bryan Clauson rounding out the top five. Daum who used a backup car for the feature starting last finished sixth, followed by Darland, East who started 23rd, Darren Hagen, and Cody Brewer.
HONDA USAC NATIONAL DIRT MIDGET RACE RESULTS: August 3, 2013 – Belleville, Kansas – Belleville High Banks – 36th "Belleville Midget Nationals"
FIRST HEAT : (8 laps) 1. Christopher Bell (#71 Kunz/Curb-Agajanian), 2. Rico Abreu (#67k Kunz/Curb-Agajanian), 3. Dalton Armstrong (#7a C & A), 4. Darren Hagen (#3 RFMS), 5. Tanner Thorson (#67 Kunz/Curb-Agajanian), 6. Chett Gehrke (#11c Matteson), 7. Garrett Hood (#11H Two Hoods), 8. Jeff Stasa (#91 Stasa). 2:18.28
SECOND HEAT : (8 laps) 1. Tracy Hines (#24 Parker), 2. Shane Golobic (#11 Wilke-Pak), 3. Bryan Clauson (#39 Tucker/BCI/Curb-Agajanian), 4. C.J. Johnson (#45 Martin), 5. Patrick Stasa (#19 Stasa), 6. Ronnie Gardner (#62 Bock), 7. Johnny Murdock (#0 Murdock), 8. Bobby East (#4 Klatt). NT
THIRD HEAT : (8 laps) 1. Dave Darland (#17 RW/Curb-Agajanian), 2. Andrew Felker (#11A Felker), 3. Jerry Coons Jr. (#63 Dooling), 4. Danny Stratton (#7c C & A), 5. Zach Daum (#5 Daum), 6. Cody Brewer (#96 Brewer), 7. Randy Boyer (#69 Boyer), 8. Evan Pardo (#2P Murdock). 2:43.27
POLE DASH: (6 laps) 1. Bell, 2. Abreu, 3. Darland, 4. Hines, 5. Felker, 6. Golobic. 1:46.51
B DASH: (6 laps) 1. Clauson, 2. Hagen, 3. Coons, 4. Stratton, 5. Johnson, 6. D.Armstrong. 1:48.82
FEATURE: (40 laps) 1. Christopher Bell, 2. Rico Abreu, 3. Tanner Thorson, 4. Tracy Hines, 5. Bryan Clauson, 6. Zach Daum, 7. Dave Darland, 8. Bobby East, 9. Darren Hagen, 10. Cody Brewer, 11. Andrew Felker, 12. Danny Stratton, 13. Shane Golobic, 14. Dalton Armstrong, 15. C.J. Johnson, 16. Ronnie Gardner, 17. Johnny Murdock, 18. Chett Gehrke, 19. Evan Pardo, 20. Garrett Hood, 21. Jerry Coons Jr., 22. Randy Boyer, 23. Patrick Stasa, 24. Jeff Stasa. NT
——————————
—
**P.Stasa flipped on lap 2 of the feature.
FEATURE LAP LEADERS: Laps 1-23 Bell, Laps 24-34 Abreu, Laps 35-40 Bell.
NEW HONDA NATIONAL DIRT MIDGET POINTS: 1-Bell-626, 2-Clauson-564, 3-Hines-527, 4-Coons-506, 5-Hagen-482, 6-Felker-480, 7-Abreu-439.8-Daum-438, 9-Brad Kiuhn-374, 10-Thorson-370.