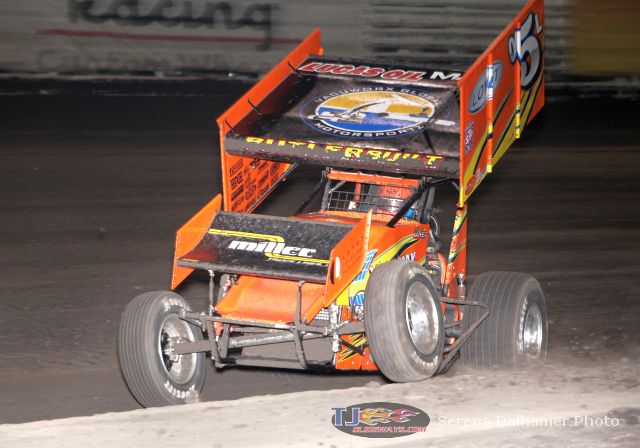 By Bill W
August 12, 2013 – Brad Loyet and the Vacuworx/Miller Truck Lines #o5 team had a successful week in their maiden voyage at the Knoxville Nationals.  Though their efforts ended in the C, the team got better each time they hit the track and they're already looking forward to next year.  The Sunset Hills, Missouri driver will be back on the Lucas Oil ASCS National Series trail Saturday at the Salina High Banks Speedway in Oklahoma.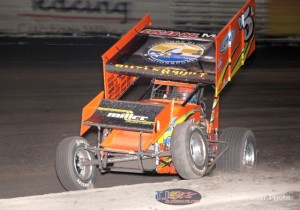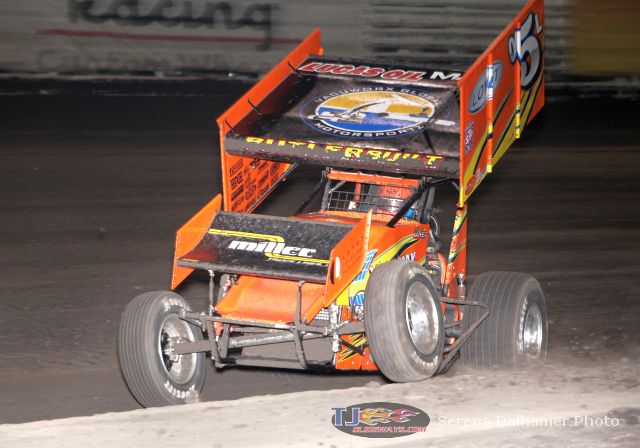 Qualifying on Thursday, Brad timed in 39th.  "We laid down two laps that were identical," he says.  "It just wasn't enough to get any good points out of, but it put us on the pole of the heat.  We were lucky enough to hang onto a transfer (finishing fourth) in that."
Starting in the back of the pack, Brad checkered 20th.  "We threw a little bit at the car for the feature, and it was better," he says.  "I think we pretty much finished where we started, but our goal the first night was to make the A main.  We did that, so we were pretty happy.  Obviously, we weren't anywhere near locking ourselves in, so we got ready for Friday."
Brad qualified alongside 70 other cars starting from scratch.  He qualified mid-pack at 37th.  "We started the night where we ended on Thursday," he says.  "We were way more aggressive, and we had to be to get going.  We qualified decent, but with the format (inverting four in the heats), we missed the invert."
He would charge from seventh to fourth in the heat.  "We had a rocket ship in the heat race," says Brad.  "We got up to fourth, one spot out of a transfer.  The heats were only eight laps instead of ten on Friday, and that was a night we could have used the extra two laps."
The B mains also transferred three cars, and Brad would start eighth and finish fifth.  "The B went back to qualifying, so the cars I passed in the heat race…I had to pass again in the B," he says.  "We had an awesome car in that too.  We were passing some cars.  With about four to go…we had a bunch of cautions…I started sucking air in the corners.  It was running out of fuel."
An incident while attempting to pass fellow rookie Danny Dietrich slowed his progress.  "Dietrich and I were both running the bottom and we got together," says Brad.  "I mangled up the nerf bar and tail tank.  We kept going and I finished the race, but we were sucking air so bad and running out of fuel."
The fifth place finish set Brad up outside of row six for Saturday's C main.  He would move forward six spots.  "The track was still fairly narrow, but we had a good car," he says.  "We were able to get up to sixth.  If we could have had some yellows a little bit later, we could have made it out I think.  We were really good on the restarts."
The team was enthused about their first outing on sprint car racing's biggest stage.  "It was our rookie year, and I think we may have been the fastest rookie out there," says Brad.  "I think we had the best car at the end of the week.  Going into next year, we know what we need and I'm looking forward to it."
Brad's Weekly Releases
If you'd like to be added to Brad's e-mail list for weekly releases, e-mail sprntcar@hotmail.com with "Loyet" in the Subject Line.
Brad and the Loyet Motorsports team would like to thank primary sponsors: Vacuworx Global, Miller Truck Lines, and Loyet Landscape Maintenance. Associate sponsors: Maxim Race Cars, J and D Performance Racing Engines, Butlerbuilt Professional Seat Systems, Meramec Heights Collision Center, KSE Racing, Weld Wheels, Penske Shocks, Wilwood Disc Brakes, Hepfner Racing Products, DMI, Saldana Racing Products, Rod End Supply, Bell Helmets, TI 64, Conroy Control, The Engine Heater, Ealey Transportation, and Speedway Motors.