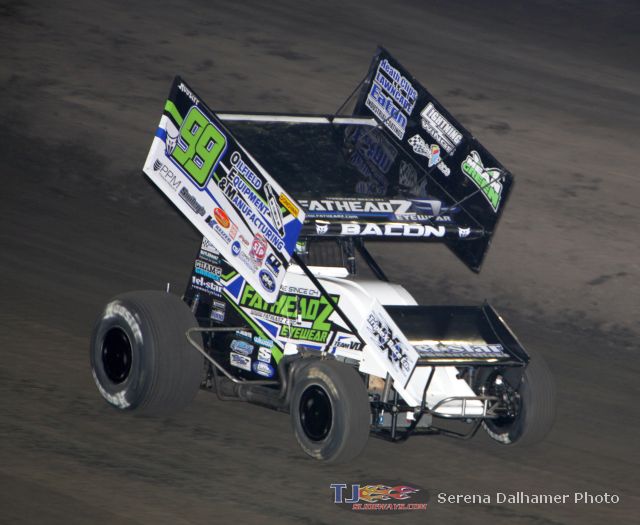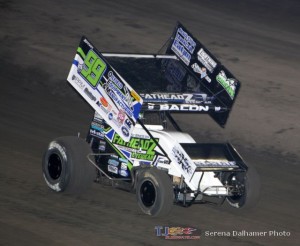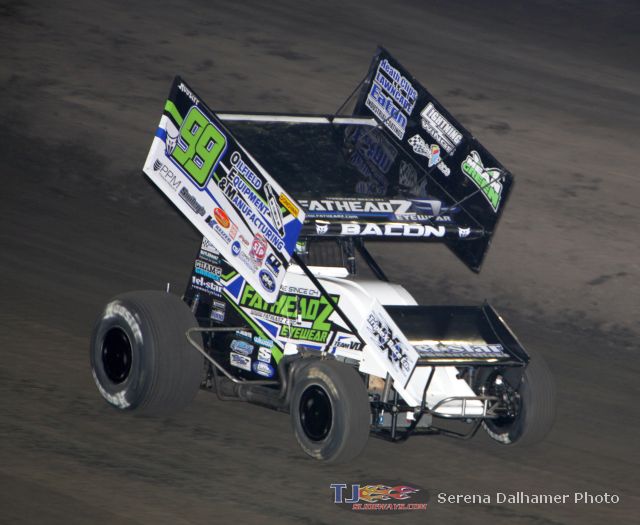 From Bill W
August 14, 2013 – A strong run at the Ultimate Challenge at the Southern Iowa Speedway in Oskaloosa highlighted a challenging Southern Iowa Sprintweek for Brady Bacon.  The third place finish in Osky has the Broken Arrow, Oklahoma driver just twenty markers behind the leader in the USAC National Sprint Car point standings.  This weekend will see him running the Brady Bacon Racing #99 with the 360 at Limaland Motorsports Park in Lima, Ohio on Friday and the 410 with the All Stars on Saturday in Butler, Michigan.
The week started with the 360 Nationals.  In a theme that would carry throughout the week at Knoxville, Brady would draw poorly for time trials.  "I made a mistake in qualifying," he says.  "The track was going away fast, and I thought it would be faster to go slow around the bottom and not miss it.  It wasn't the case.  It would have been better if I missed it to keep it wide open and keep going.  I just qualified terrible."
Despite having a fast racecar, it was impossible to overcome the poor qualifying effort.   "We had a really good car at the 360 Nationals," says Brady.  "We just dug our hole too deep.  I think we passed four cars in our heat race and finished one spot out of a transfer, and eight cars in the B main.  The cars are just too good to start that far back.  It was pretty much shot after qualifying."
After climbing to 11th in the C main on Saturday, Brady cut a tire, ending his 360 Nationals.  The team spent a night tuning the 410 at the "Capitani Classic" the following evening.  "Drawing as late as we did with 81 cars just wasn't a recipe for success," says Brady.  "We qualified in the back, and there wasn't much we could do after that."
The highlight of the week came at Tuesday's Ultimate Challenge.  By the time the race was halted by rain, the feature had run twenty of the thirty laps scheduled.  Brady was running third in the Hoffman #69 and gaining on teammate Kyle Larson and leader, Jon Stanbrough.  "I believe we had the best car there," he says.  "We ended up running third.  I think if we would have had the whole thirty laps, we had a really good shot at winning.  The track was just coming around.  I pulled up on Kyle and we were both reeling in Jon.  (Jon) was good on the bottom, but I think the bottom was going away."
It was a  solid points night as well.  "Second and third was good for the Hoffman's," says Brady.  "We had a good point night, definitely.  No one ahead of us in points had a good night at all.  I think we're twenty points out of the lead."
Brady's lack of draw luck had him timing 44th in the order on his qualifying night Wednesday at the Knoxville Nationals.  "Our weakness was qualifying again," he says.  "We managed to finish third in our heat against some good cars.  We started way back in the feature.  I took it easy early on.  I knew even if I won the feature, I wouldn't have enough points to lock into Saturday.  I think we moved up to 13th (from 20th).  We had a fast car."
Brady would again qualify late in Friday's program, and the week would end in the D main on Saturday.  "It's hard to figure," he says.  "There were years I went there and didn't have a clue what I was doing and we did well.  Things need to fall your way, and it just wasn't one of those weeks for us this year.  We're excited to get back racing this weekend."


Follow Brady on his Website, Twitter and Facebook!


Follow Brady at his website located at www.BradyBaconRacing.com! Also keep up with him on Facebook and Twitter (which also can be accessed at the website) at the following links…
Twitter Link – http://twitter.com/BradyBacon
Facebook Link – www.facebook.com/pages/Brady-Bacon-Racing/278125555137
Partner of the Week – Oilfield Equipment and Manufacturing
Oilfield Equipment and Manufacturing, headquartered in Shawnee, Oklahoma, specializes in quality oilfield services, drilling and steeping.  Give them a call today at 405 275-4500!
Associate Marketing Partner of the Week – ButlerBuilt Professional Seat Systems
No matter the form of motorsports, ButlerBuilt's leadership makes it the most successful seat in the industry!  Winners utilizing ButlerBuilt in the last two weeks span a wide range of motorsports: Kyle Busch, Bubba Pollard, Tyler Walker, Jonathan Allard, Brady Short, Jason Sides, Josh Fisher, Shannon McQueen, Wayne Johnson, Bud Kaeding, Jessica Zemken, Lynton Jeffrey, Jason Johnson, Brooke Tatnell, Levi Jones and many more!  To learn more about the Butler Advantage, visit www.ButlerBuilt.net today!