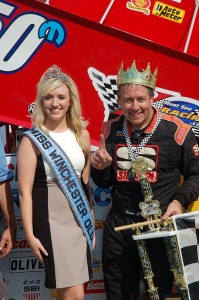 From David Sink
Winchester, IN – (August 18, 2013) – Brian Gerster took advantage of Jo Jo Helberg's lap 23 misfortune to steal the TRUFUEL Must See Racing Xtreme Sprint Series (MSRXSS) 'King of the Wings' victory at Winchester Speedway Sunday afternoon. Gerster now trails Helberg unofficially by two points with one race remaining in the 2013 title chase. The series finale will be next weekend at Berlin Raceway in Marne, MI.
Gerster, who started on the outside of row four, drove a smooth race and steadily moved through the field. He slowly began to run race leader Helberg down late in the race. Just as Gerster caught up to Helberg on lap twenty-three, Helberg's right rear tire came apart as a result of contact with unknown debris on the race track. Gerster assumed the point and never looked back en-route to his 'King of the Wings' victory.
"When we were under yellow I could see he (Helberg) was gonna have a tire problem" explained Gerster in victory lane. "Coming down the front straightaway I could see it coming apart and going flat. He was just trying to save it. He actually did a really good job keeping from wrecking the race car when he got down in the corner. Fortunately we were able to sneak around the outside of him. I'll take the win any way I can get it. We were really fast all day. It would have been fun if he could have kept his tire under him and we could have raced him and beat him heads up. I thought we had something for him there at the end" concluded Gertser.
Troy DeCaire finished in second place and was in sight of the leader as the checkered flag flew. DeCaire's second place finish ended a streak of bad luck for the two-time MSRXSS champion. Brian Olson finished third and was followed by Tom Tolbert and Sondi Eden rounding out the top five.
The only serious accident of the day occurred when Tyler Underwood made contact with the turn four wall in a heat race. He was uninjured but his machine suffered heavy damage and he was done for the afternoon.
Gerster was the day's fast qualifier with a lap of 13.169 seconds. Heat race victory's went to Gerster, Helberg, and DeCaire.
The series will now put its focus on the series finale at Berlin Raceway next Saturday night August 24. The series will crown a 2013 champion at the conclusion of the event.
For more info please log onto www.mustseeracing.com as well as Twitter and Facebook.
OFFICIAL KING OF THE WINGS FEATURE FINISH
1 50m Brian Gerster
2 40 Troy DeCaire
3 71 Brian Olson
4 2t Tom Tolbert
5 6 Sondi Eden
6 7 Jo Jo Helberg
7 56r Ryan Meyers
8 07w Jacob Wilson
9 50 Mike Larrison
10 17 Cody Gallogly
11 40 Tim Cox
12 81 Jimmy Kite
13 26b Jeff Bloom
14 75c Jerry Caryer
15 6 Kevin Blue
16 26p Aaron Pierce
DNS 14 Tyler Underwood
DNS 60 DJ Hamilton