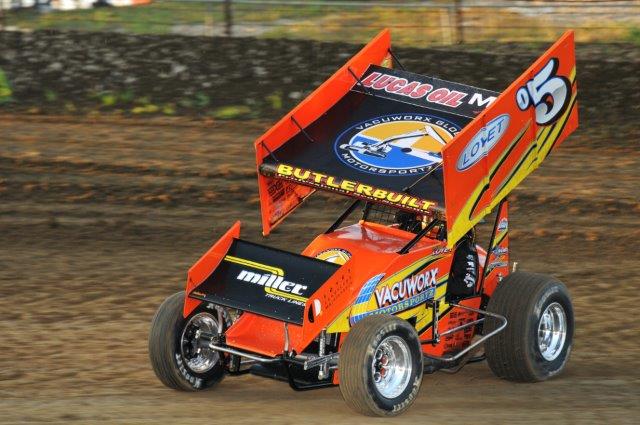 By Bill W
August 20, 2013 – Brad Loyet and the Vacuworx Global/Miller Truck Lines #o5 registered yet another podium finish with the Lucas Oil ASCS National Series last Saturday night at the Salina High Banks in Oklahoma.  The Sunset Hills, Missouri driver will be back in action this week with the series on Thursday at I-30 Speedway near Little Rock, Arkansas and at Lexington 104 Speedway in Lexington, Tennessee on Saturday.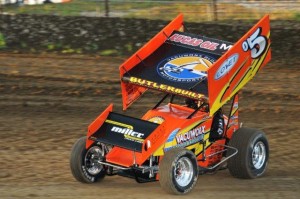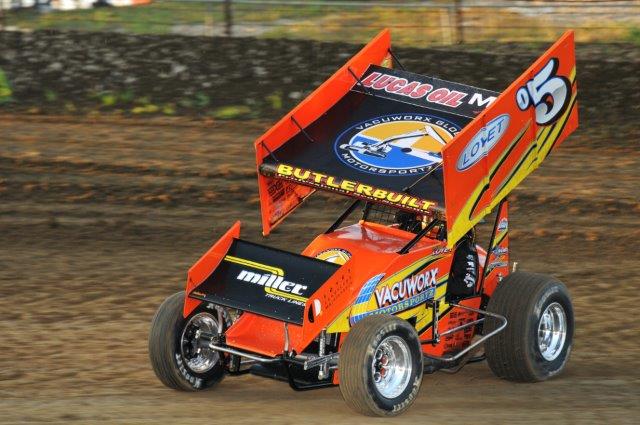 The High Banks proved to be heavy and fast from the outset.  "The track was pretty narrow in hot laps, so we prepared for the heat race," says Brad.  "We still didn't have quite enough gear in the heat, and the track was narrower than what we're used to racing.  We ended up second, but that still put us in the redraw."
After drawing a five to start the feature, a first lap incident would hamper the handling on Brad's sprinter.  "Something happened with Sam Hafertepe and we ended up starting third," he says.  "Unfortunately, on the start, the pole-sitter (Sean) McClelland and I were going for the same piece of real estate.  We got together.  I was able to keep going, but unfortunately, he spun around."
Despite the unsteady front end, Brad was able to come home third at the high speed joint.  "It took off the left front sideboard on the nose wing," he says.  "It was tough to race like that.  I couldn't run it into the corner as hard as I wanted to.  We did hold onto a third place finish.  It was a good finish considering our circumstance."
The team had to be pleased with the finish.  "It was a good night overall," says Brad.  "We've restructured the crew a bit, and it's just another guy and me out here.  It was our first night out, so we were happy with it."
The trip to Lexington will be Brad's first, but he has run several times on the red clay ¼-mile in Little Rock.  "It should suit our style, but we've struggled there in the past," he says.  "We were a little better there earlier this year (6th in April), so we have a better idea what to do there setup-wise.  I think we have a pretty good package for it and see how it goes."
Brad is anxious to pick up on the momentum he carried into the Knoxville Nationals.  He went in having won the feature with ASCS in Willamette, Oregon.  "Hopefully, we can pick up another win here," he says.  "We've been running well in the top five, so hopefully, we'll get one sooner or later."
Brad's Weekly Releases
If you'd like to be added to Brad's e-mail list for weekly releases, e-mail sprntcar@hotmail.com with "Loyet" in the Subject Line.
Brad and the Loyet Motorsports team would like to thank primary sponsors: Vacuworx Global, Miller Truck Lines, and Loyet Landscape Maintenance. Associate sponsors: Maxim Race Cars, J and D Performance Racing Engines, Butlerbuilt Professional Seat Systems, Meramec Heights Collision Center, KSE Racing, Weld Wheels, Penske Shocks, Wilwood Disc Brakes, Hepfner Racing Products, DMI, Saldana Racing Products, Rod End Supply, Bell Helmets, TI 64, Conroy Control, The Engine Heater, Ealey Transportation, and Speedway Motors.