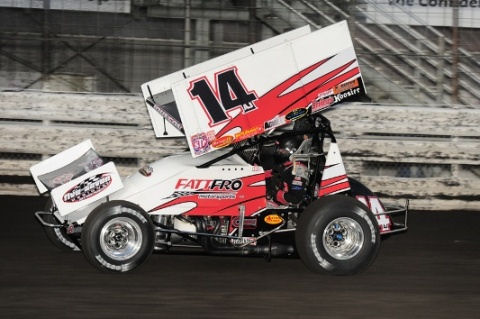 By Bill W
August 21, 2013 – A two-night trip to Wilmot Speedway in Wisconsin resulted in a third place finish and another podium run wiped out with a three-car incident in the finale for Wayne Johnson.  It was a track where he previously scored victory with the World of Outlaws Gumout Series.  The Knoxville, Iowa driver will race around home this weekend, before he leaves to run in Ohio, New York and Canada the next few weeks.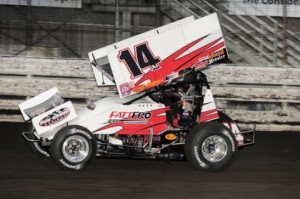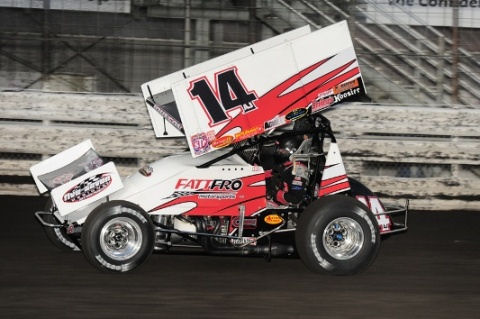 Wayne would qualify tenth in Friday's prelim, and started and finished third in his heat.  "We weren't the best in qualifying or the heat really," he says.  "We got a real slow start in the heat and got back out of a transfer position.  We were able to get back up to third though."
He would start outside row one in the feature.  "We ran second the whole race really," says Wayne.  "(Bill) Balog got us in traffic there with a couple of laps to go.  We made a mistake there, but our car wasn't the best either.  It was the same problem we've been having lately."
Wayne would time in 8th quick in the finale.  "It was slicker in qualifying on Saturday," he says.  "We had a pretty good run in the heat, and that set us up to start fourth in the feature."
Wayne was cruising in the #14AJ early on.  "We were riding around there, and we had a pretty decent car," he says.  "I thought we had a shot at winning the race.  Bill Balog slid me a couple of times and we drove back by him.  I was kind of waiting for my car to come in.  I had a fuel load and I was too tight."
Unfortunately, an incident occurred that couldn't be avoided.  "We were able to run the leader back down, and I peeled off to run the bottom," says Wayne.  "Second place spun out and I didn't see them on top.  He collected third and came down the hill and got me too."
Wayne talked of his upcoming racing plans.  "We're going to run Knoxville Saturday.  Next week, we'll go to Attica (Ohio) and run the two-day show there.  Then we have Wayne County on Sunday night.  We'll leave from there and go to Canada."
Follow Updates on Facebook!
Wayne will update as his race night goes on at his Facebook page.  Find it by searching for Wayne Johnson Racing or clicking the following link…
http://www.facebook.com/#!/WayneJohnsonRacing
Outlaw Wings – "The Wing with an Attitude"
Check out the new "recessed rivet" design put out by Outlaw Wings.  Talk to Wayne about purchasing Outlaw Wings for your car! Outlaw Wings – "The Wing with an Attitude"!
Wayne's World                                                       
Got a question for Wayne? Each week, Wayne will answer your questions about "Tech Tips", or anything that's on your mind. If you ever wondered what a part on a sprint car is all about, send an e-mail to us at sprntcar@iowatelecom.net, and we may answer it in this section! Put "? for Wayne" in your subject line. He'll try to keep it clean if you do!
Wayne's Fast Facts
In September of 2007, Wayne won at the Langlade County Speedway in Antigo, Wisconsin.  He drove the FattFro #14AJ that night to the win over Brooke Tatnell in Guy Forbrook's #5, Scott Neitzel, Steve Meyer and Donny Goeden.  Wayne has seven career wins with the IRA.
Partner of the Week – Canyon Apparel
With over sixteen years of experience in the screen printing industry, Canyon Apparel's work is of the highest quality you will find anywhere in the country.  Although their primary focus is custom racing shirts (sprint cars, midgets, late models and modifieds), they are more than capable of handling other jobs for businesses, events or race track designs.  If you would like a quote or just need more information, call them at 866-799-6966 or visit them on the web at www.CanyonApparelPrinting.com!
"Wednesday's with Wayne"
"Wednesday's With Wayne" is an up close look at the past, present and future of colorful and talented sprint car driver Wayne Johnson. You'll never know what to expect next with Wayne, so don't miss us on Wednesdays!
To receive "Wednesday's with Wayne", send an e-mail to sprntcar@hotmail.com with"Wayne" in the subject line.
Wayne Johnson Racing would like to thank Vern Rengen and Missile Motorsports, Sebastian Sandblasting & Powdercoating, Williams Motorsports, Outlaw Wings, Team Achieve, The Oil Medics, Smiley's Racing Products, Hoosier Tire Southwest, Xtreme Accu-Tach, Simpson, Butlerbuilt, Maxim, Speedway Motors, Rod End Supply, Schoenfeld Headers, 517 Design and Canyon Apparel.