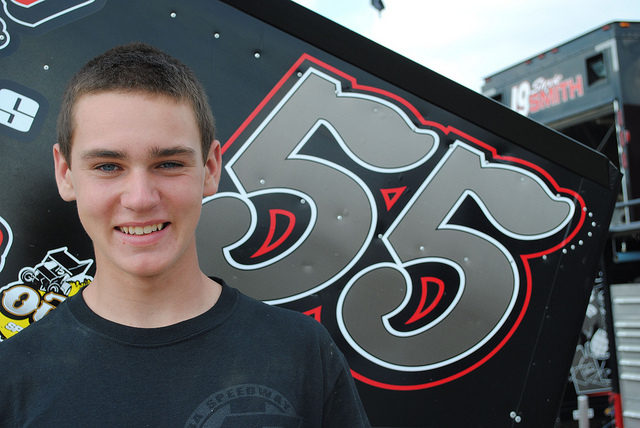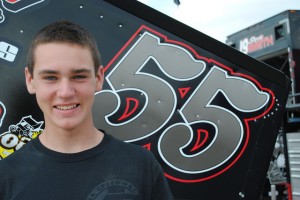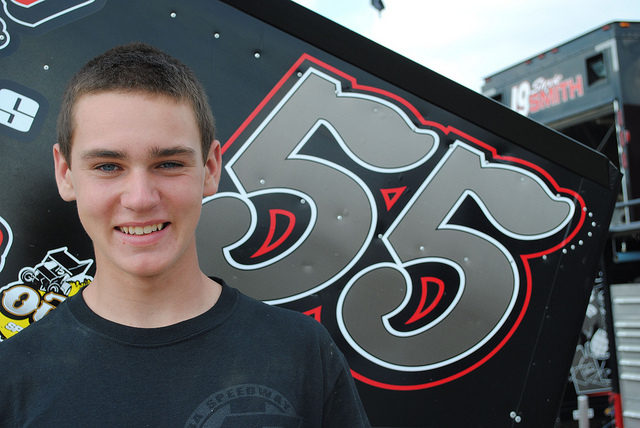 From Kelly Hart
Alger, WA — (August 24, 2013) — With everyone anticipating Labor Day Weekend and the big three day Monster Energy Meltdown featuring the STP World of Outlaws and the Summer Thunder Sprint Series finale, 360 Sprints and Sportsman Sprint cars tuned up for the occasion with a night of red hot racing action. Also on the card were the Outlaw Street Stocks and Outlaw Tuners.
Trey Starks led just the final lap of the 360 Main, but it was a memorable final restart. After Luke Didiuk stalled on the backstretch on the final lap setting up the green, white and checkered flag finish Josh DeWitt had held point and looked to have a sure win. On the restart Starks dove to the bottom to get underneath DeWitt with Colton Heath going high to try and get around on top. DeWitt returned the favor as did Heath and the three swapped the lead corner after corner with Starks leading DeWitt and Heath at the final checkered. Heath and Brock Lemley won the heat races with Kelsey Carpenter setting fast time at 11.779.
In the Sportsman Sprint division defending champion Steve Parker looks to have another title locked up as he won the main event to extend his point lead. It looks like all Parker has to do on championship night is take the green to win the title. Heat race wins went to Bill Rude and Zach McCabe. Devin Barnes set fast time at 12.519.
First time visitors to the race track the Outlaw Street Stocks ran three very entertaining events. In the heat races Jack Parshall and Mike Knox, Jr. were the winners. For the main event the top five ran virtually nose to tail and wheel to wheel for all 25 laps with Matt Babcock picking up his second win of the season in his rookie year and holding off Jason Tole and Parshall for the win. Excellent racing throughout the field and the fans giving a thumbs up to having them return next season.
In the Outlaw Tuner division point leader Rick Young has all but wrapped up his first championship season with tonight's main event win. Young took over the lead late in the race when Matt Ploeg suffered mechanical woes ending his race night. The heat race wins went to the two youngest drivers in the field Becky Boudreau and Clint Meins.
Labor Day racing at ASA Member Track Skagit Speedway features 3 race nights. On Thursday it is the final race of the Summer Thunder Sprint Series along with the first night of the Sportsman Showdown and the first of three nights of Outlaw Tuner Combat. Friday and Saturday feature the Monster Energy Meltdown with the STP World of Outlaws along with the Outlaw Tuner Combat races and the conclusion of the Sportsman Sprint Showdown on Saturday. More details on the track website at
www.SkagitSpeedway.com
.
RESULTS 8/24/13
360 Sprints
Fast time 79 Kelsey Carpenter 11.779
Heat 1 33 Colton Heath, 98 Matt Jensen, 79k Carpenter, 24c Eric Fisher, 9a Luke Didiuk, 42 Derek Roberts, 29w Steve James, 4b Cale Brooke
Heat 2 9al Brock Lemley, 5d Josh DeWitt, 29 Randy Price, 55 Trey Starks, 50 Michael Bollinger, 08 Steve Vague, 57 Bud Ashe, 27z Zeth Custer
Main 55 Trey Starks, 5d DeWitt, 33 Heath, 79k Carpenter, 9al Lemley, 98 Jensen, 42 Roberts, 08 Vague, 29w James, 4b Brooke, 9a Didiuk, 29 Price, 24cf Fisher, 27z Custer, 50 Bollinger, 57 Ashe
Lap leaders 5d DeWitt 1, 24c Eric Fisher 2-16, 5d DeWitt 17-24, 55 Starks 25
Hard Charger 08 Steve Vague +6 positions gained
Sportsman Sprints
Fast time 22 Devin Barnes 12.519
Heat 1 33 Bill Rude, 0 Tyler Fox, 22d Devin Barnes, 68 Ben Gunderson, 57 James Bundy, 5 Adam Hinds, 8s Clayton Sibley, 13a Ashley Lewellen
Heat 2 46 Zach McCabe, 2 Cory Swatzina, 23 Steve Parker, 9b Paul Burdick, 9o Greg Otis, 13gr Glen Reinstra, 18 Brandon Benson, 15 Mike Murphy
Main 23 Steve Parker, 0 Fox, 2s Swatzina, 46 McCabe, 22d Barnes, 68 Gunderson, 33 Rude, 9b Burdick, 8s Sibley, 57 Bundy, 13gr Reinstra, 15 Murphy, 13a Lewellen, 9 Otis, 5 Hinds, 18 Benson
Lap leaders 0 Fox 1, 23 Parker 2-20
Hard Charger 8s Clayton Sibley +5 positions gained
Outlaw Street Stocks
Heat 1 9 Jack Parshall, 99 Matt Babcock, 4x Will Madison, 17 Brian Izzi,  3 Andy Schmidt, 2, Doug Brewster, 3x Tim Phillips
Heat 2 40 Mike Knox Jr., 5 Tom Hecker, 67 Ryen Haney, 34 Jason Tole, 97 Eddie Blood, 23 Nick Brammer , 5x Jason Lawant
Main 99 Matt Babcock, 34 Tole, 9 Parshall, 17 Izzi, 40 Knox Jr., 4x Madison, 3 Schmidt, 5x Lawant, 3x Phillips. 67 Haney, 97 Blood, 5 Hecker, 2 Brewster
Lap leaders 5 Hecker 1-3, 99 Babcock 4-25
Hard Charger 34 Jason Tole +6 positions gained
Outlaw Tuners
Heat 1 k9 Becky Boudreau, 81 Jon Gunderson, 7m Eric Vaillette, 20 Travis Meins, 4 Matt Powers, 29p Patrick Adams, 50 Jon Gunderson
Heat 2 77mr Clint Meins, 24p Matt Ploeg, 72 Brandon Berg, 71 Rick Young, 12 Tina Thibert, 29b Mark Toth, 4 James Sims
Main 71 Rick Young, 4 Powers, 72 Berg, 7m Vaillette, 29p Adams, 81 Gunderson, 77mr Meins, 20 Meins, 12 Thibert, 50 Edwards, 29b Toth, 4s Sims, k9 Boudreau, 24p Ploeg
Lap leaders 24 Ploeg 1-9, 71 Rick Young 10-17
Hard Charger 71 Rick Young +7 positions gained