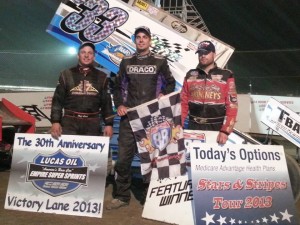 From Mike Mallett
Afton, N.Y. — (August 30, 2013) — Stewart Friesen has been very impressive in 2013 whenever he's jumped into a Sprint Car with the Lucas Oil Empire Super Sprints.  The Niagara-on-the-Lake, Ont., driver has now picked up three wins in just five starts with the club driving his Doug Emery Motorsports No. 33.
Friesen's third series win of the year came in the first ever trip by the stars of the series to the I-88 Speedway in Afton, N.Y.  Friesen drove by Matt Tanner for the lead and then held off Paul Kinney and Jeff Cook for the victory and the $1,725 payday.
"This race originally wasn't on our schedule and Doug (Emery) talked to me over the weekend," stated Friesen.  "Dean Reynolds was supposed to drive this car.  Wherever he is I have to thank him for giving up the seat.  We talked and made sure we were down here.  This is a great event and the track was in great shape tonight."
Tanner and Cook redrew the front row for the start of the 25-lap Today's Options Stars and Stripes Tour A-Main.  As they raced into turn one Friesen nearly spun out all by himself.  He was able to save it and continue on.
"That first lap I got it all crossed up going into turn one," said Friesen.  "I'm thankful for whoever was behind me that they didn't plow right into me.  They let me gather it up."
Tanner led lap one before caution for Jared Fink eased the pace.  Fink broke a rear-end.  The race went green from that point for several laps before another caution slowed the field on lap eight as Steve Collins had flames shot from under the hood of his No. 67.
The double-file restart saw Tanner hold the lead for one lap before Friesen was able to duck underneath him in the first and second turns to get out in front.  Friesen opened the advantage as Cook moved by Tanner as well for second.
"Tanner was really lugging down the restarts and Cook couldn't get it rolling up around the top," stated Friesen.  "I was lucky, he lugged it down.  Doug (Emery) has this thing tuned to perfection.  It just fired right away, Tanner slid up and that was first time I really got in on the bottom and the car just stuck."
Friesen led on lap 13 when the final caution was displayed for Kyle Dutcher as he stopped with mechanical problems in turn one.  Friesen initially chose to restart on the outside but before we the field went back to green he decided to go to the outside.
That proved to be a wise choice as Friesen held on to the lead.  Cook meanwhile found himself in a hard fought battle with Kinney who eventually got by him to move into second.
Friesen encountered traffic with only a handful of laps remaining.  The slower cars made his job easy as many went to the top lane allowing Friesen to move by with ease.
Friesen won by a half straightaway over Kinney who came home second after winning the dash earlier in the evening. Kinney found the bottom groove on the speedway but it proved to be too late.
"I had a good car but Stewy is obviously good in these things wherever he goes and I'm kind of angry he keeps racing with us," joked Kinney in Victory Lane.  "No it's alright it is good to finish second to him.  It took me too long to figure out what I had to do out there and at that point he was gone."
Even though Cook fell back to third it was one of his best runs of the 2013 season.  Cook wasn't as good on restarts as it took him a few laps to get rolling.
"We'll settle for a third," said Cook.  "It was a good race.  It was fun out there, the track was good.  I have to thank the sponsors and especially my wife and mother-in-law.  I have the all girl review here with me tonight, my wife was the crew-chief tonight and did a good job."
Dylan Swiernik ended up finishing in fourth after starting ninth and Chuck Hebing moved up to the fifth position after starting tenth.
ESS/I-88 Notes: A good crowd came out for the inaugural appearance from the Lucas Oil Tour…Billy Jaycox and Phil Pewrochik made their first starts of 2013…Next up will be two visits to the Utica-Rome Speedway which is this Sunday for the Cole Cup Tune-up paying $2,000 to win and then next Saturday is the first ever Cole Cup paying $7,000 to win and $500 to start.
Lucas Oil A-Main – Stewart Friesen ($1,725),  Paul Kinney, Jeff Cook, Dylan Swiernik, Chuck Hebing, Kevin Ward Jr., Josh Pieniazek, Matt Tanner, Lance Yonge, Jason Barney, Joe Trenca, Jordan Thomas, Warren Alexson, Cory Sparks, Phil Powerchik Jr., Billy Jaycox, Kyle Dutcher, Steve Collins, Jared Fink.
Lap Leaders – Tanner 1-9, Friesen 10-25
Car Mate Custom Built Trailers Heat 1 – Cook, Collins, Ward Jr., Thomas, Jaycox, Dutcher, Pieniazek
Car Mate Custom Built Trailers Heat 2 – Hebing, Yonge, Barney, Swiernik, Fink, Alexson
Car Mate Custom Built Trailers Heat 3 – Sparks, Kinney, Friesen, Tanner, Trenca, Peworchik Jr.
Cobra Coaches Dash – Kinney
Westward Painting Company Halfway – Friesen $100
Ohsweken Speedway Winners Bonus – Friesen $100
Fondations 4 Saisons Hard Charger – Pieniazek (12 pos.) $50
Fondations 55 Pick 5 – Hebing $50
North Eastern Pool and Spa Power Pick – Thomas and Fink $50
Car Mate Custom Built Trailers Heats – Cook, Hebing, Sparks $25
Go Nuclear Late Models Go Fast Award – Friesen (13.589) $25
Jimmy D's Speed and Custom Fast Time – Collins ( 13.550) $25