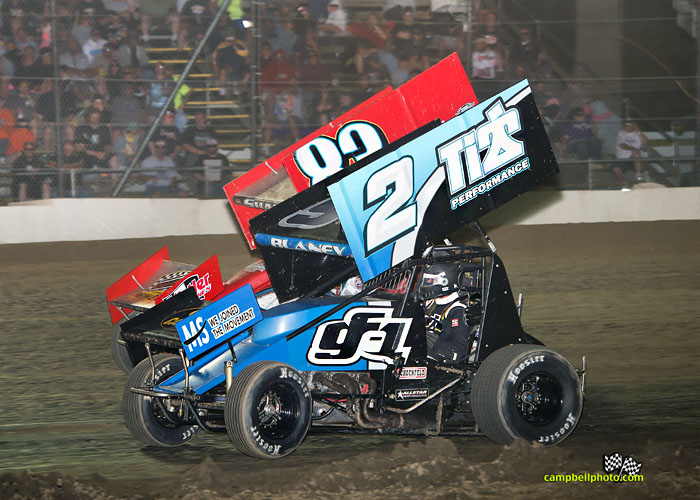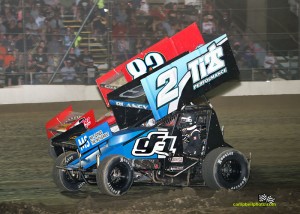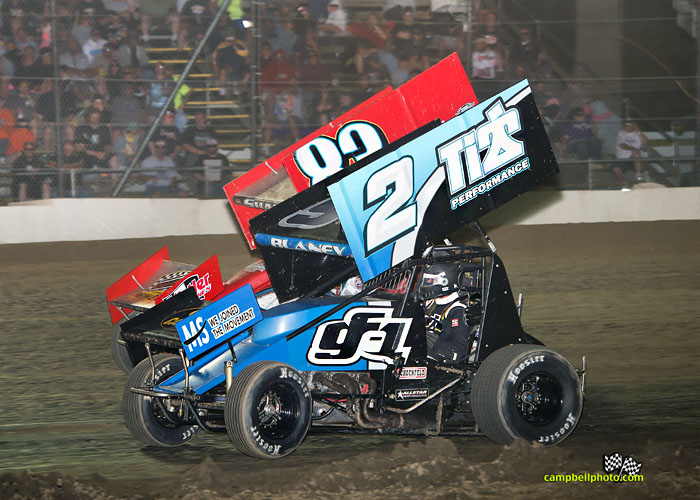 From Brian Liskai
Fremont, OH — (August 30, 2013) — The two day Jim Ford Classic at Fremont Speedway has grown to be one of the "must see" dirt track racing events in the Midwest over the past six years. And this year's version – to be run Friday and Saturday, Sept. 13 and 14 – just got even better.
The drivers competing over the two days with the University of Northwestern Ohio All Star Circuit of Champions will not only be gunning for $3,000 to win on All Pro Cylinder Heads Night, Friday, and $10,000 to win on JLH General Contractor Night, Saturday, but there will now be a point system in place with a $5,000 payout to the top 10 drivers in points with the champion taking home the Jim Ford Classic Cup.
The Jim Ford Classic Cup payout will be: 1. $1,500; 2. $1,000; 3. $450; 4. $400; 5. $350; 6. $325; 7. $300; 8. $250; 9. $225; and 10. $200.
"Every time a car hits the track there will be points. >From qualifying to heats to the feature finish to hard charger to passing cars in both the heats and feature," said Fremont Speedway Promoter Rich Farmer. "We keep working to make the Jim Ford Classic bigger and better each year and this point fund will reward teams for supporting us both days and it creates excitement for the fans."
Here's how the points will work:
The fast qualifier each night will get 50 points and second through the rest of the field is reduced by a single point – everyone who takes a green flag for qualifying will receive at least one point.
Heat race wins are worth 50 points and will reduce by single points after first place.
The feature winner will receive 50 points and each position after is reduced by one point through the field. And, the feature events hard charger – who ever passes the most cars from their original starting spot to the finish – will receive 3 points each night.
There will also be a point given for each car passed in both the heat races and feature.
And while the action will be exciting on the track, there will be plenty of entertainment before and after the races all weekend. A band will perform in the campgrounds across the street from the speedway after the races both nights. Also, the 2014 Fremont Speedway Queen's Contest will take place Saturday at 11 a.m. in the Fremont Speedway Hall of Fame. There will be other activities involving the hall of fame throughout the weekend as well.
The weekend will mark the 109th and 110th visits of the UNOH All Stars to "The Track That Action Built." Only Eldora Speedway has hosted more All Star events.
The racing at Fremont Speedway in 2013 has been nothing short of spectacular. Four time and defending UNOH All Star Champion Tim Shaffer started the season by picking up his 13th career Fremont victory. Shaffer, who scored the $10,000 Jim Ford Classic win last season and has taken the big money three of the last five years, has yet to win a UNOH All Star feature this season and sits second in the series national and Ohio Region point standings.
Former two-time All Star champion Greg Wilson has scored two victories at Fremont this season as has three time track champion Byron Reed. Cap Henry, who sits fourth in the All Star's national points and Ohio Region points, picked up his first career Fremont win in a non-sanctioned event.
When the UNOH All Stars competed in a Memorial Day weekend double-header, former track champion and two-time Kistler Racing Products FAST (Fremont Attica Sprint Title) Champion Bryan Sebetto – who scored the Jim Ford Classic win in 2011 – picked up a win with current All Star point leader Dale Blaney, who took the Jim Ford Classic win in 2008, taking home the $10,000 finale. Blaney would also cash in when the Ohio Sprint Speedweek finale paid $10,000 at Fremont in June. Blaney, who as of this writing has 98 career series wins to tie Kenny Jacobs atop the career standings, has 13 career All Star wins at Fremont and 18 total for his career at the track.
Other feature winners at Fremont in 2013 include Caleb Griffith and Chris Andrews.
As of this writing Craig Mintz leads the track's point standings as he looks to wrap up his second straight Fremont title. He will lead a strong contingent of local drivers as they look to keep all the loot, including rookie D.J. Foos, Brian Lay, Duane Zablocki, Dean Jacobs, Stuart Brubaker, Jody Keegan, Travis Philo, Stuart Williams, Brad Bowman, Jody Keegan, Brian Smith and more.
It won't be easy as the All Stars are always tough. Besides Blaney, Shaffer and Henry, young Danny Holtgraver recently scored his third series win of the season and sits third in the national and Ohio Region points. Other All Star contenders include youngsters Caleb Helms and Trey Gustin, both in their first season with the series.
With all the money on the line there could be a contingent of Pennsylvania cars that make the tow to Fremont Speedway as well as other regional drivers like Cole Duncan, two-time NAPA Wayne County champion Andrew Palker, Broc Martin, Jac Haudenschild, Sheldon Haudenschild and more.
The Fremont Federal Credit Union 305 Sprints, AAA Ohio Auto Club Dirt Trucks and Computer Man Sports Compacts will be in action Friday, with the 305 sprints and trucks joining the UNOH All Stars on Saturday. There will be more prize money up for grabs in the 305 sprints and trucks over the weekend as well.
The Jim Ford Classic is named after former Fremont Speedway Promoter the late Jim Ford.
"If it wasn't for Jim Ford there might not be a Fremont Speedway today. The track was in danger of closing for good when he stepped in. It's only fitting that one of the biggest events we have each year is named in his honor," said Farmer.
For more information go to www.fremontohspeedway.com