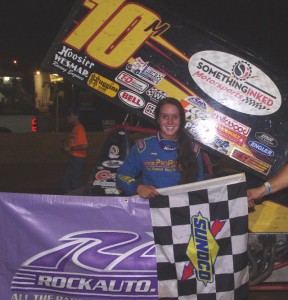 From Pete Walton
Cleveland, TN – (August 31, 2013) — The 2010 United Sprint Car Series Rookie of the Year and only female driver in the field, 20 year-old Morgan Turpen from Cordova, Tennessee charged from the K&N Filters Pole position into the www.rockauto.com USCS victory lane on Saturday night at Cleveland Speedway. The win was Turpen's career fourth in the series and first of the 2013 season. She ranked fifth in the USCS National point standings going into the three race weekend. Nine time 2013 feature winner and current USCS National point's leader Derek Hagar from Marion, Arkansas chased Turpen across the finish line in second place with hard charging Michael Miller from Ocean Springs, Mississippi in the third position. Ten-time series National Champion Terry Gray from Bartlett, Tennessee followed in fourth place and another former Rookie of the Year, Anthony Nicholson also from Bartlett, Tennessee completed the top five drivers at the finish.
Another 2013 feature winner, Eric Riggins, Jr from Charlotte, North Carolina finished ahead of the next group in sixth place. Todd Fayard from Saucier, Mississippi finished in the seventh position. Lance Moss from Cherryville, North Carolina followed in eighth place. Current Rookie of the Year point's leader and impressive 13 year-old Taylor Tidmore from Hernando, Mississippi finished in ninth place and Darren Orth from Jacksonville, Florida completed the top ten drivers in his first 2013 USCS appearance.
Terry Gray won the first of two Hoosier Tire Speed Dashes. Anthony Nicholson won the second one. Gray then won the Engler Machine and Tool First Heat. Derek Hagar won the Butlerbuilt Second Heat. After the first heat winner (Gray) drew a zero in the K&N Filters Pole Award drawing Morgan Turpen was awarded the K&N Filters Pole Position.  Rookie Taylor Tidmore advanced the most positions in the main event (9 cars) to earn the Wilwood Disc Brakes Hardcharger Award.
The next USCS Outlaw Thunder evet will the 2nd annual Sunday of Speed at historic Toccoa Speedway (3/10 mile dirt D-shaped speedway) in Toccoa, Georgia. Morgan Turpen was also the winner of that 2012 Toccoa Speedway event. All For rules, updated schedules and other info on the USCS Outlaw Thunder Tour winged sprint car series 2013 and 17th annual National tour please visit www.uscsracing.com or call 770-865-6097.
USCS Outlaw Thunder Main Event-Cleveland Speedway-Saturday, August 31, 2013
Hoosier Speed Dash #1 (Dixie):
Morgan Turpen, Terry Gray, Derek Hagar, Eric Riggins, Jr., Bob Auld and Jeff Willingham.
Hoosier Speed Dash #2 (AMS): Anthony Nicholson, Terry Gray, Derek Hagar, Todd Fayard, Morgan turpen and Michael Miller.
Engler Machine and Tool First Heat: winner Terry Gray, Eric Riggins, Jr., Michael Miller, Curt Terrell, Morgan Turpen, Darren Orth, Bob Auld, Don Goodwin and Taylor Tidmore.
Butlerbuilt Second Heat: winner Derek Hagar, Todd Fayard, Anthony Nicholson, Jeff Willingham, Ray Bugg, Terry Witherspoon, Lance Moss, Aubrey Black and Joe Larkin.
USCS Outlaw Thunder Tour main event 30-laps :
1. 10m Morgan Turpen, Cordova, TN
2. 9Jr. Derek Hagar, Marion, AR
3. 4m Michael Miller, Ocean Springs, MS
4. 10 Terry Gray, Bartlett, TN
5. 16 Anthony Nicholson, Bartlett, TN
6. 47 Eric Riggins, Jr., Charlotte, NC
7. 13 Todd Fayard, Saucier, MS
8. 23 Lance Moss, Cherryville, NC,
9. 13 T Taylor Tidmore, Hernando, MS
10. 34 Darren Orth, Jacksonville, FL
11. 28 Jeff Willingham, Ripley, MS
12. 27 Curt Terrell, Bartlett, TN
13. 83 Bob Auld, Largo, FL
14. 33 Joe Larkin, Suwannee, GA
15. 43 Terry Witherspoon, Jacksonville, FL
16. 25 Ray Bugg, Iuka, MS
17. 7d Don Goodwinashville, TN
18. 21 Aubrey Black, Lookout, Mountain, GA
USCS Outlaw Thunder Tour Race Awards:
Hoosier USCS Sprint Speed Dash #1 from Dixie: 10 Terry Gray
Hoosier USCS Sprint Speed Dash #2 from Atlanta: 16 Anthony Nicholson
Engler Machine and Tool First Heat: 10 Terry Gray
Butlerbuilt Second Heat Award: 9Jr. Derek Hagar
K&N Filters Pole Award: 10m Morgan Turpen
K&N Filters Podium (3rd place) Award: 4m Michael Miller
Wilwood Disc Brakes Hardcharger Award: 13T Taylor Tidmore (started 18th finished 9th)
DMI/Bulldog rear Ends top Ten Award: 34 Darren Orth