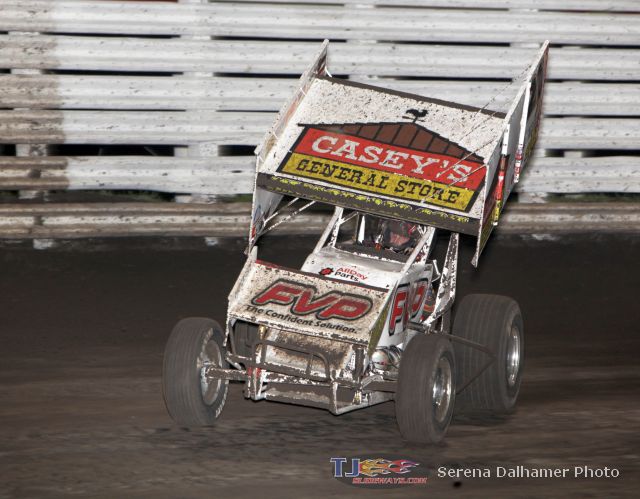 Moberly, MO —  (September 1, 2013) — Brian Brown picked up his second $4,000 check of the weekend, this time at the Randolph County Raceway with the Speedway Motors Warrior Region.
Taking the lead on Lap 11 following a red flag for the No. 2a of Randy Hibbs, the Casey's General Store/FVP No. 21 ran to a nearly straight-a-way advantage at the checkered flag. Jeff Swindell crossed second, taking the runner up spot from Cornell on Lap 21.
Cornell held on for third with Jason Johnson and Russ Hall completing the top five.
The top ten rounded out with Randy Martin, Tony Bruce, Jr., Josh Fisher, Cutis Evans, and Brad Loyet.
Speedway Motors Warrior Region
Randolph County Raceway – Moberly, Mo.
Sunday, September 1, 2013
Car Count: 32
Heat 1 (8 Laps): 1. 4J-Jon Agan; 2. 21-Brian Brown; 3. 1P-Curtis Evans; 4. 81A-Chris Morgan; 5. 25-Curtis Boyer; 6. 82-Vincent Ward; DNF 8W-Danny Lasoski
Heat 2 (8 Laps): 1. 38-Cody Baker; 2. 5M-Miranda Arnold; 3. 11W-Wyatt Burks; 4. 76-Jay Russell; 5. 48-Mike Trent; 6. 3Z-Zach Davis; DNS 22-Dustin Barks
Heat 3 (8 Laps): 1. 5P-Rusty Potter; 2. 94-Jeff Swindell; 3. 05-Brad Loyet; 4. 4-Evan Martin; 5. 92J-J.R. Topper; 6. 5-Matt Close; 7. XX-A.J. Wirts
Heat 4 (8 Laps): 1. 41-Jason Johnson; 2. 18-Tony Bruce Jr; 3. 2A-Randy Hibbs; 4. 9M-Tyler Elliott; 5. 9-Casey Baker; DNF 24-Lanny Carpenter; DNF 75-Tyler Blank
B Feature 1 (12 Laps): 1. 48-Mike Trent[5]; 2. 5M-Miranda Arnold[1]; 3. 75-Tyler Blank[15]; 4. 76-Jay Russell[3]; 5. 81A-Chris Morgan[2]; 6. 92J-J.R. Topper[6]; 7. 5-Matt Close[12]; 8. 9-Casey Baker[7]; 9. 25-Curtis Boyer[10]; 10. 82-Vincent Ward[8]; DNF 9M-Tyler Elliott[4]; DNF 22-Dustin Barks[16]; DNS 24-Lanny Carpenter; DNS 3Z-Zach Davis; DNS 8W-Danny Lasoski; DNS XX-A.J. Wirts
A Feature (30 Laps): 1. 21-Brian Brown[7]; 2. 94-Jeff Swindell[9]; 3. 28-Jonathan Cornell[5]; 4. 41-Jason Johnson[13]; 5. 45C-Russ Hall[1]; 6. 14-Randy Martin[4]; 7. 18-Tony Bruce Jr[10]; 8. 72-Josh Fisher[6]; 9. 1P-Curtis Evans[11]; 10. 05-Brad Loyet[15]; 11. 5P-Rusty Potter[8]; 12. 48-Mike Trent[17]; 13. 4J-Jon Agan[2]; 14. 76-Jay Russell[20]; 15. 4-Evan Martin[16]; 16. 81A-Chris Morgan[21]; 17. 5M-Miranda Arnold[18]; DNF 75-Tyler Blank[19]; DNF 11W-Wyatt Burks[14]; DNF 38-Cody Baker[3]; DNF 2A-Randy Hibbs[12]; DNF 92J-J.R. Topper[22]
Lap Leader(s): Russ Hall (1-2), Jonathan Cornell (3-10), Brian Brown (11-30)