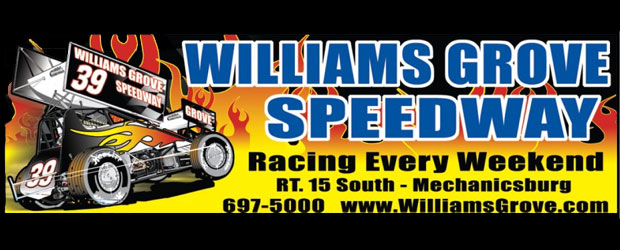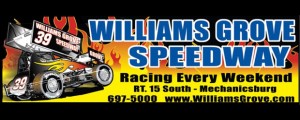 From Williams Grove Speedway
Mechanicsburg, PA — (September 1, 2013) — Brian Montieth and Ryan Taylor were named co-winners of the Billy Kimmel Memorial for sprint cars at Williams Grove Speedway on Sunday night.
Montieth, of Phoenixville, Pa., led Taylor as they raced under the flagstand with one lap to go. Montieth then lifted and Taylor drove by however Montieth then regained speed and raced with Taylor, but fell short at the checkered flag.
An inadvertent yellow flag was unfurled instead of the white flag when the pair crossed the stripe and that's why Montieth had slowed momentarily.
After a discussion between track officials, it was decided that both drivers would be given credit for a win and earn $3,600 each.
It was Taylor's first career speedway win. For Montieth, it was his first win of the season and 14th of his career.
"I don't know if that's the way you want to win a race, but anyway to win a race here at Williams Grove is going to be amazing to me," said Taylor, of Perkasie, Pa. "I feel horrible for Brian. I thought he ran out of fuel."
"We've struggled here all year," said Montieth. "They finally gave me a car that worked good."
Rodney Westhafer started on the pole and led the first lap as Ryan Wilson and Taylor raced hard for second. Wilson would spin in the second turn bringing out the caution flag.
Montieth started sixth and a pass of Taylor on the restart moved him up to second.
Westhafer continued to lead with Montieth in striking distance. He had a little trouble in turn two as he caught a lapped car and Montieth closed.
Montieth tried a slider in turn three, but couldn't clear the pass and fell back into the second. Westhafer got over the cushion again and this time Montieth was closer. He tried a slider in turn one and they were side-by-side off turn two. Montieth surged ahead down the backstretch and into the lead on lap 10.
Westhafer jumped the cushion in turn four and nearly spun out. He saved the car, but lost a lot of spots as Montieth built his lead.
The caution flag then flew on lap 18 when Neal Williams spun in turn one.
Montieth drove away on the restart and appeared headed to victory as the battle for third, fourth and fifth raged behind him and Taylor.
Montieth slowed as they raced under the flagstand with one lap to go because the yellow flag was out momentarily. Taylor got by him during the mishap on the final lap and appeared to be the winner.
After an on-track discussion, it was decided by officials to fairly award wins to both drivers.
Adam Wilt won the battle for third with Greg Hodnett and Brent Marks rounding out the top five.
Danny Dietrich, who ran a Billy Kimmel No. 47 top wing, was sixth. Stevie Smith, Alan Krimes, point leader Fred Rahmer and Lance Dewease completed the top 10.
Donnie Kreitz, Alan Krimes and Greg Hodnett won the 10-lap heat races for the 24 car field.
Four laps were completed in the 358 sprint feature before the race was red flagged and the stands were cleared due to nearby lightning. Rain began to fall and the decision was made to postpone the remaining 16 laps and it will be completed in two weeks. Adrian Shaffer was leading the feature over D.J. Montgomery, point leader Kevin Nouse, Chandler Leiby and Austin Hogue.
The heat races for the 29-car field were won by Kevin Nouse, Adrian Shaffer and former ARDC midget champion Drew Heistand. Dan Richcreek won the consolation.
Sprint Car Feature (25 laps) 1. Brian Montieth / Ryan Taylor. 3. Adam Wilt. 4. Greg Hodnett. 5. Brent Marks. 6. Danny Dietrich. 7. Stevie Smith. 8. Alan Krimes. 9. Fred Rahmer. 10. Lance Dewease. 11. Ryan Bohlke. 12. Donnie Kreitz. 13. Logan Schuchart. 14. Cory Haas. 15. Gerard McIntyre Jr. 16. Ryan Wilson. 17. Rodney Westhafer. 18. Rick Lafferty. 19. Troy Fraker. 20. Neal Williams. 21. Davey Sammons. 22. Ryan Smith. 23. Glenndon Forsythe. DNS – Jacob Allen.