By Robert Haugh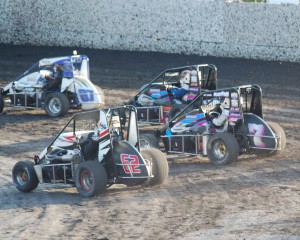 After a disappointing string of bad luck to open the season, McQueen Racing is hitting their stride, most recently claiming a pair of podiums, a win and new track record at Petaluma Speedway on August 10, with team owner Shannon "Lightning" McQueen compiling a recent streak of four consecutive Top five runs and Oklahoma young gun Trey Marcham claiming the win at Petaluma.
McQueen and Marcham return to action this Thursday, September 5 at the quarter-mile Silver Dollar Speedway in Chico, as part of the 60th Annual Gold Cup race of Champions, one of the most fabled races on the West Coast, with McQueen chauffeuring the McQueen Racing #7 Spike/Esslinger by Duane McQueen and Marcham manning the same McQueen Racing #37 Spike/Esslinger by Duane McQueen that he raced to victory at Petaluma. McQueen holds the track record, 14.328, set in 2011 at the historic track.
Thus far in 2013, McQueen has three fast time awards, two of which were track records, and eight top-10 finishes and sits sixth in the USAC-Western States Midget overall points and fourth in the Dirt standings, despite not entering any pavement races and a pair of the Dirt races.
McQueen became the first woman to win a BCRA Midget championship in 2011 when she claimed the BCRA Dirt Midget crown, then claimed the 2012 USAC-Western States Midget championship, amassing four Heat race wins, nine Top 5 runs, three fast time awards and 13 Top 10s in 2012. McQueen also holds five track records which include the 99 Dirt Track in Stockton, Calistoga Speedway, Petaluma Speedway, Silver Dollar Speedway and Orange Show Speedway.
McQueen is also the first female owner to boast a win with a female driver when Oklahoma's Michelle Decker won a USAC Western States Midget Feature in April 2012 at McQueen's home track of Bakersfield Speedway at the helm of one of McQueen's potent Spike/Esslinger entries.
McQueen Racing would like to thank all of our wonderful sponsors: Lucas Oil Products, Simpson Race Products, Eibach Springs, DMI, Rod End Supply, K&N Filters, Advanced Racing Suspensions, MPD, Ruth Engineering, Jet-Hot Performance Coatings, Butler Built Seating Systems, Schoenfeld Headers, American Fabrication, West Evans Motorsports, Western Open Wheel Racing News and Esslinger Racing Engines by Duane McQueen.
McQueen Racing has dedicated the entire 2013 season to Kenny Speck, a McQueen Racing team member who lost his life earlier this year.
Visit www.shannonmcqueen.com for more information on McQueen Racing.
Marcham, a senior Engineering student at Oklahoma University made his first-ever Midget win look easy in the McQueen Racing #37 Spike/Esslinger by Duane McQueen, cruising to a commanding straightaway victory in the 30-lap green-to-checker feature at Petaluma Speedway last month.
Experienced in Micro Sprints, Ford Focus Midgets, 360 non-wing Sprint Cars and asphalt Late Models, Marcham has amassed six Championships at I-44 Riverside Speedway in Newcastle, Oklahoma, as well as having claimed both the A-Class and Non-wing A-Mains at the Inaugural Donnie Ray Crawford Memorial/Race4Life in Tulsa in 2012.
Select Coatings, RD Marcham Energy, Inc., Simpson Racing Products, Pinnacle Energy Services, Best Western Tulsa Airport, Metals Supermarket Oklahoma City, J & B Digital Graphics and Mud-X support Marcham.
Visit http://marchamracing.com/ for more information on Trey Marcham.