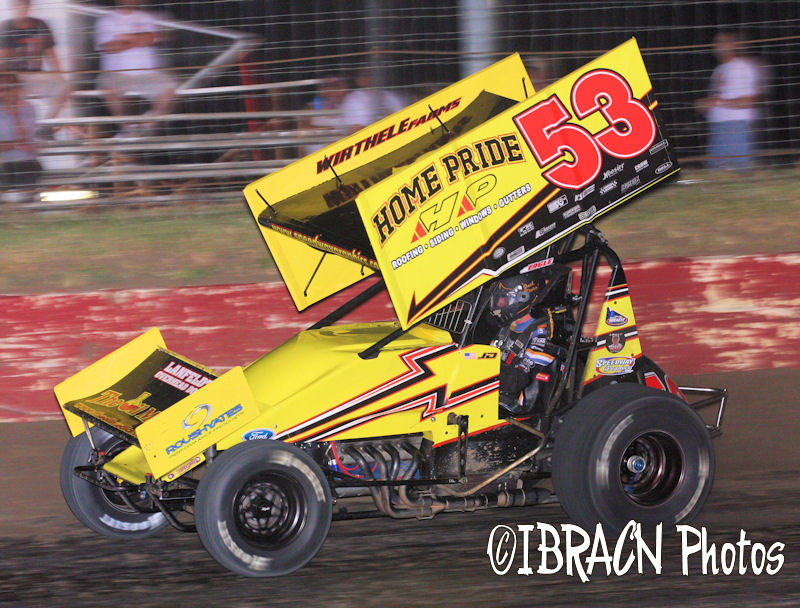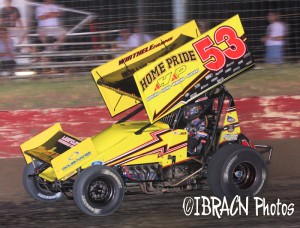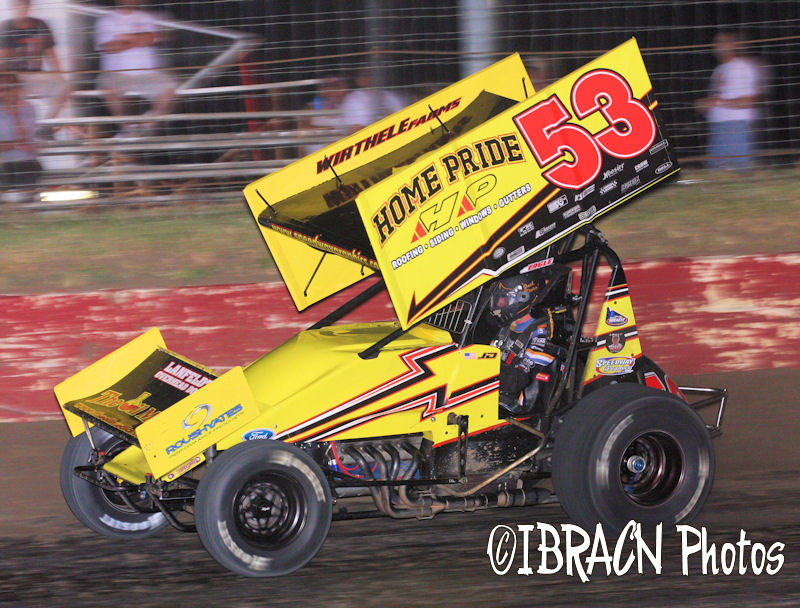 From Bryan Hulbert
Corning, IA –(September 6, 2013) — A good way to start off a three day swing through the Midwest, Jack Dover continued his reign over the Speedway Motors Midwest Region, with a win at the Adams County Speedway in Corning, Ia.
Pulling the second row for the night's 25 lap affair, Dover earned the pacers position from Gregg Bakker on Lap 8. From there the Home Pride No. 53 went uncontested with Billy Alley in tow for the runner up spot. Jon Agan took the show position with a last lap pass on Tyler Drueke with Jordan Boston making up the top five.
The night's $300 E.S.I. Lucky Draw was awarded to Tyler Drueke.
The Speedway Motors Midwest Region competes next at the Junction Motor Speedway in McCool Junction, Neb. on Saturday, September 7. The weekend wraps up with the Nebraska Cup on Sunday, September 8 at the Eagle Raceway in Eagle, Neb.
Speedway Motors Midwest Region
Adams County Speedway – Corning, Ia.
Friday, September 6, 2013
Heat 1 (10 Laps): 1. 53-Jack Dover; 2. 12-Tyler Drueke; 3. 5J-Larry Ball Jr; 4. 3-Billy Alley; 5. 4-Jordan Boston; 6. 4J-Jon Agan; 7. 11X-Gregg Bakker; 8. 39X-Alan Ambers; 9. 77-John Klabunde; 10. 1P-Curtis Evans; 11. 8-Laney Feight; DNF 48-Jake Martens; DNF 14-Randy Martin
Heat 2 (10 Laps): 1. 53-Jack Dover; 2. 4J-Jon Agan; 3. 11X-Gregg Bakker; 4. 4-Jordan Boston; 5. 3-Billy Alley; 6. 77-John Klabunde; 7. 5J-Larry Ball Jr; 8. 12-Tyler Drueke; 9. 39X-Alan Ambers; 10. 14-Randy Martin; 11. 8-Laney Feight; DNS 48-Jake Martens; DNS 1P-Curtis Evans
A Feature (25 Laps): 1. 53-Jack Dover; 2. 3-Billy Alley; 3. 4J-Jon Agan; 4. 12-Tyler Drueke; 5. 4-Jordan Boston; 6. 14-Randy Martin; 7. 11X-Gregg Bakker; 8. 1P-Curtis Evans; 9. 77-John Klabunde; 10. 39X-Alan Ambers; 11. 8-Laney Feight; DNF 5J-Larry Ball Jr; DNS 48-Jake Martens
Lap Leader(s): Gregg Bakker (1-7), Jack Dover (8-25)