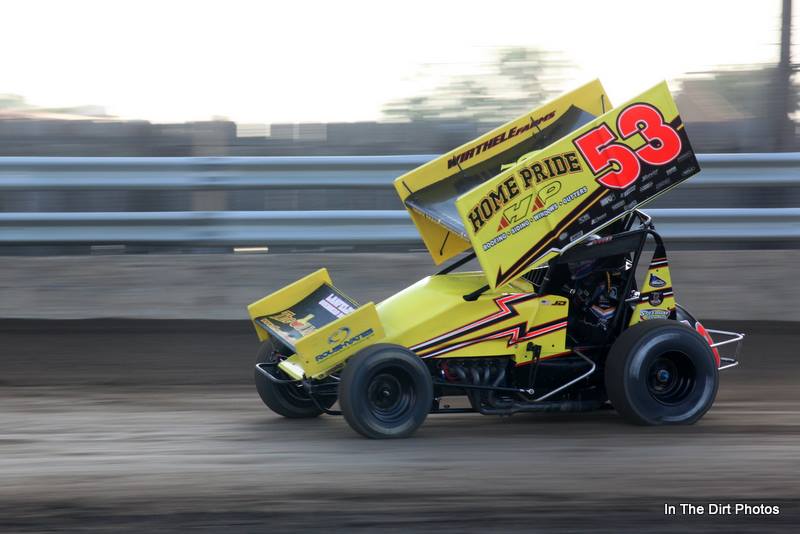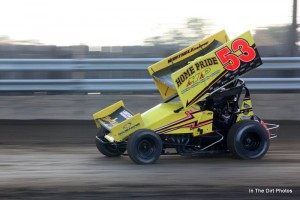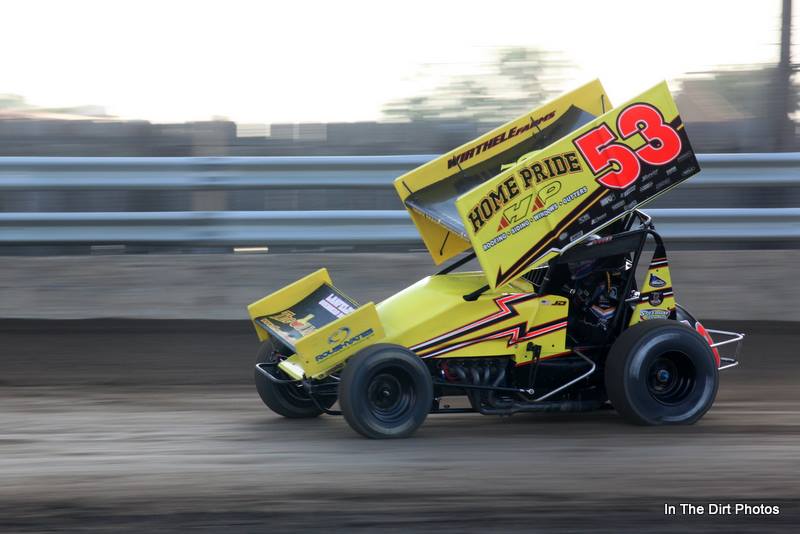 From Bryan Hulbert
McCool juction, NE — (September 7, 2013) — Jack Dover brought the masses to their feet Saturday night with the Speedway Motors Midwest Region, charging to the outside of Don Droud, Jr. in the final turns at the Junction Motor Speedway in slower traffic to win for the second night running.
Charging from seventh, Dover grabbed the runner up spot following a Lap 16 restart. Closing on the back of the field with four laps to run, the Home Pride No. 53 closed a straight-a-way deficit as the white flag flew.
Bottled up by slower cars entering turns three and four for the final time, Droud was forced low as Jack Dover sailed the cushion to victory. Droud crossed second with early leader Wyatt Burks settling for third. Seth Brahmer came from tenth to fourth with Tyler Drueke from eleventh to complete the top five.
The Speedway Motors Midwest Region concludes the weekend at the Eagle Raceway in Eagle, Neb. on Sunday, September 8 starting at 6:30 P.M. Pits will be open to all from 3:30 P.M. until 4:30 P.M. Hot laps begin at 5:30 P.M.
For news, results, and updates on the ASCS Nation, log onto http://www.ascsracing.com
Speedway Motors Midwest Region
Junction Motor Speedway – McCool Junction, Neb.
Saturday, September 7, 2013
Car Count: 30
Heat 1 (8 Laps): 1. 48-Jake Martens[1]; 2. 1B-Robby Wolfgang[3]; 3. 5M-Miranda Arnold[4]; 4. 12-Tyler Drueke[6]; 5. 91-Jeff Stasa[5]; 6. 2J-Zach Blurton[2]; 7. 81-Jon Freeman[8]; DNS 1P-Curtis Evans
Heat 2 (8 Laps): 1. 11X-Gregg Bakker[1]; 2. 2-Don Droud Jr[5]; 3. 18R-Ryan Roberts[3]; 4. 3-Billy Alley[4]; 5. 4-Jordan Boston[8]; 6. 77-John Klabunde[2]; 7. 24B-Jeremy Campbell[7]; 8. 17-Gage Dorr[6]
Heat 3 (8 Laps): 1. 53-Jack Dover[3]; 2. 28-Rocky Klabunde[1]; 3. 13V-Seth Brahmer[4]; 4. 98J-J.D. Johnson[6]; 5. 36-Jason Martin[5]; 6. 52-Nick Bryan[2]; 7. 17B-Jason Becker[7]
Heat 4 (8 Laps): 1. 11W-Wyatt Burks[4]; 2. E85-C.J. Johnson[6]; 3. 2F-Frank Galusha[1]; 4. 35-Trevor Grossenbacher[3]; 5. 45-Jeff Lowery[7]; DNF 19-Tadd Holliman[2]; DNF 51-Mike Peters[5]
B Feature 1 (10 Laps): 1. 3-Billy Alley[1]; 2. 35-Trevor Grossenbacher[2]; 3. 36-Jason Martin[4]; 4. 24B-Jeremy Campbell[10]; 5. 91-Jeff Stasa[3]; 6. 81-Jon Freeman[9]; 7. 2J-Zach Blurton[5]; 8. 52-Nick Bryan[7]; 9. 17B-Jason Becker[11]; 10. 17-Gage Dorr[13]; DNS 77-John Klabunde; DNS 19-Tadd Holliman; DNS 51-Mike Peters; DNS 1P-Curtis Evans
A Feature (25 Laps): 1. 53-Jack Dover[7]; 2. 2-Don Droud Jr[6]; 3. 11W-Wyatt Burks[1]; 4. 13V-Seth Brahmer[10]; 5. 12-Tyler Drueke[11]; 6. 1B-Robby Wolfgang[8]; 7. 11X-Gregg Bakker[2]; 8. E85-C.J. Johnson[5]; 9. 36-Jason Martin[19]; 10. 4-Jordan Boston[13]; 11. 18R-Ryan Roberts[14]; 12. 35-Trevor Grossenbacher[18]; 13. 48-Jake Martens[4]; 14. 98J-J.D. Johnson[12]; 15. 2F-Frank Galusha[15]; 16. 24B-Jeremy Campbell[20]; 17. 5M-Miranda Arnold[9]; 18. 45-Jeff Lowery[16]; 19. 28-Rocky Klabunde[3]; DNF 3-Billy Alley[17]
Lap Leader(s) Gregg Bakker (1), Wyatt Burks (2-11, 13), Don Droud, Jr. (12, 14-24), Jack Dover (25)