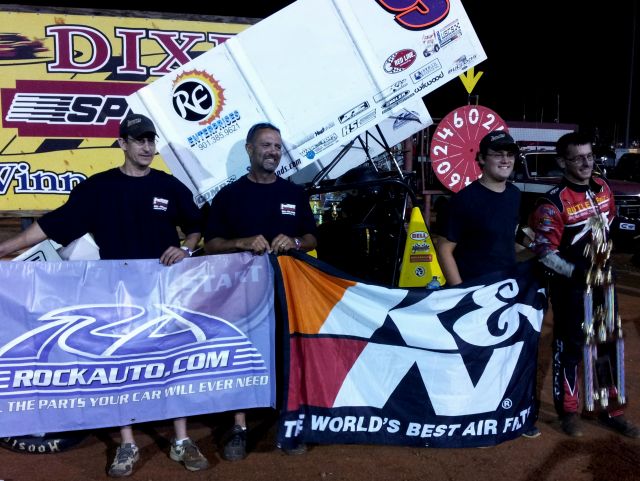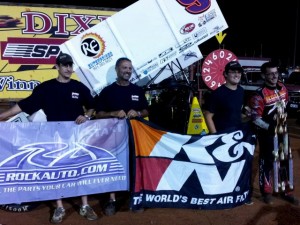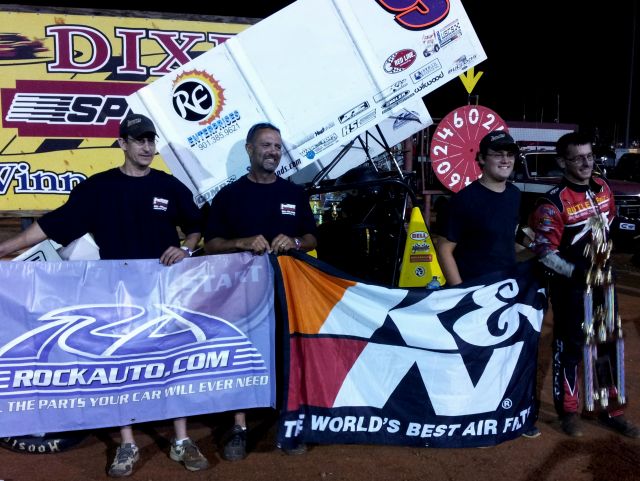 From Inside Line Promotions
Hohenwald, TN — (September 16, 2013) — Derek Hagar continued his march toward a national championship with yet another top five last weekend.
Hagar placed fourth on Saturday at Tennessee National Raceway to maintain the championship points lead in the USCS National standings. He remains the leader in the USCS Southern Thunder standings and is two points out of the top spot in the USCS Mid-South Thunder standings.
"I'm happy with a top five," he said. "Just like any other weekend you want to go out and win. We are points racing so we've got to be content with what we have. The biggest thing is to be consistent and try to keep the top fives coming."
Hagar started the night by placing second in the dash. He then charged from fifth to second place in his heat race.
"By the time we got to turn one we were running third," he said. "About two or three laps later I passed a guy for second. I ran with the leader the rest of the race. I didn't want to push the issue too much because I knew I was pretty good in the passing points."
Hagar earned the most points through the heat races and the winner of the first heat drew the No. 4, which inverted the top-four points earners. That started Hagar on the outside of the second row for the 30-lap feature.
"The track was really good and slick," he said. "It looked like it had potential of taking rubber so we left the car a little freer. We ran third most of the race. Everybody was so equal it was hard to get a run on anybody."
Midway through the race Hagar made contact with a lapped car, which brought out a caution.
"We got to a lapped car and he was all over the place," he said. "My right rear (tire) ran over his left front. We bent the right rear arm. On that restart we went into turn one. It bottomed out on the right rear frame rail and it pushed the front end and Tim (Crawley) got underneath me."
After losing a position, Hagar maintained fourth place for the rest of the event to notch his 25th top-five finish of the season.
Hagar is scheduled to compete at the USCS Summer Nationals IV at Senoia Raceway in Senoia, Ga., on Friday and Saturday.
QUICK RESULTS –
Sept. 14 – Tennessee National Raceway in Hohenwald, Tenn. – Dash: 2 (1); Heat race: 2 (5); Feature: 4 (4).
SEASON STATS –
34 races, 9 wins, 25 top fives, 34 top 10s, 34 top 15s, 34 top 20s
UP NEXT –
Friday and Saturday at Senoia Raceway in Senoia, Ga., for the USCS Summer Nationals IV
SOCIAL MEDIA LINKS –
Website: http://www.DerekHagar.com
Twitter: https://twitter.com/hagarderek